Back in January, while I was helping or sister site PCWorld with CES coverage, my Internet blinked out. After scurrying around the house in a panic—I was in the middle of a story—my sister came to the rescue with her iPad, which she set up as an Internet hot spot.
Whew.
Setting up a wireless hotspot on your iOS device is a simple process, and it's useful for more than bailing out freaked-out freelance tech journalists. Here's how to go about it.
Before you begin, you'll need to make sure your cellular service plan supports the wireless hotspot feature. If it doesn't, check with your carrier for plan pricing and availability. Also, you'll need to make sure your iPhone or iPad has mobile data switched on. Lastly, keep in mind that any data you use will most likely count against your plan's data cap, so you'll want to avoid downloading massive files while on the hotspot.
Setting up and connecting to a hotspot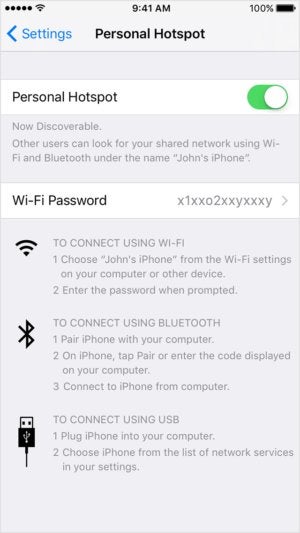 Open the Settings app and tap Personal Hotspot (it's listed as Cellular Data on the iPad). Then, on the next screen, tap the Personal Hotspot switch so it's in the "on" position (the switch will turn green). Next, make a note of your Wi-Fi password listed on this screen. If you don't have Wi-Fi enabled on your iPhone or iPad, you'll be asked to switch it on at this point.
Now, go to your Mac or PC, pop open the Wi-Fi network menu, then select your iOS device's name and enter the password as you would normally do when you connect to a Wi-Fi network.
When you're done, go back to Settings > Personal Hotspot (or Settings > Cellular Data > Personal Hotspot) and switch off the hotspot.
Using Instant Hotspot
If you've got an iPhone or cellular-equipped iPad running iOS 8 or later and a Mac running OS X Yosemite or later—and you have both devices set up under the same Apple ID—you can easily use activate your iOS device's hotspot feature from the comfort of your own Mac. For this to work, both devices need to meet Apple's Continuity system requirements. From there, it's a simple matter of selecting the hotspot-enabled iOS device from the Wi-Fi menu in your Mac's menubar.
This method works between iOS devices signed in under the same Apple ID: Go to Settings > Wi-Fi on the device you want to connect to the hotspot, then select the hotspot-enabled iPhone or iPad.