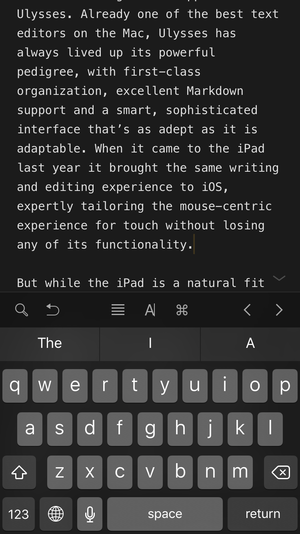 Even back when the only way to write on the iPhone was on a skeuomorphic notepad, it was clear that Apple's revolutionary handset was a productivity dynamo. Marker Felt aside, and after just a few minutes with Notes, it wasn't hard to envision a day when a multitude of writing apps would be available to store, save, and share your thoughts.
But I'm not sure even Steve Jobs could have imagined an app like Ulysses. Already one of the best text editors on the Mac, Ulysses has always lived up its powerful pedigree, with first-class organization, excellent Markdown support and a smart, sophisticated interface that's as adept as it is adaptable. When it came to the iPad last year it brought the same writing and editing experience to iOS, expertly tailoring the mouse-centric experience for touch without losing any of its functionality.
But while the iPad is a natural fit for an app like Ulysses, the iPhone is a trickier proposition. For most full-featured text editors, the iPhone app is a companion, sacrificing features for the sake of an uncluttered workspace. In fact, The Soulmen's previous iPhone effort, Daedalus Touch, was just that: a lesser, retooled Ulysses sidekick designed for simple, on-the-go note-taking.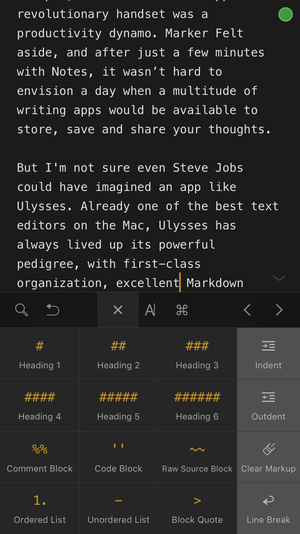 Ulysses for iPhone is anything but watered-down. The universal app is only a companion in the sense that it syncs documents edited on other devices, but it works as well as a standalone app as it does as part of the larger suite (which now also includes an iPad Pro version). With an interface equally suited for long-form pieces and short notes, nothing about it feels underpowered or crippled; if anything it might be the first text editor that successfully brings desktop-level performance to a 5-inch screen.
Users of the Mac or iPad version of Ulysses will instantly be familiar with its multi-paned layout of groups and sheets, but the placement of buttons and menus have been carefully considered for the smaller screen. For example, you'll always find the symbol to create a new group or new document at the bottom of the screen, making it easier to reach with your thumb. And panels can be navigated simply by swiping from the edge of the screen, also helping with one-handed use.
Easy writer
But no matter how you hold your phone, Ulysses will deliver a near-perfect writing experience. Its interface is minimal for sure, but you won't have to hunt to find expert features like Markdown shortcuts, special characters and an in-document search bar, thanks to a refined button bar that puts a host of options at your fingertips without a hint of clutter or confusion. Hide the keyboard and you'll see a word/character count, but you can't use it to get stats within a selection of text, a feature that's useful in 1Writer and Pages.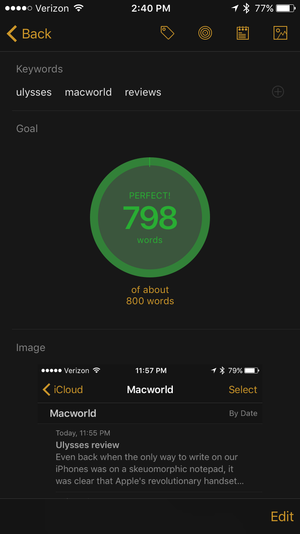 Swiping left on the editing window brings up the attachments pane, where you can add keyword filters, set goals, take notes, and attach images, power-user features that make Ulysses feel more like a miniature OS X app than an iOS one. And you can customize it with a dark mode or one of four tasteful themes, with many more available for download in the Ulysses Style Exchange (though you'll need the Mac app to install them).
iCloud keeps documents constantly synced across all three platforms, and you can import files from Dropbox, One Drive Google Drive and a variety of other locations. Those concerned about the reliability of Apple's servers can rest their minds; Ulysses for iPhone utilizes the same local backup system as the Mac and iPad versions, letting you browse previous version in the event a document revert to an outdated version (which happened once or twice during testing). Exporting is no slouch either, with settings for HTML, ePub, Medium and DOCX.
Ulysses is the first text editor that truly seems built for the iPhone 6. It doesn't need the big screen to operate—and surely iPhone 5 users won't regret the purchase—but Ulysses is right at home on the 4.7- and 5.5-inch models (and takes full advantage of the S's 3D Touch as well). Dedicated users of the iPad app will no doubt find themselves reaching for their tablets far less often, and won't freak out if they forget to pack it. Ulysses is the text editor iPhone users have wanted for years, and like the rest of the suite, it was well worth the wait.
Bottom line
Everything that makes Ulysses great on the Mac is concentrated in the exquisite iPhone version, so much so that you might actually prefer writing on a five-inch screen.