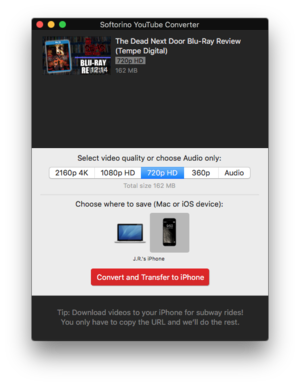 There was a time not so long ago when downloading YouTube videos to a personal computer required a mere click of the mouse. Try this trick today and you'll discover it's not quite so simple, thanks to Google's renewed efforts to block downloads in favor of the advertising revenue generated by streaming.
Of course, one can get around this by paying $10 per month for YouTube Red, which provides an ad-free viewing experience and the ability to save videos or songs for offline playback on mobile devices. But there are other ways to circumvent this challenge without the need for a subscription, assuming you don't mind skating on the side of the legal pond where the ice is considerably thinner.
Download, convert, transfer
YouTube Converter is a $20 Mac application from Softorino, the folks behind the insanely useful and clever Waltr software. Like that software, YTC makes it easy to sync videos directly to an iOS device without the need to first import them into iTunes. (Be sure to turn off automatic sync in iTunes, which will remove videos transferred by YTC or Waltr.)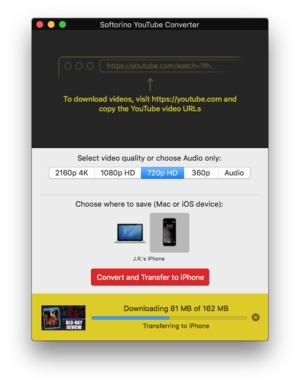 The difference here is that YTC can also download videos directly from YouTube's servers, converting them on the fly to one of four quality settings of your choosing: 4K, 1080p, 720p, or 360p. (Native 480p videos transfer without conversion with 720p selected). The resulting file is then transferred to the Home Videos section of Apple's built-in Videos app, complete with thumbnail artwork.
With YTC running, all that's required is to copy a YouTube URL, which is automatically pasted into the application. Choose a quality setting and destination (which can be the Downloads folder of your Mac or any connected iOS device), click the red Convert button, and YTC does the rest.
Now that YouTube has become the modern equivalent of a jukebox, music lovers will be happy to hear that YTC also includes an audio-only setting, allowing videos to be downloaded sans picture and similarly synced directly to the built-in Music app. There's even a Preferences setting to favor MP3 over the Apple-centric default M4A format.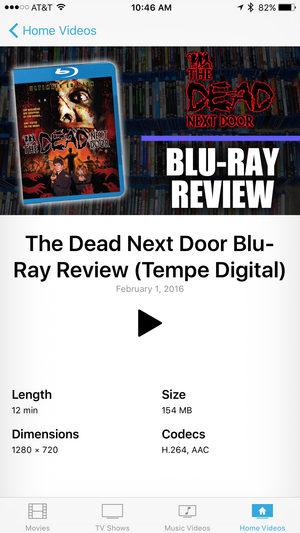 DVR for YouTube?
YouTube Converter really does take the headache out of saving videos. It's far more painless and intuitive than other solutions I've used. The developers encourage sharing the software with three friends, which then unlocks the ability to download videos from Vimeo as well, but first you'll be required to "activate" by sharing your own email address with Softorino. (Bah!)
But first you'll want to consider the implications of using YTC: YouTube's current Terms of Service prohibit the downloading of most videos, particularly those which generate coveted advertising revenue. That technically makes software like YouTube Converter illegal, although Softorino brashly justifies its use by comparing any potential crime to jaywalking and passing the software off as a time-shifting "DVR for YouTube."
For this reason, my testing was limited to content I actually own or have licensed to others, including an entire feature-length movie with advertising was enabled. YTC worked like a charm on nearly every URL I threw at it, the only exceptions were Google Play, private, or age-restricted videos, which the software failed to recognize. (The latest version adds the ability to download videos from Facebook and Instagram, which are far easier than YouTube, at least for now.)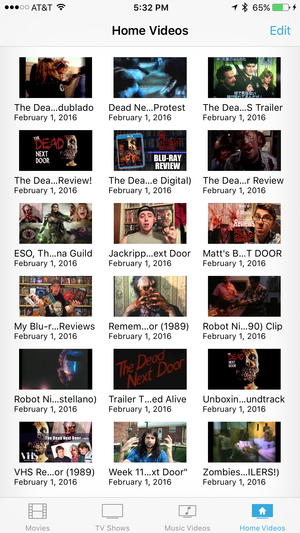 Although you can copy multiple URLs into YTC while videos are processing, I found this method frequently tripped up current downloads; multiple URLs can instead be queued ahead of time, then transferred all at once, which worked more reliably. On occasion, transfers to my iPhone 6s Plus and iPad Pro would fail to work, but reconnecting or restarting the device always got things working again.
Bottom line
Softorino YouTube Converter is an elegant solution for downloading videos for offline playback, but the questionable legality of using it in the first place will make it a non-starter for any Mac users with a conscience.