"I've been writing about Apple since it was doomed." It's a thing I tell people sometimes, when I'm explaining that Apple was faltering and its future was in doubt when I began my career writing about technology.
It's hard to imagine it now, but back in the 1990s almost nobody used the Mac, and that was Apple's only product. Being a Mac user was risky. Not risky in the sense that roving gangs of PC users were going to beat you up and steal your Zip dive if they discovered you were using Mac OS 8, but risky in an emotional way: We were pouring our love into a product that had every chance of dying.
After Windows 95 appeared, appropriating most of the things that made Macs different from PCs, Apple continued to slide downhill. The fear was palpable. Power Computing, a maker of Mac clones (yes, those were briefly a thing), had several ad campaigns with "fighting back for the Mac" as the theme. One of the first cover stories I worked on at Macworld in 1998 was titled "Save Your Mac," and was designed to give Mac users strategies to work with PCs so that their bosses didn't have an excuse to take away their Macs.
Existential threats
I was thinking about these dark times when I saw a link to this Microsoft ad for the Surface Book, which directly takes on the Mac. There was a time when I would've immediately begun analyzing the ad for white lies and exaggerations, compiling evidence to refute the attack like a staffer on a political campaign watching a speech by the opposition.
Instead, I shrugged. (Okay, I'll admit that I lifted an eyebrow when the guy in the Surface Book ad pops off the top and uses it as a tablet, given its dismal battery life as a tablet. But that's it, I swear.) Microsoft's trying to establish a new product, and it's trying everything it can to get people to take notice. Taking on Apple's products is a good way to do that.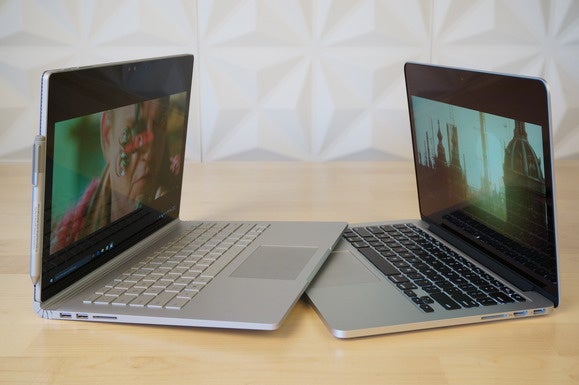 This is where we are today: Microsoft is the underdog. Apple is the success story. I no longer feel the need to defend Apple from unscrupulous competitors who will twist the truth in order to deal the death blow to the company that makes the products I rely on to live my life. There's no death blow to be dealt. If Apple stopped selling products today, it's got enough cash in the bank to stay in business for decades.
Now, if I were an investor in Apple, I'd be concerned for the future. Is iPhone growth over? Can new products and services help offset the maturing of the smartphone market? These are good questions.
But I'm not an Apple investor. I'm just someone who uses the company's products and wants them to continue. And short of Apple doing something really weird (like killing the Mac and iPad and becoming iPhone Inc.–which isn't gonna happen), I'm going to be able to keep using Apple stuff for the rest of my life.
Take it easy
I dearly loved the Mac culture of the '90s. I was a Mac fan before I ever wrote about it; I bought my first Mac (an SE) in the spring of 1990, and read both MacUser and Macworld magazines regularly. We were rebels and outliers, even in the already outsider culture of computer geeks. If we had wanted to blend in with the crowd, we would have been using PCs like the rest of the world. But we just couldn't.
In hindsight, though, I can see that some of the aspects of being a Mac user during that period–most notably the feeling that doom could be just around the corner (because it really, really was) and the fierce protectiveness it engendered–wouldn't mix well with Apple's eventual success.
When the world is against you and the things you love are threatened, it makes sense that you'll fight back. But when you're riding high, safe and comfortable, that same sort of attitude can make you seem more like a bully than a rebel.
I think a lot of old-school Mac users have had to struggle with this over the last decade, as Apple has become so powerful that its most notable struggles these days are with the FBI and the White House, not Microsoft or Dell or even Google. Yes, someone is frequently wrong on the Internet, and having a professional debunker on hand to puncture stupid statements about Apple is handy.
But today, there is literally nothing Microsoft can do to threaten me being a Mac user. Google's not going to take my iPhone out of my hands. Amazon's not going to wreck my iPad. And Apple's going to keep on doing what it's doing for a long time to come.
Sometimes it's worth stepping back and acknowledging this fact. When someone says something nice about Android or encouraging about the Surface Book or even something dumb about Apple's business, they are not threatening us. Apple is perhaps the most profitable company ever–it doesn't need our help defending it from all enemies, real or imagined. We won. Let's remember that, and be gracious about it.