Martin Grauer has a problem with email replies in iOS:
My iPhone 5s was set up to receive emails sent to address "A" and address "B" ("A" mine and "B" my wife's email address). My wife's 5s was set up to receive only emails sent to her email address. Often times when I reply to an email sent to my address (email "A"), it is received by the recipient coming from email "B."
This is perplexing, because iOS ostensibly keeps track of the account to which an incoming email shows up, and uses that as the basis of which email server to use (and which associated email address) for a reply. A message arriving to address A should pass through corresponding server A. When you reply, iOS should "know" this and pick the associated email address.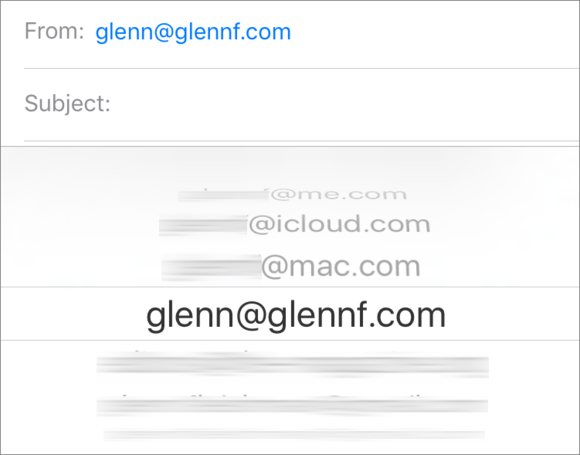 For whatever reason, that's not happening. There are two ways you can affect this.
In any email composition window, you can tap the From email address, which expands the addressing fields, and then tap it again to bring up a selector, which shows all available return addresses among all the accounts you've associated with iOS. Scroll to find the right one.

In Settings > Mail, Contacts, Calendar, you can swipe way down and pick an email address from the Default Account. This is used anywhere in iOS that a compose message sheet appears, but may help out with Mail being confused about replies, too, so long as you want to use that address most of the time that iOS can't figure out the appropriate one.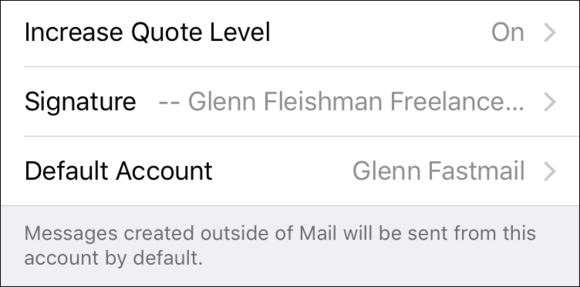 I've discovered a few times that legacy email setup in iOS has caused me trouble. By removing an account from Mail, Contacts, Calendars and adding it fresh, I've resolved trouble with Apple and third-party calendar software, email handling, and other situations. So long as all your email is stored on a server, removing and re-adding the account won't delete messages.
Ask Mac 911
We're always looking for problems to solve! Email yours to mac911@macworld.com including screen captures as appropriate. Mac 911 cannot reply to email with troubleshooting advice nor can we publish answers to every question.