Besides being a show choir nerd in high school and having a deep love for karaoke as an adult, I have zero technical musical skills. I never studied a musical instrument, I can't read music—I barely even mess around with GarageBand.
Luckily for me, none of that mattered as I stepped up to the ARC, a next-level musical soundboard on show during South by Southwest Interactive. As soon as I put my hands on one of the Arc's five instruments, I was transformed into a digital DJ, performing a concert for my fellow showgoers hanging out at Deloitte Digital's Interplay Lab on 6th Street.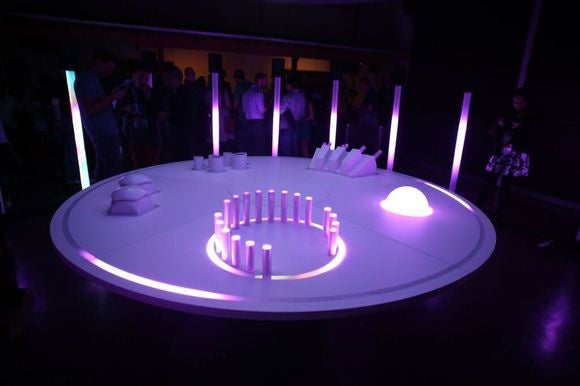 The ARC is connected to a computer that plays a very basic-sounding track on loop. Each of the board's instruments are equipped with tons of tiny sensors that pick up motion and change certain elements of the song—the stations control rhythm, melody, chord modulation, harmony, and sound intensity. A U-shaped series of 20 speakers surround the ARC, which allows participants to hear the sound from all around the room.
None of the instruments look like traditional instruments—one resembles a crystal ball, for example—but each is intuitive enough that I instantly knew how to play. The ARC instruments feed off of each other, too, so participants are creating a new, original sound every time. As I played, the ARC's creators, interactive artists Dave and Gabe, were on deck to guide us through each of the details of the instruments. They helped each of us work together to create new music, before letting us explore the ARC's sound on their own. It kind of felt like I was in a real band for a second.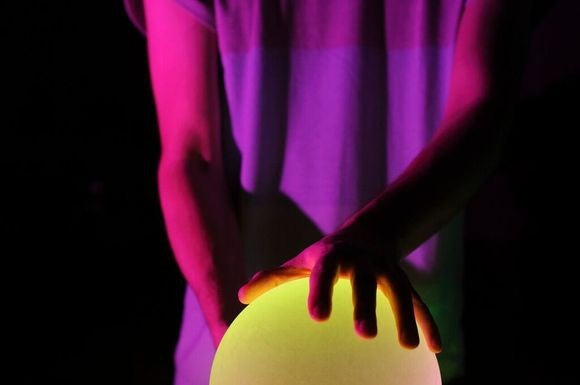 The ARC is just an installation, but it's a prime example of what SXSW Interactive is all about, blending of technology, music, and art together in an experience you won't come across anywhere else.