Kasita makes portable, prefabricated, pint-sized homes, but what's really intriguing about the Austin-based company is that its tiny houses are smart right from the start.
When Kasita starts shipping its 270-square-foot houses later this year, each will come connected with a Nest thermostat, Amazon Echo, Casper queen-sized mattress, View Dynamic Glass, and Hue lighting in addition to standard amenities like a dishwasher, induction cooktop, and convection oven. The company is even working to develop interchangeable wall tiles so you can slot in tiles with shelving, bike racks, or storage instead of hammering into your walls.
"This is like the iPhone of smart homes," CEO Jeff Wilson told me while we lounged in a Kasita model docked on Austin's east side. "It becomes an extension of yourself."
Kasita will be available to preorder online starting April 5. The company hasn't revealed pricing yet, but Wilson said the mortgage will cost less than rent in cities like New York and San Francisco. There's an option to rent a Kasita instead of buy one.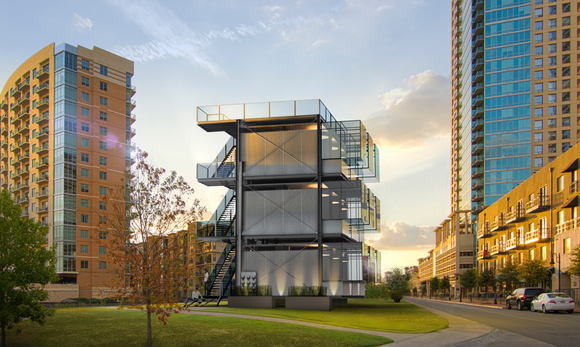 The homes are also mobile, with a unique docking system that will let you take them wherever you want to move as long as the city you're relocating to also has Kasita docks. Austin is the first and only city with docking stations, so you can slot in your house and stack them up to 10 stories high, but the company is working out deals with other cities to allow developers to build docking stations. Imagine being able to take your house with you when you get a job in a new city, and simply paying a monthly fee to slot it into a new station.
I'm not sure I could ever live a tiny home with a partner, but for single urbanites trying to save money on rent, this might be the perfect solution.
Kasita is a finalist in the South by Southwest Interactive Innovation Awards. The winner will be announced Tuesday night.