Let me introduce you to the most awesome computer Apple has ever made.
Yes, it's the G4 Cube. Introduced in the year 2000, this computer, which looked so unlike any that had gone before, has in the years since been broadly written off as the worst of Apple's style-over-substance, a silly extravagance, a moment when Apple roundly misjudged its market. For one thing, it had no PCI slots to let you boost its capabilities, and in those days the industry cared a great deal about that.
I don't mind, though, simply because of the completely glorious way you haul its guts out of the case.
It wasn't just the Cube's internals that got criticized, either. A little after launch, people started noticing cracks in the thick transparent polycarbonate that suspended the Cube above your desk; here's a particularly bad example on mine.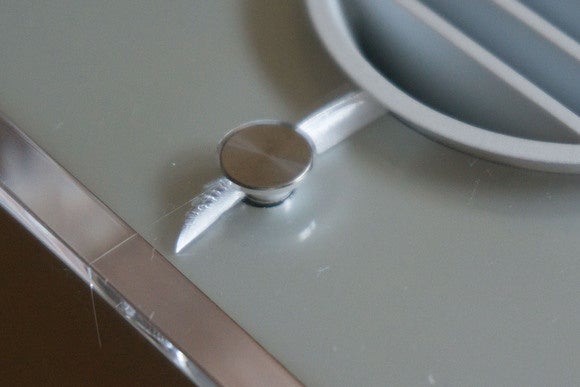 And that's bad. But I say again: look at the unutterably cool way you pull the Cube from its housing.
It was, too, expensive. Not expensive in absolute terms when you look at what Macs generally cost at the time, but too expensive to sit neatly between the consumer-focussed iMac line and the professional-grade Power Mac line. If Apple wanted the Cube to be a midpoint between those two, it failed, because its asking price was only a couple of hundred bucks below where the Power Mac line started.
But I don't care, because even popping out the handle is deeply pleasing.
There are also, of course, things about the Cube that are unequivocally marvelous. It was, for example, passively cooled, so even with a toasty ol' G4 processor chugging away inside it, there was no noisy fan. The warm air just vented up through the central chimney, drawing cool air up from below.
It's quite a remarkable feat of squeezing everything into such a small space, too, judged by the standards of 16 years ago. The tiny board inside a modern MacBook, for example, is without doubt both wildly impressive and in a different miniaturization league entirely, but it was achieved by redefining how they were going to miniaturize. With the MacBook, we're talking flash storage and dramatic system-on-a-chip optimization.
The Cube didn't have this option, and so the fact, for example, that there's a damned great desktop-sized hard disk lurking inside is amazing in its own right.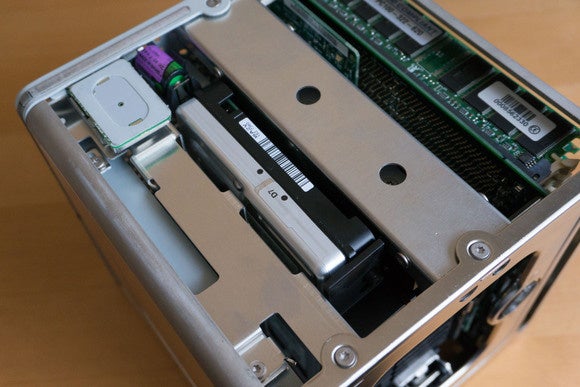 There was, too, the clever but ill-fated Apple Display Connector, which carried not only analog and digital video signals, but also USB and even power over a single cable.
But none of that was as all-round, down-home, smack-my-ass-and-call-me-Judy fantastic as that preposterously wonderful removable core. Even slotting it back in was satisfying.
There's something completely spectacular about this core removal thing. It's unnecessarily epic. Somehow you feel like you should be wearing a hazmat suit as you do it, gingerly drawing a spent nuclear fuel rod from its housing.
Shooting in slow-mo dials up the epic even more.
Actually, you know what that looks like more than anything? That, my friends, looks like a climactic scene from a generic space romp.
Let's dial the epic up to 11.
I'm not going to argue that the Cube is the best computer Apple has ever made, far less the best-value or even the most innovative. But for one reason, and one reason alone, I think it's its most awesome.
Yes, I'm being a bit silly, a bit glib. But for me, at least, that simple act of flipping the Cube, popping out a handle, and drawing its internals out in a single, smooth, fluid movement means I will overlook any and all of its flaws.
It doesn't matter that you rarely had any call to do it. It only matters that whenever you did—whether to upgrade the RAM, or even just because—you felt, just for a moment, like the hero in your own personal space opera.