One of the highlights of a conversation at South by Southwest between longtime friends J.J. Abrams and Andrew Jarecki was something I can't show you, or really even describe. Abrams brought a reel from Westworld, the long-awaited sci-fi Western series for HBO that was delayed earlier this year due to script troubles. It was captivating.
SXSW staffers put the kibosh on all attempts to surreptitiously film the footage, which drew cheers from the audience for its gorgeous imagery of androids and shots of the wild west.
"You can't play God without being acquainted with the devil," says Dr. Robert Ford, played by Anthony Hopkins.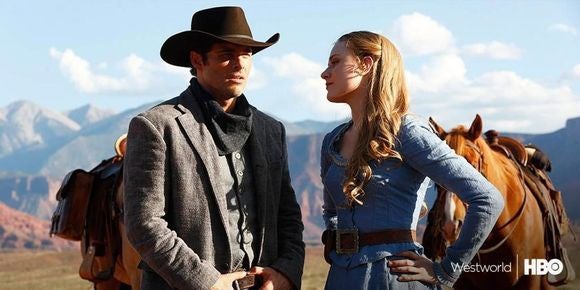 Abrams described the challenges of using technology in making shows like Westworld and movies like The Force Awakens, which required tons of special effects.
"Because we can now all do anything we want in a movie or a show or commercial, we're immune to spectacle and it ends up being used often as a crutch," Abrams said. "The challenge is to be aware of and use as sparingly as possible the tools. Ask yourself as much as possible, what does this moment need? Not just, what can I do."
Jarecki's work, which includes the documentary Capturing the Friedmans and the HBO series The Jinx, isn't laden with special effects, but the director knows a thing or two about tech—he created Moviefone and also has a new video storytelling app for iOS called KnowMe.
Jarecki said he isn't sure if The Jinx will have a sequel following Robert Durst after his arrest for murder. After the last episode aired, in which Durst appears to confess to multiple homicides, Jarecki had to hire security for a month, he said.