Aerial photography drone manufacturer DJI just released its latest drone on Tuesday—the $1,399 Phantom 4—and the reviews are already overwhelmingly positive. " The drone for everyone." " Outsmarts bad pilots." " Blazingly fast and almost crash-proof." So when I came across DJI's pop-up shop and flying cage during South by Southwest Interactive, I had to take the Phantom 4 for a spin and test these claims for myself.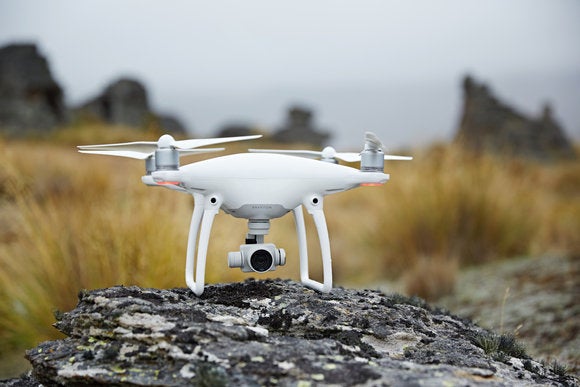 My drone experience is very minimal—the only ones I've tried previously were all largely controlled by an iPhone app instead of a full controller, and I found them to have a pretty steep learning curve resulting in a lot of crashing and struggling to maintain balance (at least for me).
But the Phantom 4 was different. Its two joysticks were easy to use and required little effort—one controlled tilt and height, the other controlled direction (backwards, forwards, left, and right). After a quick tutorial from an experienced DJI pilot, I was zipping the Phantom 4 all around the cage in no time. I had no problems keeping it steady when big gusts of wind tried to knock it off course, and I even nailed the landing.
A companion iPad app showed me what footage the drone was capturing in real time, and also included controls for some of the drone's more complex features. Two things I wish I could have tried out were its tracking capabilities—the drone will follow a subject around as they move—and TapFly, which lets you tap on a visual destination on the iPad's screen to send the Phantom 4 in that direction, and it will calculate the best flight path en route.
While I can't comment on how much the Phantom 4 improves on its predecessors (since I've never flown any of them), it boasts of a few key feature upgrades: Longer battery life that promises up to 28 minutes of flight time; a maximum speed of 45 miles per hour; and front-facing sensors to assist with collision avoidance. Because it's a photography drone, the Phantom 4 also packs some pretty high-end image stabilization gear.
From my brief time in flight school, I can confirm that the Phantom 4 is, indeed, easy to fly, even for drone noobs. Next time, I'd even consider flying solo, without a co-pilot standing next to me.