Susan Kayser feels like something's missing:
I recently upgraded my iPhone and iPad from iOS 7 to iOS 9. Apple's Podcast app seems to have lost all its controls, making it useless: no scrub, no speed variability. The scrub is particularly important; if I miss a few words now, I can't go back and replay them.
They're still there, but you're not alone in thinking those controls have disappeared. (Confession: It took me a few minutes to remind myself as I haven't used the app in so long.) The Podcast app revision did away with unnecessary, goofy skeuomorphic controls and simplified the interface while improving it overall. But the one place it falls down? Finding the Now Playing section.
You can tap a podcast in the Unplayed view or other views, and it will start playing back. A very shallow banner appears across the bottom of the app, above the buttons to switch among views, with a play button, information about the current track, and a more (…) button. Tap the play button and the podcast pauses; tap more, and you can access a variety of options, including see show notes or deleting the podcast.
What's not obvious? Tap anywhere in the center on any of the text information about the track, and it opens the equivalent of a "now playing" view. From that view, you have a playback progress indicator, below the cover art, which you can use for scrubbing, and then below the title information, a speed control and rewind, play/pause, and advance buttons.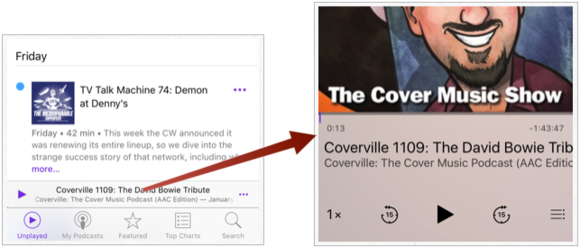 But, better yet, switch to a much more full-featured podcast app, like Castro or Overcast, both of which are entirely free for the full range of podcast features, with an option to support them through a monthly patronage donation.
Ask Mac 911
We're always looking for problems to solve! Email yours to mac911@macworld.com including screen captures as appropriate. Mac 911 cannot reply to email with troubleshooting advice nor can we publish answers to every question.