Apple took the wraps off the iPhone SE and 9.7-inch iPad Pro at its "Loop Me In" event on March 21, but the company's most revelatory launch of the spring isn't new hardware. It's the open-source framework CareKit, which is poised to transform the future of health care.
If you're anything like me, you go to the doctor for a check-up once a year. In the 364 days between visits, any number of things happen that we forget about—nothing medically major, but changes in exercise routine, diet, and stress levels that can be significant when taken as a whole. Maybe they just don't seem important enough to mention to a doctor. But with the help of health-tracking iOS apps, we have all of that data at our fingertips. CareKit takes that information and makes it actionable, and, perhaps more importantly, shareable with your doctor.
The first wave of CareKit-integrated apps hits the App Store in April, each using the framework in different ways. Apple has developed four modules to start: A Care Card, which acts as kind of a health to-do list; a symptom and measurement tracker for reporting your data; an Insight Dashboard so you can see how the action items on the Care Card are affecting your health; and a Connect tab for sharing that data with anyone: your partner, your family, or your physician.
We confess more about our lives to our phones more than to our doctors, as New York Times columnist Jenna Wortham noted this week in an excellent piece. Phones don't judge us. We enter embarrassing symptoms into an app that we might gloss over in a routine doctor's appointment. With CareKit integration, the apps you trust with that private information will enable you to more easily track those symptoms, follow a self-care checklist, and if something is really problematic, help you involve a doctor. CareKit is empowering.
The first CareKit apps
The first app to hit the App Store with CareKit integration was mPower, a ResearchKit study on Parkinson's disease from Sage Bionetworks and the University of Rochester. That app became the largest Parkinson's study of all time in less than 24 hours when it launched last year.
But CareKit extends to apps across the health spectrum, not just medical research studies. Post-surgery care apps, home health care apps, and a diabetes-monitoring app are all on the way come April, each using CareKit in different ways. For instance, if you're following a recovery plan on a Care Card in the Texas Medical Center surgery care app, your physician will be able to update that card with more action items without an office visit or even a phone call.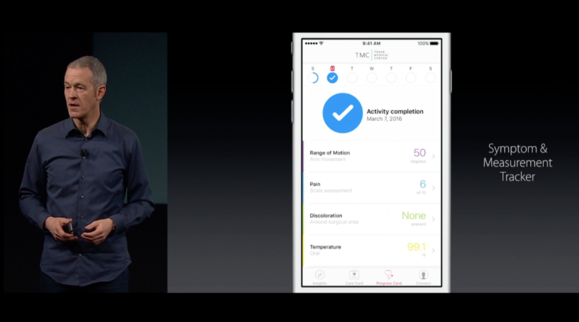 "One of the most important things affecting the outcome of surgery is what you do in the recovery process, yet we go from being monitored by a team of highly trained specialists using leading edge technology to being discharged with a single sheet of paper," Apple chief operating officer Jeff Williams said during the CareKit announcement as part of Apple's event on Monday. "This is your list of things to do, not to do, which days to do them on. Adherence to this is notoriously very poor. Using the CareKit modules, we've been working with TMC and they've created an app that guides you through the process in a totally different way."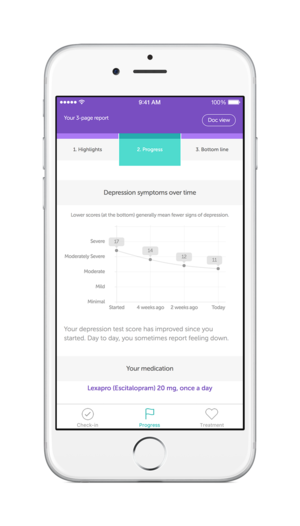 For Jennifer Tye, founder of women's health startup Glow, one of the most important CareKit functions is Connect. Glow is implementing CareKit in two of its apps, the pregnancy-tracking Glow Nurture and the newborn parenting app Glow Baby. Pregnant women and new mothers often want to share data about their pregnancy or their newborn with family or a physician, and Tye told me CareKit integration will make that a whole lot easier. (Currently, the Glow Nurture pregnancy app lets you create a PDF of your data to email or print out and bring to your doctor's office.)
CareKit goes beyond physical health. Start is a mental health app that will use the new framework to help those dealing with depression figure out if their medication is working or not.
"Twenty to 30 years ago, mental health was seen as a different province of health and it was very much a detached thing where you got treated for physical health in the doctor's office and mental health care wherever you could get it," said Thomas Goetz, founder of Start developer Iodine. "Mental health has a clear, often leading, role in physical health. Depression, anxiety, and pain are intertwined issues. If we can help people manage mental health, oftentimes you are helping them manage their physical health."
Goetz told me that treatment for depression is difficult to quantify and so it requires a continuous feedback loop between a patient and clinician until the right medication and dose is found. CareKit will make that loop more elegant, he said, and allow Start users to provide more context around their treatment, like information about therapy and exercise.
Goetz noted that CareKit also has the potential to save health insurance companies money by helping people follow through on their treatments.
Why CareKit is so important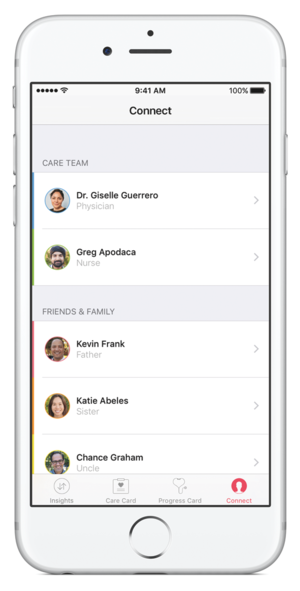 CareKit is phase three of Apple's bigger health initiative, which began in earnest with the launch of HealthKit in 2014. The company saw that third-party health and fitness apps were collecting your data—from step counts to sleep to food intake—and keeping it in silos. The HealthKit framework pulls all of that information into one database, makes it viewable in the native Health app, and allows third-party apps to grab relevant data if you allow them to. ResearchKit launched last year as a way for medical researchers to widen their sample size—now anyone with an iPhone can participate in a study, and ResearchKit apps can tap into the phone's sensors to collect more than just self-reported information. All of that research will be used to make medicine more precise, according to Apple COO Williams. The same could be said for CareKit apps.
Your phone now has tons of incredibly personal data about your body (which is yet another reason why iPhone encryption and Apple's stance on privacy are such critical issues). That data goes beyond daily step counts. There are devices with heart rate sensors that sync to your iPhone and can warn you when it's beating dangerously fast. There are iOS apps for women to track their periods, sexual activity, and pregnancies. People use apps to monitor their epilepsy, Parkinson's disease, and breast cancer treatment responses. All of that information is on your iPhone. CareKit gives you more control over what happens with that information, so you're not just quantifying your body for the sake of it. You can do something with that data—track it, chart it, share it, or keep it completely private. CareKit has the potential to quietly up-end the entire health care system.