The good old wallet may have competition from Apple Pay, but it hasn't quite left the building yet. Even after a deep culling, you'll likely still have a handful of cards and some cash you can't do without.
You don't need to lug around a giant lump in your pocket, though. Plenty of case manufacturers produce a variety of protective accessories with a little extra room for the most essential elements from your wallet.
We went hands-on with a carefully selected list of five different cases to see which is the best for going the streamlined route. All of our contenders had room for at least one credit card, and work great for quick trips to the closest convenience store or a day at the beach. But for your daily routine, one rose to the top.
Best iPhone 6/6s Wallet Case: Hex Solo Wallet
Our favorite iPhone 6/6s wallet case is Hex's Solo Wallet. It's not a traditional folio design, but we ended up preferring its placement of two handy card slots right in the back. Sliding out your credit cards when you walk up to a checkout counter is a snap—but the case is also engineered in such a way that whatever you secure in the slots doesn't fall out, even if your iPhone ends upside down.
The Solo Wallet also comes with the option of a neat "stingray" texture that offers an excellent grip, and combines easy installation with a unibody design that protects your handset without requiring a cover. That's a real time saver when you need to answer a call or check your screen for notifications, and also very handy for use with car mounts, since you won't need to fold back a front flap.
[$40; available from Amazon and Hex]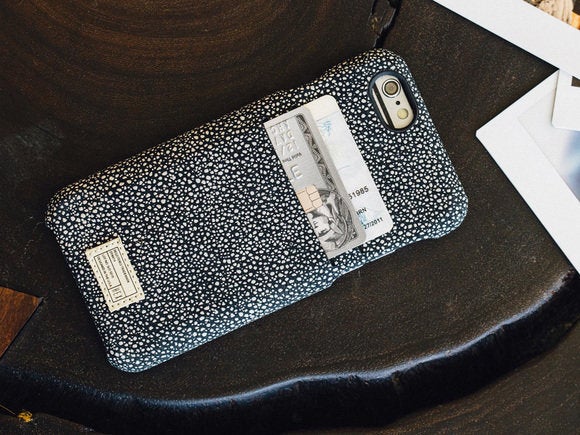 Runner-up
Nite Ize Connect Wallet
If you need more room in a wallet case, Nite Ize's Connect Wallet is definitely our next choice. It features a removable hard shell with a full protective enclosure that can house up to three credit cards (or a combination of a credit card[s] and cash). Besides offering such generous amounts of space, the two-piece construction makes it easy to shed the extra bulk when you don't need a wallet replacement.
And if the convenience of a case that turns into wallet on demand isn't enough, the Connect Wallet even comes with a removable belt clip that lets you rock your iPhone '90s-style. Retro chic!
[$40; available from Nite Ize]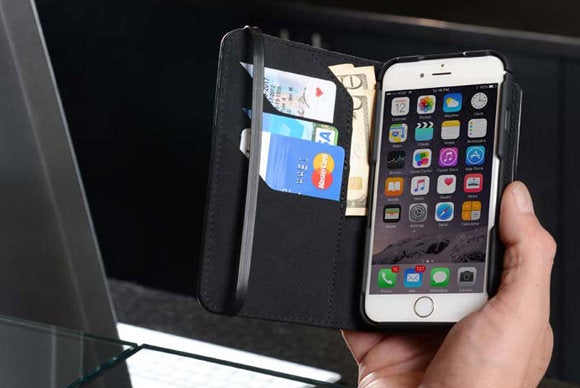 What we looked for
A number of considerations go into finding the "right" wallet case.
For starters is a case's construction: Some models have tight pockets designed to ensure that your cards won't accidentally fall off when you're out and about, but this also makes it harder to pull them out when they're needed. However, since most materials tend to relax over time, a tighter fit is generally better, and the pockets will eventually reach a good balance between safety and convenience.
Speaking of materials, we recommend looking for a finish that strikes a fair compromise between form and function. Most cases look great, but we recommend you stick to those that have sturdier materials that'll hold up against daily use. Also, given the added bulk of cards and cash, you'll want a finish that allows a firm grip, and thus will minimize the chances of dropping your phone.
Ultimately, it takes a bit of patience to find the right combination of materials, looks, and layout that fit with your lifestyle and needs. The good news, however, is that there are plenty of cases to choose from.
How we tested
We tested all the cases over a period of several days, taking them with us everywhere. We paid particular attention to how functional they were, and how their construction and materials behaved under normal use.
We also noted how easy they were to install and remove, since some people will only want the extra wallet capabilities on an occasional basis, as well as how each case fared inside a car mount. We checked if we could access all the ports and buttons of our iPhone with each case on, too.
Finally, we didn't forget that cases are ultimately about protection. Though we didn't perform a full series of scientific drop tests, we did suffer the occasional mishap without any lasting damage, and are confident that all the cases we reviewed will keep your devices safe during everyday use.
All of our iPhone wallet case reviews
Have a special set of needs, or looking for a particular style? Here's our list of all the wallet cases we've reviewed. We'll keep updating this on a regular basis, so be sure to come back to see what else we've put through their paces.