I first touched an Apple product in the early 1980s. The father of my best friend in elementary school was a technology enthusiast, and when I visited their house, I got to lay hands on their Apple II+. What I remember most about it was that you could play video games on it that were more sophisticated than anything you'd find on the Atari console I had at home.
The other oddity about the Apple II+ was that it couldn't display lowercase letters. Throughout the 1980s, we could identify Apple II+ users on message boards BECAUSE THEY ALWAYS TYPED LIKE THEY WERE SHOUTING. It wasn't them; it was their computer.
The Apple II captured my attention and started a lifelong connection with Apple products. We had them at school, of course, and my friends and I spent hours of recess and lunch and after school playing Ultima and SSI Computer Baseball and countless other games on the school computers. In early 1984 my parents allowed me to dip into the money they were saving for me to go to college–a bold move since I wasn't yet in high school!–and buy an Apple IIe.
The IIe was a big update from the II+, with support for both upper and lower case characters, and it could fit 80 characters per line. Or to put it another way,
LIFE WITH AN APPLE II+ MEANT THAT LINESWERE SHORT AND LOUD, LIKE A SHOUTINGPERSON WITH A BREATHING PROBLEM.
Life with an Apple IIe was more elegant. Both kinds of letters, and long lines.
I wrote countless BASIC programs on those early computers. But if I'm honest, I have to also admit that I pirated a whole lot of software on those computers. On the Apple II, you didn't just have two disk drives in order to load up on storage–you had them so you could stick a blank disk in one of them and copy the disk from the other.
I loved that computer. Armed with an excruciatingly loud dot-matrix printer and reams of tractor-fed paper, I wrote numerous short stories and school essays on it. I typed in BASIC programs from magazines and discovered my superpower–pounding on computer keys really fast. And yes, I even met my first girlfriend though it. (Natives of the 21st century may be startled to discover that teenagers met each other online even as far back as the 1980s.)
Proving my parents' investment in my future to not be in vain, I took the Apple IIe with me to college. But in the fall of my sophomore year, I started working at my college newspaper–and using Macs frequently. The fact that both computers were made by Apple was helpful–there was a utility called Apple File Exchange that allowed a Mac to read my Apple II-formatted disks, so I could write things on my Apple II and then transfer them to the Macs at the office.
Microsoft Word, Aldus PageMaker, and the networked space-battle game NetTrek were powerful drugs. I started writing my essays at the newspaper office on off hours, because I'd rather write on a Mac SE than my old Apple IIe. The poor thing probably never saw it coming. That spring I bought a Mac SE of my own during a sale at the campus bookstore, and my life as a Mac user began in earnest.
I loved that computer. I bought Macworld and MacUser magazines, read Internet newsgroups, downloaded shareware and Apple OS updates (including System 7, which took more than a day and something like 15 disks to download). I marveled when a young MacUser columnist named Andy Ihnatko made a joke about my apartment's cross street in the Help Folder column, not realizing I'd end up knowing that guy for two decades.
In grad school, I got a PowerBook 160 and an internship at MacUser magazine, beginning my career as a technology writer and editor. It's hard to believe that I have been writing professionally about Apple for more than half of its existence, but the math doesn't lie–23 years out of 40.
In my time at MacUser, I got to work with a lot of cool people, but it was at a pretty difficult time for Apple. There were a few times when I began to wonder if I had made a gigantic mistake in lashing my career to my enthusiasm for a computer platform, because it was looking like I would lose my job and all of my computer skills simultaneously. Those were the darkest of times. It was also the only time I ever bought a computer not made by Apple. (It was a Power Computing clone, which was the rage at the time.)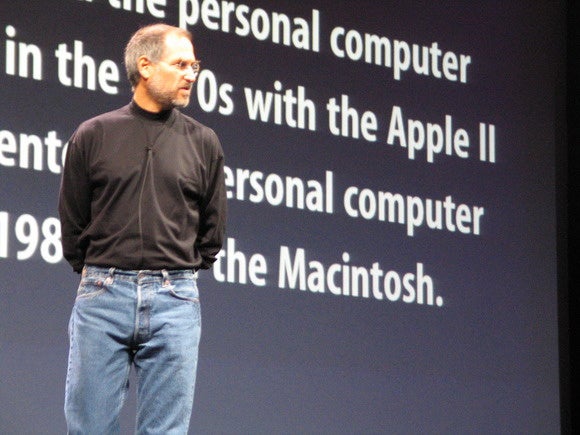 But Steve Jobs's return to Apple changed everything. As a new editor at Macworld, I got to witness the company's near-death experience and emergence firsthand. One of the first feature stories I worked on at Macworld was titled "Save Your Mac," and was all about finding ways to keep your company's managers from wrestling your computer away from you. Meanwhile, our company's CEO plotted the eventual conversion of our magazines to serve designers and other Mac refugees who were going to inevitably be forced to flee to Windows NT.
It didn't happen. Instead, writing about Apple for Macworld became a roller-coaster ride of a different sort. The iMac appeared and Apple had something resembling momentum for the first time in ages. OS X promised to bring Unix power to the Mac and do away with the classic Mac OS, which had served us well for 17 years but couldn't provide the stable foundation that a modern computer required.
And then in 2001, the Apple Store and iPod arrived and changed Apple's fate forever, though it took a while. The iPod was a product even Windows users wanted to own, and it was such a great product that it began to make people less likely to think of Apple as the maker of weird, incompatible computers and more likely to think of Apple as the creator of fun technology products. A visit to the Apple Store in the local mall would only reinforce this impression. The "halo effect" had begun, and it would boost Mac sales, make the iPod a hit product, and prime the pump for the big story – the iPhone.
Future historians, if pressed to give a Hitchhiker's Guide to the Galaxy-length description of the relevance of Apple, may simply say "the iPhone." The Mac was so groundbreaking that it deserves a lot of credit, but the iPhone is a product that has transformed Apple. There are many, many people who never used an Apple product before they bought an iPhone. Some of them had iPods before, some of them may have even bought Macs since then. But from the vantage point of nine years out from the iPhone's debut, it seems like the iPhone in general, and smartphones in particular, will be remembered as a huge milestone in our technological history.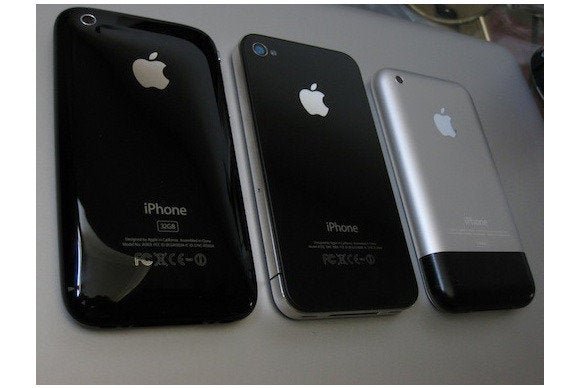 There's a joke in a 2005 episode of Doctor Who, set in the far future, where a character refers to a giant Wurlitzer Jukebox as an "iPod." It was funny at the time because the iPod was so ubiquitous it was amusing to think of future generations categorizing all jukeboxes of every kind as "an iPod." It's funnier now because the iPod is already fading into memory, eclipsed by the iPhone. Remember the iPod? I type and say "iPad" now when I'm trying to mention the iPod. How quickly things change.
In about two years, OS X will have been around as long as the Mac was around on the day that OS X was introduced. Apple will have been around for as many years as the ultimate answer to the ultimate question of Life, the Universe, and Everything. (Apologies for the multiple Douglas Adams references–he'd be 64 now and was the world's biggest Apple fan. I wish we could've seen what he would have made of the iPhone.)
But an OS X anniversary seems almost beside the point these days. Whether you're a believer in the iPad as the future of computing, or just someone observing that smartphones have taken over the world, the tech world just keeps pushing forward. Maybe in a decade we'll all be talking to a Siri that lives in our ears or floats in the air of our homes or pops up in our vision.
But this much seems certain: Apple's been bringing the future to us all for 40 years, and it shows no signs of stopping. Bring on the next 40.