It's a sad day, friends; Think Retro is being put to sleep. Wait, I mean in the sense of choosing Sleep from the Apple menu—or, since this is after all a column about vintage Apple, from the Special menu. Not in the "Rover is going to live on a farm upstate where he'll be very happy" sense.
Yes, it's writing the contents of RAM to the hard disk, powering down its fans with a reluctant FVVVVvvvvvmmmmmmaooowww… and pulsing its little LED in slumber. And it's all my fault. I'm off to do something completely different, and won't be able to devote time to my passion for retro for a while, far less share it with you here on Macworld.
That has been the best thing! It seems like no matter how obscure or apparently trivial a subject I pick, this lovely community will go, "Yes! I remember that too, and you're right, it was awesome!" Remember the time I told you I have a favorite power cable and it transpired that even if you couldn't call this kind of behavior normal, at least you showed me I was not unique in my abnormality? Great days.
They always say that you should never read the bottom half of the internet—meaning, never look at the bubbling, fetid cesspool of Godwin's Law and generic bile that constitutes most comments sections—but the comments on my Think Retro articles have always been sweet, positive and constructive. A cynical mind might assume Macworld's staff were just hard at work deleting the inevitable snark and snideness that surely such silly, fun and naive little articles must attract, but I'm told that's not the case; you simply are a lovely bunch.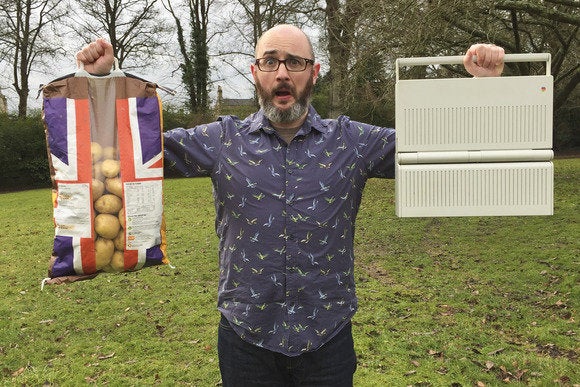 While your comments have been the best aspect of my time writing Think Retro, the fact that Susie Ochs had me do it at all has been awesome. It's been such a preposterous amount of fun to explore the world of vintage hardware and software, and I really wish it didn't have to end. Well, it's not necessarily ending as such; you've proven that there's an appetite for this stuff, so don't be surprised if you see more retro tech appearing on Macworld—and indeed elsewhere on the web. We're choosing Sleep, not Shut Down.
A little help from our friends
If you can't wait till then, though, let me recommend a few places and people who celebrate old computers as much as we do. First, try clicking back through previous installments of Think Retro; I've written 73 so far, totaling 68,420 words; iA Writer tells me that would take nearly six hours to read, so that should keep you busy for a little while.
The subreddit for vintage Apple stuff is a great little community, and I'd encourage you to get involved; it's sometimes a little quiet there.
There's the wonderful 512 Pixels—and since you're here I'm sure I don't have to explain the origin and significance of that name—and if you can help out Stephen with his quest to source one of every color variant of the Mac that saved Apple, that would be marvelous; I can't wait to see the result.
I really enjoyed the woefully short Old Tech New Tech series on YouTube, but check out the channel for more vintage tech videos.
Macintosh Garden is a great place to poke around to relive your glory days or help you resuscitate old Macs.
Blake Patterson's Byte Cellar is worth a visit or several, and Riccardo Mori is worth following if you're on Twitter.
I also can't recommend Jonathan Zufi's book, Iconic, strongly enough. It's described as a tribute to Apple, but it's a love letter really, and a sweet and impassioned one at that. I can identify, and I'm sure you can too.
And that's it for me, for Think Retro. There's so much that I haven't had a chance to share with you! I haven't had time to cover any of the pre-Macintosh Apple computers; most of the early Macs; the G3 iMac (and my favorite, the Snow model) that marked the turning point in Apple's history; the original iPod which, um, marked another; the Xserve; eMac; G4 Mac mini; the blue and white G3; the tangerine iBook; the literally red-hot PowerBook 5300 series; the ImageWriter II and my love for the screech and rip of a dot-matrix printer; the colossal impact the LaserWriter had; the Multiple Scan 15 monitor that my family's first Mac had; Newton; System 6; System 7.6; Mac OS 8.6; or a nearly infinite variety of first- and third-party apps and ephemera that makes this such a wildly rich and delightful field to play in.
Maybe I'll see you around these parts in the future, but I've so enjoyed my time with you here in the past. Think Different. Think Retro.