Barely out of high school, my so-called career in the mid-'80s was making low-budget feature films for the home video market. Although those flicks were more about zombies, mutant drug lords, and evil witches over plot or substance, they kept me busy for over two decades.
In those days, visualizing how scenes might play out before arriving on set with expensive equipment and a cast and crew required the skills of an artist talented enough to translate the screenwriter's words and director's vision into paper sketches called storyboards.
Flash-forward to the present, and technology has again found a better way, one that allows media creators to put 3D representations of their vision on screen before rounding up investors willing to finance your latest epic.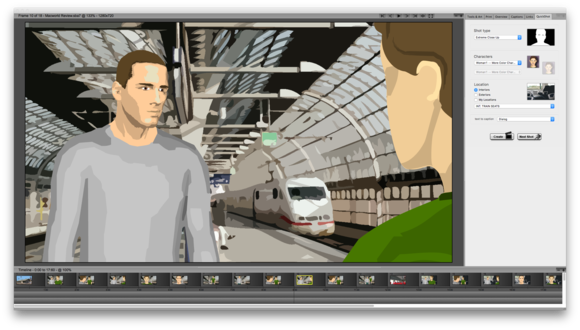 Cinematic vision
Crafted by engineers with a background in film production, StoryBoard Artist 7 ($800) is Mac software that makes it easy for anyone—even those who can't draw, like me—to create digital storyboards and plan complicated special effects shots or entire sequences, complete with virtual actors, props, and backgrounds.
Known in the industry as previsualization ("previz" for short), this work typically requires complicated, high-end software. SBA7 can't really be considered "affordable" in today's freemium-minded App Store economy, but it's cheaper than rival Storyboard Pro ($999; subscriptions also available) and simple enough for anyone to use.
Although SBA7 works on Macs running OS X Snow Leopard 10.6.8 all the way up to the current OS X El Capitan, you'll need at least 15GB of hard drive space to install the software split across three installers. Most of this is consumed by libraries of 3D rendered, ready-to-use models, which can be installed in a location other than your capacity-starved internal SSD storage, such as an external drive.
This arrangement worked great until I updated to the latest build, which broke the link to the Libraries folder on my external drive and caused the application to display an error at launch. I was only able to circumvent this bug by reinstalling everything on my system drive, then applying the update.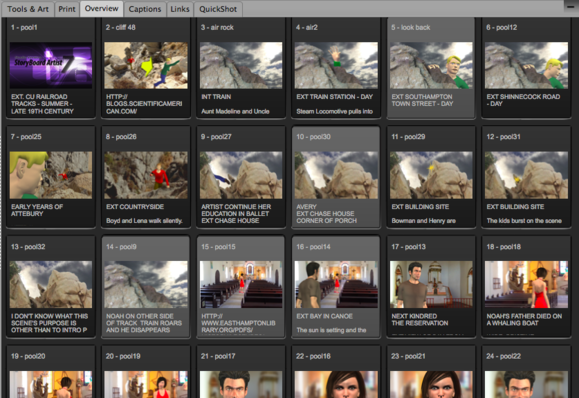 Lights, camera, action!
At first launch, StoryBoard Artist 7 looks daunting, but since the layout echoes popular video editing applications, it's easy to get started. Should you require assistance, the Help menu provides a handy link to a comprehensive user guide in PDF format, along with links to tutorial videos hosted on the company's website.
The user interface may not be as polished as applications from bigger publishers, but everything is laid out in a logical, intuitive way. There's a timeline across the bottom, with tabs containing built-in artwork and tools at right; the rest is a storyboard frame window, the canvas used to bring your story to life.
Storyboards can be as simple or complicated as you want. The easiest place to get started is the QuickShots tab, where you choose from a variety of common shot angles, add the required number of characters, then place them in the appropriate location. Add text for captions, click the Create button, and SBA7 creates each shot for you automatically.
Characters can be adjusted in an unlimited number of poses using intuitive tools and placed into virtual environments or your own stills taken on location. You can even import existing 3D files saved in the SKP format for a limitless catalog of possibilities. One thing you can't do: Export XML files into Final Cut Pro, which requires the more expensive Studio version.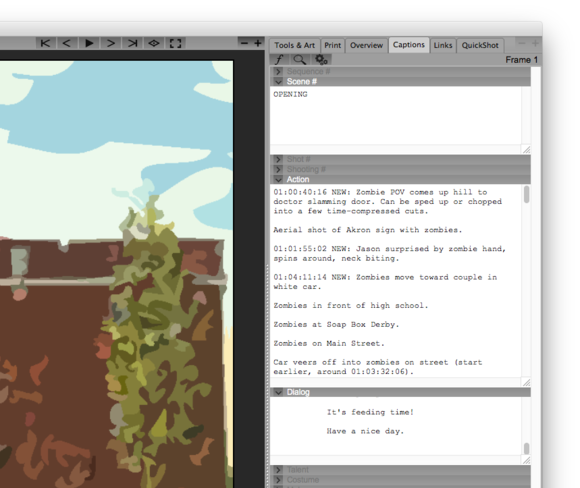 Script to screen
StoryBoard Artist now makes it easy to go from typewritten word to visualization, thanks to the ability to import script files created with popular applications like Final Draft. This is a massive time saver, because filmmakers can focus on the look of scenes without being bogged down by manual entry of captions and dialogue.
Another new feature that streamlines the process is masking, which comes in handy when importing your own digital photos. Users can isolate and extract desired objects, removing unwanted backgrounds without the need for image editing software. The tool is fairly crude and there's no support for edge feathering, but otherwise gets the job done.
While SBA7 works well for static storyboards with or without a soundtrack, it excels at creating "animatics," which include animated motion as well as images. Filmmakers have control over perspective, opacity, brightness and contrast, color, and intensity, with filters that simulate artistic or traditional cinematic looks such as depth of field.
Acknowledging the world has gone mobile, there's a universal companion iOS app called StoryBoard Artist Shot Assistant that allows projects to be exported, sent via email, and viewed on iPad or iPhone. It's a bit clunky and hasn't been optimized for iPhone 6 or iPad Pro displays, but is otherwise indispensable for shooting on location. Directors can refer to storyboards while composing shots, marking them off as completed. It's the icing on the cake of a fantastic creative tool, but you'll have to shell out $20 to own it.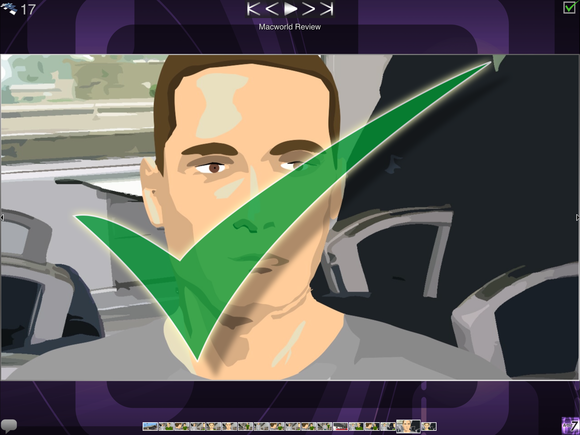 Bottom line
Despite an overall lack of polish, StoryBoard Artist 7 is essential for visualizing film or video productions, especially when paired with the companion iOS app.