James Dobosiewicz asks:
Is there a way to use AirPort Time Capsule for wireless backup only—that is, without using it as a wireless router too? I already have a non-Apple Wi-Fi router in use, and do not want to replace it quite yet.
Yes, absolutely. You can connect the Time Capsule via ethernet to the rest of the network via its WAN port, and it will be available to any computer that connects to the network, whether that Mac is using Wi-Fi or not.
In AirPort Utility, you can disable a base station offering Wi-Fi service.
Launch Applications > Utilities > AirPort Utility.

Select your base station and click the Edit button.

Enter the base station's administrative password, if prompted.

Click the Wireless tab.

From the Network Mode pop-up menu, select Off.

Click Update, and the base station will restart and load the new settings.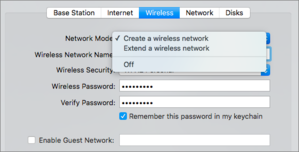 When and if you're ready to use the Time Capsule to act as a Wi-Fi base station, follow the above steps and in step 5, choose Create a Wireless Network for a standalone network or one that's connected to others via ethernet, or Extend a Wireless Network to make the Time Capsule connect wirelessly to another base station that acts as the main hub on the network, and is connected to a broadband modem.
Ask Mac 911
We're always looking for problems to solve! Email yours to mac911@macworld.com including screen captures as appropriate. Mac 911 cannot reply to email with troubleshooting advice nor can we publish answers to every question.