If there's one consistent theme at Apple since the 1998 release of the iMac, it's that the company stopped trying to compete on price as it simplified its product matrix. Apple returned to financial health and has thrived because it keeps its margins fat, even when competitors are slicing theirs.
So why did Apple introduce a new $400 entry-level phone and cut $50 off the price of the existing Apple Watch models? At first glance, both moves seemed out of character, even though the Apple Watch has been on the market for a year, and the iPhone SE has a frame identical to the iPhone 5s—though its innards are thoroughly up to date.
Many commentators have previously noted that Apple has a punctuated drumbeat of price reductions on its phones as they age and new models appear; iPad models had less predictability. I looked at major feature introductions, time lapsed since they were incorporated on new phones, and the first, second, and third year pricing of each iPhone model on the market. The iPhone SE fits neatly into Apple's previous rubric, as does the Apple Watch into what may be a new smaller set of steps.
The question to ask about Apple's pricing is whether it's cannibalizing its own sales or killing its darlings—both horrible phrases that are apt. Does pricing the iPhone "low" steal sales from higher-end models that generate more net revenue per unit, even if they have the same percentage of profit margin? Or was it time for the iPhone 5s to die—seemingly six months ahead of the usual schedule—to move its customers along?
The price move on the Watch is harder to fathom, because a price drop without a new product on the market is a sign from most companies that sales haven't been as robust as predicted, a new model is coming out in the near future, and it's time to clear out inventory. With Apple, this is harder to interpret, because it keeps older models of iPhone and iPad on the market for years, and continues to support them with OS updates for multiple years after the model's initial introduction.
Looking at the iPhone's price ratchets
It's not a new observation that Apple lowers its prices on older models when it introduces new ones, but until charting it, I didn't realize quite how consistent it's been since the release of the iPhone 3Gs. Starting in 2009, Apple dropped each previous model year's price by $100. There are a handful of what seem like exception, but they turn out to be variants in storage: an iPhone introduced with a minimum 16GB model (like the iPhone 5/5c series) dropped $200 in a subsequent year when it was only offered with 8GB of storage.
The iPhone is arguably exactly the same price in the year-over-year ratcheting, given that its release with only six months into the iPhone flagship cycle, and thus dropping $50 instead of a full $100.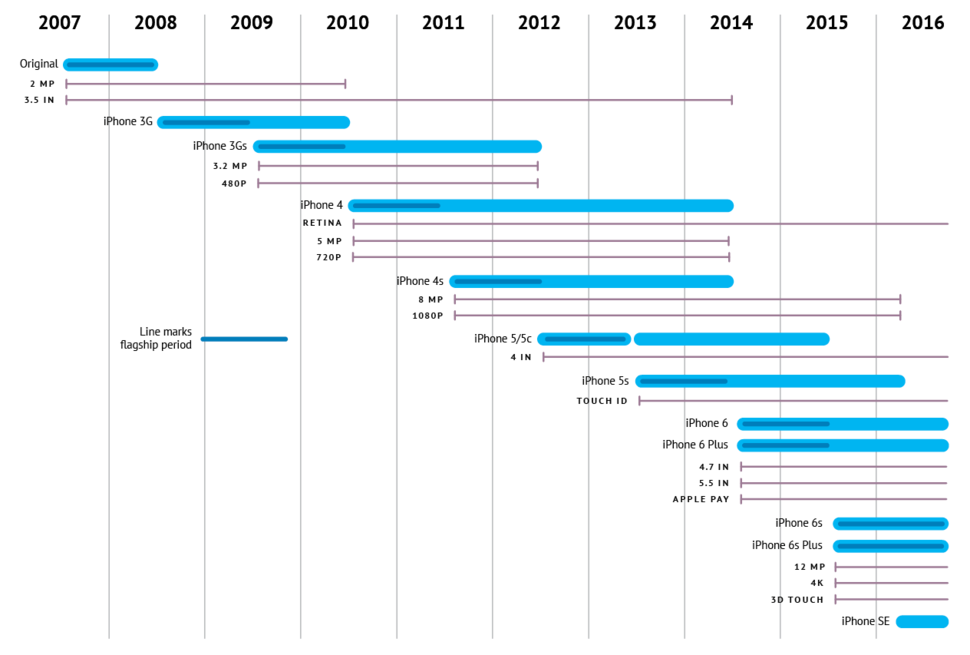 However, the iPhone 5s gained several 6 and 6s series hardware options—processor, the improved camera, Apple Pay, and 4K video—but not 3D Touch, making it a fairly remarkable bargain coming just six months and 18 months after various of those features appeared in the larger models. It should be much less expensive to make the iPhone SE in materials consumed and perfecting the manufacturing process, which lets Apple keep its accustomed margin, too.
The chart shows the price for the 16GB model of each iPhone, except when only an 8GB model was available; the original iPhone initially came in a 4GB model, which I exclude for comparison. Phones with 8GB include the original iPhone and iPhone 3G, and the only model for sale in the third year of availability for the iPhone 3Gs, 4, 4s, and 5/5c. The original iPhone and the 3G and 3Gs are shown with $450 added to the contract price to normalize pricing with the full unlocked cost of later models.
The Watch pricing, even without a new model (and rumors that one isn't coming until the end of 2016), fits with the same strategy. It sets an implicit, not-quite-acknowledged expectation among buyers that there won't be a sudden drop in price, making them have remorse for a purchase, nor a radical increase. They know that if they wait long enough to purchase something new, aging tech will remain supported and cheaper and newer tech will cost almost exactly the same as they paid at the same point in the product cycle. Consistency reduces customer purchase anxiety.
This approach would seem to argue against cannibalization, and rather towards something more complicated.
Completing an ecosystem
The iPhone SE's pricing, introduction date, and features reinforce the idea that Apple wants a well-rounded ecosystem that stretches beyond phone dimensions. In the timeline earlier in this article, I included just a few significant specs, such as video-capture resolution, device size, and Touch ID. Once Apple adopts a feature aside from dimensions, it slips into every iPhone, providing a grouping that grew from two models for sale at one time to what's now five models. This appears to be a template for the future.
It gives Apple the tick and tock for introducing larger flagship models, and a stalwart "half-tock" for its customers who want a 4-inch phone. In 2013, Apple could offer Touch ID just on an iPhone 5s, Retina on all models for sale, and both 3.5-inch and 4-inch form factors, but also a range from a fairly underpowered iPhone 4's A4 processor to the still presentable 5s's A7.
In 2016, every device has Retina, Touch ID, and Apple Pay; only two processor models are in use (the A8 and A9); and the phones have either 1GB or 2GB of RAM. Even though many older iPhones (and a vast number of older iPads) remain in use, this level of consistency gives Apple the ability to make blanket statements—like, all our iPhones have Apple Pay—and developers a higher-level target to consider for new projects or app tune-ups.
This doesn't feel like Apple is eating the bottom of its own product line, which would be a classic Innovator's Dilemma approach. Even with the market in the developing world that many analysts believe the iPhone SE has in its sights, the SE doesn't undercut the difference in utility of phones with a bigger screen—nor the status element of having what's recognized as a new phone and a flagship model. Apple will certainly roll in more differentiators this fall, and may keep the SE locked with its current set for years, albeit with minor upgrades to keep it up to date with the group of larger phones.
It seems fairer to say that Apple has done the tablecloth trick, where one whips a fully set table's cloth off and leaves dishes and silverware in place. By keeping the form the same, Apple continues its path up a steeply angled conveyor belt, which dispenses new, fancier products at the top, and lets the oldest ones drop off and disappear.