More new cars are shipping with CarPlay every year, including the Chevy Volt. GM loaned us one to try the new features Apple just added to CarPlay in iOS 9.3, namely the For You and New sections in Apple Music, and the ultra-handy Nearby feature in Maps.
In the video above, you can see both features in action, but what you can't see is how much more responsive the Chevy Volt's touchscreen is than the aftermarket CarPlay stereo from Pioneer that I tested a year and a half ago. That one had a capacative touchscreen that just didn't register all of my touches, but Volt's built-in touchscreen worked perfectly every time.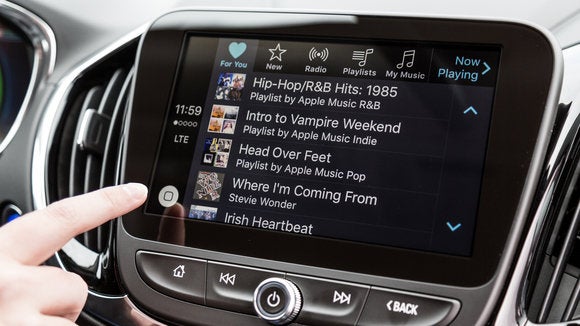 iOS 9.3 brought the New and For You sections to Apple Music in CarPlay, which is great if you aren't sure what you feel like listening to. I love how the New section has more than just albums, but I wish you could refresh For You to get more suggestions, like you can on the phone. In Maps, the Nearby feature is great for finding coffee, gas, restaurants, and more—except sometimes it wants you to pull a U-turn and retrace your steps to a destination behind you, instead of finding you something in the direction you're already headed.
2016 Chevy Volt
The Volt's high-tech bells and whistles even had me wondering how the Apple Car would compare. For starters, the Volt is a plug-in hybrid, kind of the car version of Apple's Fusion Drive.
The Fusion Drive, you'll recall, combines a solid-state drive and a traditional hard drive into one volume, so you get both faster speeds and plenty of storage space. The OS handles all the heavy lifting of deciding what files and applications go on each drive, so it's all seamless to the end user. The Chevy Volt has both a rechargeable battery and a gas tank, and the dashboard prominently shows how much range you have left on your battery, and how much further you can go before you're out of gas. If you can keep the battery charged, you'll barely use any gas at all, but on days you need more range, the car seamlessly starts using gas when the battery runs out. It's automatic—you're just cruising. I know all-electric is all the rage, but this seemed to me like a very Apple way to do things.
I was also impressed with how many sensors the Volt has. It could tell if I left the keys inside, and beeped to warn me. (The "key" is really just a fob, and to start the car you just need to have the fob nearby and press a glowing blue button on the dash.) The headlights came on automatically when it got dark. A dashboard indicator showed if I was following the car in front of me too closely, and little lights blinked on each side-view mirror if a car in the next lane was riding in my blind spot.
Maybe if your car is newer than my 2006 Subaru wagon, these features won't sound so futuristic to you. But something about having a partially electric car talking to me with Siri's voice—complete with an iOS app for locking, unlocking, diagnostics, and even remote startup—got me wondering how Apple might approach streamlining the typical car dashboard and overhauling the driving experience. And I guess I'm not the only one.
Have you taken the CarPlay plunge yet? Or are you just fine with connecting your iPhone to your car's plain old stereo over Bluetooth or USB? (At least you don't have to wait for new features to trickle down to CarPlay.) Let us know what you think about CarPlay in the comments, and for much more detail on the Chevy Volt, check out my colleague Melissa Riofrio's excellent writeup for PCWorld.