If you noticed that the App Store is looking a little green today, do not adjust your display settings. On Thursday, Apple launched a new App Store promotion that raises money for the World Wildlife Fund, in celebration of Earth Day later this month.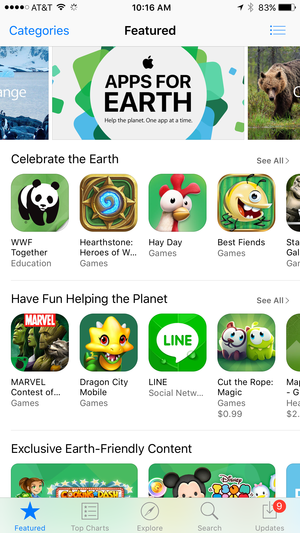 With this "Apps for Earth" initiative, 100 percent of proceeds collected from participating apps through downloads and in-app purchases will be donated to the WWF, which supports nature conservation efforts around the globe. The promotion will run through April 24, two days after Earth Day.
"To succeed in our work, we need big ideas with big impact," Carter Robers, President and CEO of the World Wildlife Fund's U.S. division, said in a statement about the campaign's launch. "Apps for Earth delivers on that in an unprecedented way and we couldn't be more excited about it."
Participating apps include WWF Together, educational app The Earth, and photography app VSCO—which all support the theme of conservation and exploration. However, you'll also find a healthy selection of games, like Disney Infinity: Toy Box 3.0, Candy Crush Soda Saga, Kendall and Kylie, and Trivia Crack. Here's the complete list of participating apps, 27 total:
Angry Birds 2
Best Friends
Candy Crush Soda Saga
Cooking Dash 2016
Cut the Rope: Magic
Disney Infinity: Toy Boy 3.0
Dragon City Mobile
Enlight
Hay Day
Hearthstone: Heroes of Warcraft
Jurassic World: The Game
Kendall and Kylie
Line
Line: Disney Tsum Tsum
Map My Run
Marvel Contest of Champions
Peak – Brain Training
Procreate Pocket
Recolor – Coloring Book for Adults
SimCity BuildIt
Star Wars: Galaxy of Heroes
Tabs & Chords by Ultimate Guitar
The Earth by Tinybop
Trivia Crack
VSCO
WWF Together
Yoga Studio
Look for the special World Wildlife Fund promotions and deals within the apps to make sure your in-app purchases are for a good cause—some apps have certain restrictions on which purchases will actually be donated.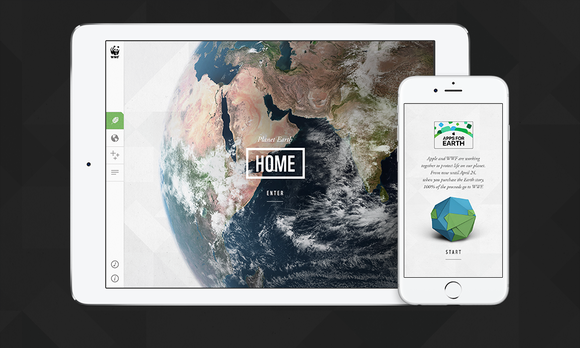 Why this matters: Apple has been ramping up its Earth-friendly efforts, and this campaign is just one of many ways the company is trying to establish itself as a leader in the green tech space.
Proud to support @World_Wildlife with #AppsforEarth. Together we can help leave the world better than we found it. https://t.co/mUdGTSw2Pb

— Tim Cook (@tim_cook) April 14, 2016
At the iPhone SE launch event in March, Apple showed off a video of its iPhone-recycling robot named Liam, and discussed the steps they made to make their product packaging 99-percent recyclable or sustainable. Besides that, Apple has invested in solar energy, cleaner manufacturing, and building efforts that don't disrupt natural habitats. This app campaign may seem small, but it involves iOS device owners in the conservation process, too, and has the potential to reach millions of people.