Apple just added a big-league player to its executive lineup—literally. The company just named National Football League lobbyist Cynthia Hogan its vice president for public policy and government affairs in Washington DC, overseeing the Americas.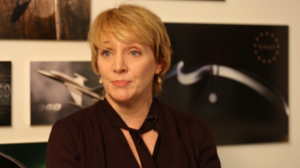 Before she joined the NFL, where she dealt with huge issues like concussion controversies and Deflategate, Hogan served as counsel to Vice President Joe Biden. It's unclear if Hogan's Biden connection will come in handy for Apple's dealings with the White House, but it certainly couldn't hurt.
Apple has been spending more and more on lobbying in DC, and not just on privacy issues. Last year, the company spent $4.4 million lobbying on a host of matters related to its interests, according to Politico, which first reported the Hogan hire.
Apple's showdown with the FBI was averted thanks to a third-party hack of the iPhone 5c used by the San Bernardino shooter last year, but that doesn't mean the company can rest easy. Lawmakers in the Senate are drafting legislation that would force Apple and other tech companies to turn over customer information when court ordered—which is exactly what Apple has been fighting all along. A larger presence in DC gives Apple a chance to fight those legislative attempts, or at least get its voice heard in the process.
Hogan starts at Apple on April 29.