Long-time Mac users remember how software was distributed before the introduction of the Mac App Store five years ago. You could buy boxed software in retail stores, and you could download shareware that you could try out and pay for if you liked. There was also freeware that developers gave away. Some developers still practice the shareware model, but the Mac App Store has become the sole provider for much of the software people use on their Macs.
This has its advantages: users are protected, since Apple validates the software; they don't have to trust their credit card numbers to potentially dodgy websites; and it's easy to re-download apps and get updates, all through a single app that serves as a storefront. Developers pay Apple a 30 percent commission, but Apple manages fulfillment and billing, and exposes their software to tens of millions of Mac users, so it's not a bad deal.
But two things are missing from the Mac App Store: demo versions and paid upgrades. (This also applies to the iOS App Store, but I'll just focus on the Mac in this article.) You can't download an app to try it out for a week or a month, and then pay for it if it suits your needs. And you can't get a discount on an upgrade to an app you bought a year or two ago, or even last week.
Both of these features are essential. Few users buy apps that cost $10, $20, or even $50 (or more) on the Mac App Store unless they're sure those apps work exactly as they expect. I've downloaded many app demos only to find in the first minutes that the app isn't for me. The Mac App Store could easily offer time-limited demos so users can test them out. These demos don't need to be long for most apps; a week is probably fine for basic apps, a month for apps with more complex features. Since the Mac App Store uses DRM, it would be trivial for Apple to develop a system whereby the apps stop working after a certain time.
Some developers do offer demos of their apps, but Apple won't let them say so in their app descriptions on the Mac App Store. Users have to know that by checking an app's web page they might find a demo. For example, Flexibits offers a 21-day demo of the calendar app Fantastical: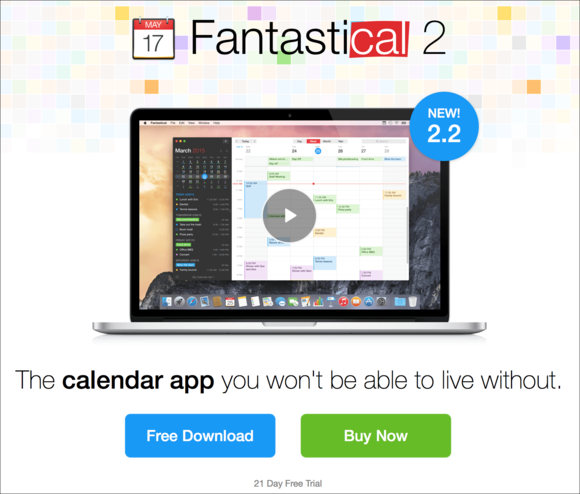 Some developers use a workaround to provide demos: they sell a free app with in-app purchases. I find this confusing. If I later redownload an app, I may forget that I've bought these IAPs and which features they offer. I'd rather see the full price up front, and not be tricked by "Free."
Upgrade pricing ensures that users remain faithful to an app; developers want to reward customers who have been using their calendar, text editor, or game, and to retain these customers over time. Upgrades also ensure that users are aware of new versions. When a developer releases a new version of an app, they can't let existing users know there's an upgrade via the Mac App Store. They have to name the upgrade differently: instead of MyApp having a new version number, the app's name has to be MyApp 2. Some developers discount upgrades on launch (for a week or two, usually), which allows existing users to get a lower price, but also means that new users get "upgrade" pricing. However, if an existing user misses the launch window, they have to later pay full price.

These features are essential to a healthy app ecosystem, and without them, both users and developers lose out. Users won't take chances on new, unfamiliar apps, and developers can't maintain a stable, long-term user base. Third-party apps are one of the key elements of the Mac platform, and the more apps people buy, the more likely they are to stick with the Mac. Adding demo versions and upgrades would be beneficial for users, developers, and Apple.
Do you have any pet peeves that you think Apple needs to fix? Send your ideas to fixthis@macworld.com.