One year ago, just before the release of the Apple Watch, we spoke to several game developers about the coming future of wrist-based wearable gaming. All of them were excited, but some were uncertain of what was ahead—in part because some were developing for a smartwatch they'd never worn, and a device that wasn't quite like any other before it.
Now, as the Apple Watch nears a full year on the market, we're taking another look at gaming on the device, this time with a lot more experience. We've played hours of wearable games, tapping and swiping through tiny narratives or battling fantasy monsters, and we've watched as the initial enthusiasm and intrigue around wearable gaming quieted considerably.
Talking with developers again today—some of whom we spoke with last year, along with others—there's still excitement about the Apple Watch gaming market today and ahead. But there's still uncertainty, this time over whether players are going to embrace wearable gaming like they did smartphone games, if developers will push hard enough with new ideas, and if/when Apple will shine more of a spotlight on their creations.
What works
Back when the Apple Watch was about to be released, many developers trusted Apple's suggestions that players would want quick-hit experiences that last only seconds at a time. And any of us who have played Apple Watch games can safely say that's a smart idea: It's not comfortable to hold your arm up for lengthy sessions. You might as well grab your iPhone for a richer, fuller experience.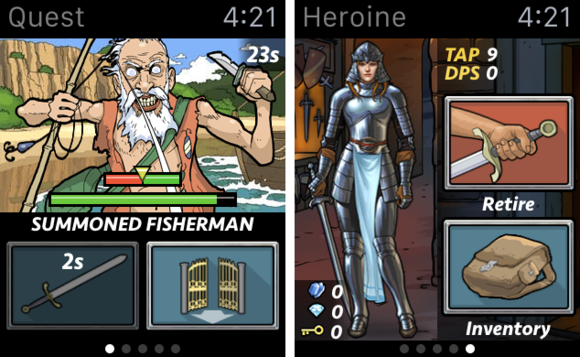 "Smartwatch games are very, very different from mobile games," asserts Aki Järvilehto, and he should know: he's the CEO and president of Everywear Games, a company founded solely to make wearable games. Everywear made a nice splash with bite-sized role-player Runeblade at the Apple Watch's launch, and it has continued to be a standout option for the Watch. Since then, the company has launched another Apple Watch game, Time Unit.
"They're glance-based entertainment and are highly accessible," he continues. "Well-designed smartwatch games turn these lightning-fast game sessions into experiences that grow with the player through days, weeks, and months, and they can be tremendously compelling in their nature."
Despite the streamlined approach and smaller scale, Runeblade has proven to be surprisingly addictive: It has a solidly active subreddit, and fans have built a Wikia compendium about the experience. Järvilehto says their most active players log more than 100 play sessions per day in those compact bursts, which wouldn't make a lot of sense on any other kind of device.
But that's the extreme case—and on the opposite end, some players just don't see the value in playing a game on a tiny, wearable screen when an iPhone is inevitably in range. Some creators agree, too: We heard from Jacob Williams, a 10-year indie developer who has recently worked on a game called Fortune Fighters for Mac and PC, and who develops mobile and cloud apps for the trucking industry as his day job.
Williams says he loves the Apple Watch and was excited for the possibilities ahead, working on game prototypes using the initial watchOS SDK before the device even came out. But once he had the smartwatch on his wrist, it just didn't click as a gaming platform—he says the Watch should be "an extension of your phone, not a replacement for it."
"It only took me about a day to realize this device wasn't for gaming at all," he says. "Doing anything for more than about two minutes on the Watch is uncomfortable. This wasn't going to work for me as a developer, and I didn't believe it was going to work for gamers."
A real Lifeline
Clearly, however, some types of Apple Watch games are working for gamers and developers alike. Runeblade and other short-burst action/role-playing games of that sort have their proponents, but the most raved-about early Watch experience has to be the narrative adventure. And we have Lifeline to thank for that.
Developed by Three Minute Games and written by author Dave Justus, Lifeline was one of the big launch highlights, offering up a choose-your-own adventure tale played for moments at a time. You're cast as the only person who can communicate with an astronaut who crash-landed on a mysterious moon, and as he or she sends messages, you can help guide his or her fate. You can play for a few minutes and then pull away for hours, only to find a new notification from your fictional friend.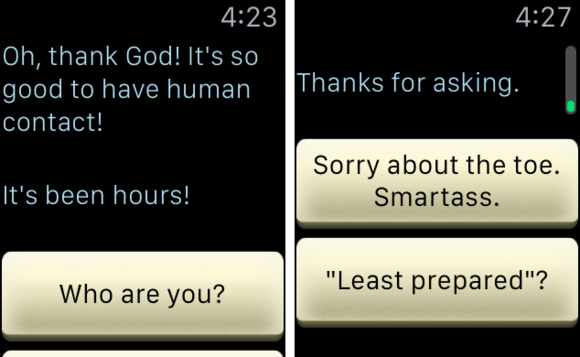 "We already had a Lifeline prototype and it was a natural fit with its real-time storytelling and notification-based gameplay," says producer Marisa Bell. "Lifeline worked so well on the Apple Watch due to the concise playtime allowed for each action—exactly the way the Apple Watch was designed to be used."
Since then, Lifeline has found success on iOS devices for users who don't have an Apple Watch, and the team has launched sequels Lifeline 2 and Lifeline: Silent Night. Further Lifeline games are in development, and we've seen other examples of text-based Watch adventures that follow a similar routine. It might not look like much, but the piecemeal, notification-based storytelling approach is really resonating with players.
"The platform is well suited for games designed for what it's good for: brief moments of interactivity throughout your day. It's more about us as developers finding clever ways to work within those design constraints and add value for users," says Bell. "Lifeline works well because the game takes place more in your imagination than on your Watch itself."
Wary developers?
As for other types of games that feel perfectly suited for the Watch, examples seem few and far between. After the initial burst of launch titles came, with their hits and misses and maybe even misjudged expectations, it feels like we've seen very few major Apple Watch game releases in the months since. Perhaps developers are taking their time nurturing ideas and finding what works, or waiting for the user base to expand and/or really embrace gaming.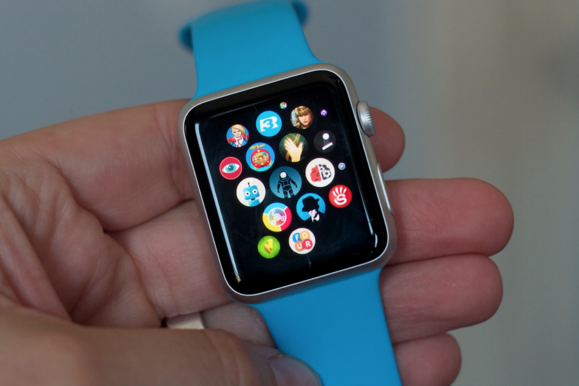 "Looking back, we hoped for Apple Watch to be a catalyst for innovation in mobile gaming. While this turned out to be true to a degree and especially for some genres, there's still room for more," says Martin Pittenauer, CEO of TheCodingMonkeys. His team developed the Apple-promoted Rules! for the Apple Watch launch, and followed it up with One Button Travel, a Lifeline-esque interactive fiction experience.
Pittenauer believes the best wearable games become seamlessly embedded into your everyday routine, but admits, "Developers haven't yet found a lot of experiences that integrate well in a player's daily life, in my experience. This contributes to players not really expecting truly new ideas yet."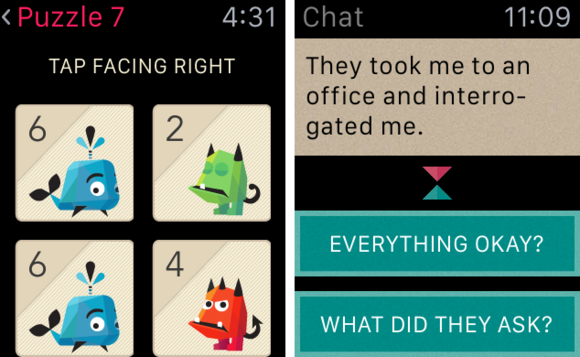 Developer Matt Wiechec, who released A Tiny Game of Pong for Apple Watch this spring, suggests that the market is still too new and unproven for many creators to take notice.
"When you look at the Apple Watch, it's just not designed as a gaming platform. It's also not a huge market right now," he says. "As a developer, it's hard to say, 'I want to invest in making a game for the Apple Watch,' when you have mature platforms like iOS, Android, consoles and PC—all of which are more familiar for developers, and have audiences of millions."
And it might be a matter of expectations too, he says. What exactly is a major game release for the Apple Watch? Will any Apple Watch game resonate as immediately as a flashy or more immediately immersive new iPhone or iPad game might?
"It's a new device limited in screen size, processing power, and input controls," affirms Wiechec. "A standout game on the Apple Watch probably doesn't look a whole lot like what we are used to on iOS."
Going native
One of the big drawbacks of the Apple Watch at launch was the lack of native apps running right on the smartwatch itself, as app content had to be streamed from the iPhone. That hurt apps of all sorts with lengthy waits and delays, but it especially affected games, as that limitation curtailed interactivity and forced developers to essentially do less with less.
Luckily, the September release of watchOS 2 fixed a lot of the problems. With watchOS 2, the Apple Watch could finally run games natively without the iPhone, as well as tap into animation APIs for enhanced graphics and interfaces. All of the developers we spoke with admitted that the OS upgrade made a huge difference in game performance.
"Going native was a huge change. From a developer point of view, this was a night and day difference; native apps are far more responsive, start faster, and generally deliver better performance," says Everywear's Järvilehto. "These are still the early days in smartwatch development, and I'm sure we'll see a lot of other OS-level improvements in the future."
"watchOS 2 changed a lot of things. The faster interaction made it possible to think about new game concepts," adds Pittenauer. However, he says the change added a bit more work for developers trying to manage save states between iOS and Apple Watch versions of the same game—both Rules! and One Button Travel can be played on either device.
While native app compatibility was arguably watchOS 2's biggest enhancement, the updated SDK also allowed developers to make use of the Digital Crown along the side of the device, as well as tap into the accelerometer, heart rate monitor, and Taptic Engine. That meant that games were no longer limited solely to touch interactions, which could inspire new types of gameplay for the tiny hardware.
It's what inspired Wiechec to create A Tiny Game of Pong for the Watch. Granted, Pong's fundamentals were established more than 40 years ago by Atari, but the announcement of watchOS 2 and its expanded capabilities got Wiechec pondering what kind of game could really take advantage of the Digital Crown while still remaining fun on that minuscule display.
"I started thinking about Pong's gameplay: it was straightforward enough to translate well onto the small screen, the Digital Crown was the perfect control mechanism, and its gameplay was simple and quick," he says. "It's funny, because in many ways what I think works best for A Tiny Game of Pong is directly informed by the strict limitations of the Apple Watch itself."
Visibility and possibilities
While the early technical issues of the Apple Watch have been largely resolved, some developers still hope to see Apple address app and game visibility. The Apple Watch hasn't been widely marketed as a gaming device, but more crucially, it's not easy to find Apple Watch games within the App Store itself: you need to browse via the Watch app on iPhone.
"It's not often that I open the Watch app to check for new apps, and I bet this is the case for a lot of people. There aren't many new Watch apps that Apple showcases, so each week you check, don't find anything new, and you slowly build a habit of checking less often," admits Wiechec. "I think it would be much better if Apple integrated Watch apps directly into the main App Store app; adding a new category for them, adding top charts, but also showcasing them on the Featured page for users who own an Apple Watch."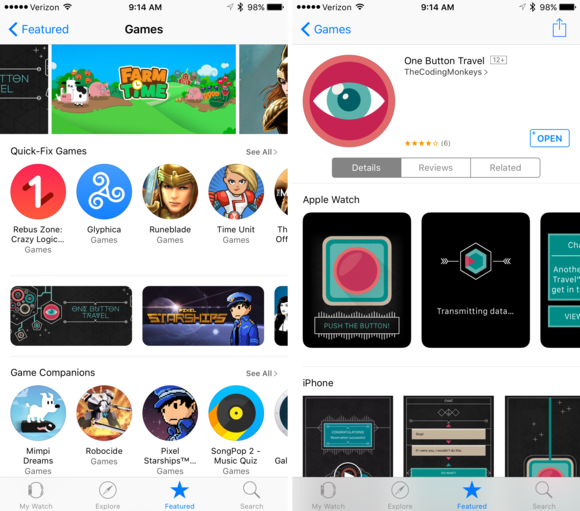 Järvilehto says he'd like more of a promotional push for Apple Watch games outside of the iOS ecosystem, as well. "We'd love to see a 'there's an app for that' style of campaign with a heavy emphasis on games," he says. "But more seriously, I do think a lot of consumers don't yet know about the fact that there are high-quality games available for Apple Watch."
Will the Apple Watch ever be as significant a gaming device as the iPhone? It seems unlikely, given the limitations of the platform, its dependence on the iPhone itself, and the less-essential stature in our digital lives compared to a smartphone. However, it's important to acknowledge that it's still very early. The Apple Watch is the first smartwatch to offer a solid selection of games, and watchOS 2 has only been available for a matter of months.
As newer hardware eventually comes and more capabilities are added, developers will surely find more sparks of interest and pursue bright new wearable gaming ideas. And as more and more people buy the Apple Watch and explore the available software, further companies will be tempted to enter the market and take advantage of that growing user base.
It's why some developers remain excited for the future of wearable games, despite the current limitations and perhaps sluggish initial interest or knowledge from players. We're only a year into this. What about a year from now—or five years from now? The iPhone gaming market seemed to explode pretty rapidly, but the Apple Watch could take longer. In any case, so long as early pioneers keep pushing, there's hope for bigger things on the horizon.
"We're excited about new hardware and what possibilities it will bring," admits Pittenauer. "Apple Watch as an ecosystem feels like early iPhone days. It would be great to see similar growth in terms of players, enthusiasm, and last but not least ideas."
"Smartwatches will be inevitable in the future," affirms Järvilehto. "As the platform grows, we as developers will create more reasons to wear these devices—experiences that unlock the potential for fun on these devices. We're talking about a market that started less than a year ago, so this is just the beginning!​"