Vivaldi (free), the new browser from some of the creators of Opera, blends appealing looks with clever innovations. But while Vivaldi deserves applause for trying new things and getting many of them right, it still strikes a few sour notes.
Many browsers trade off between ease of use and customization, sacrificing one for the other's sake. Vivaldi doesn't. You can move and change nearly every element in the interface, but upon first opening, Vivaldi walks you through that process with easy, elegant setup screens. Want tabs on the bottom of the window, and the URL bar up top? No problem. (If you change your mind, you can adjust all these elements, with only slightly more difficulty, in Vivaldi's clean and well-organized Preferences.)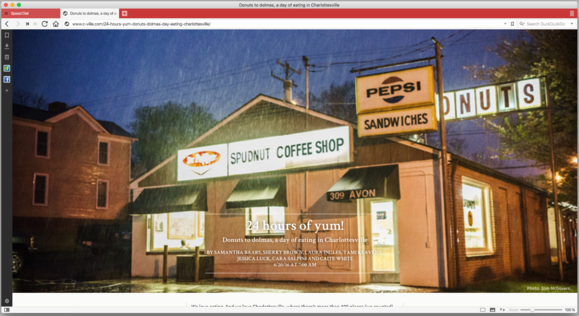 A (mostly) well-tuned interface
The browser sports a cheerful, chunky look reminiscent of 8-bit video games. The tab bar pleasantly changes color to match the dominant hue of the current page, and offers maybe the best page-load interface I've yet seen in a browser. As its progress bar creeps across the background of the URL bar, Vivaldi also displays a percentage and the number of total page elements loaded. Those numbers fade out once loading's finished.
Previous versions of Opera often felt stuffed to near-uselessness with overabundant features. Vivaldi feels like a calmer, more refined collection of the best fruits of those labors. A Spotlight-like Quick Commands box, summoned via simple keyboard shortcut, lets you jump between tabs or available navigation options with ease. A compact sidebar offers not only bookmarks and a searchable download archive, but also a page-specific notepad and the ability to add your own favorite sites as sidebar options.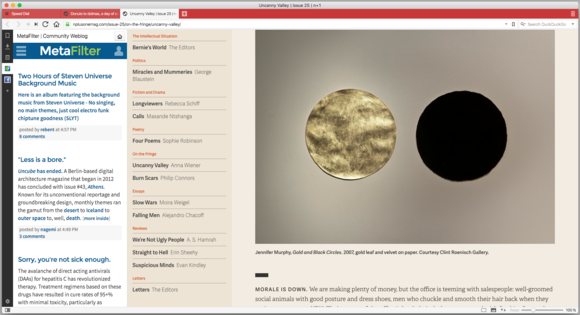 Even Vivaldi's lone concession to quirk—a tucked-away menu that lets you change page rendering on the fly with various visual filters—has its own practical side. Visually challenged users may welcome its ability to change all fonts to monospace and all pages to grayscale.
Vivaldi also refines many of Opera's tab innovations. You can preview tabbed pages by hovering over each one, or pulling down the bottom of the tab bar to reveal previews for all. Vivaldi also lets you display multiple tabbed pages side by side or in a grid in the main window, handy for multitaskers with plenty of screen real estate. You can also stack tabs to keep, say, your favorite sports blogs separate from your work-related pages.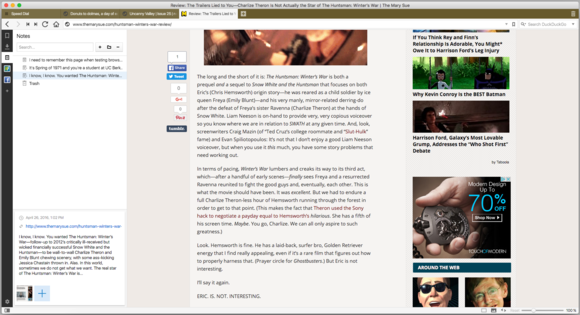 Passable power, at a price
Here, alas, Vivaldi shows its limits. I found tab stacking tediously fiddly; unless I did it just right, I'd move tabs, not stack them. I couldn't open a folder full of bookmarks as a tab stack, or save a stack as a bookmark folder.
Vivaldi could also use more polish under the hood. Even when it was the only app running, it would often make my MacBook Pro's cooling fans kick in during ordinary browsing, perhaps because of the multiple, memory-devouring Vivaldi Helper processes I saw in the Activity Monitor.
Benchmarks: Web browsers compared
| Browser | Browsermark | HTML5test | Speedometer | JetStream | Octane 2.0 |
| --- | --- | --- | --- | --- | --- |
| Vivaldi 1.0 | 5330 | 521/555 | 60.36 | 144.45 | 25573 |
| Safari 9.1 | 6860 | 410/555 | 77.8 | 76.279 | 22481 |
| Chrome 50 | 5078 | 521/555 | 65.09 | 148.1 | 25755 |
| Firefox 45.11 | 4942 | 478/555 | 37.8 | 147.18 | 25148 |
Higher scores are better. Best scores in bold.
Given the workout it demanded of my CPU, I'd expect Vivaldi to blow the doors off other browsers. But in benchmark tests against the latest-as-of-press-time versions of Safari, Chrome (its closest cousin), and Firefox, Vivaldi ranked mostly in the middle.
It tied Chrome's top score for HTML5 standards compliance, and nearly matched its wins for JavaScript performance. But Safari beat it and every other browser in broader tests related to everyday browsing performance, perhaps because Apple has optimized Safari to work with Mac hardware and efficiently manage power usage.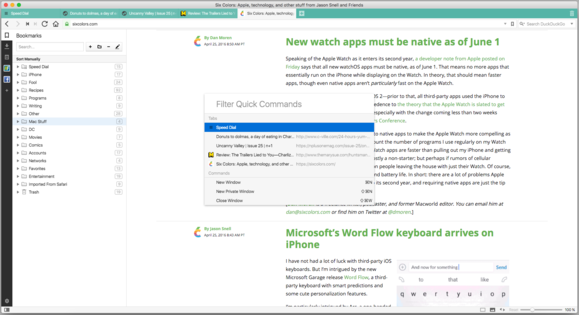 Bottom line
Though I wish it didn't put my CPU through a high-intensity workout, I still liked Vivaldi. It offers ideas that aren't just new for novelty's sake, but actually add fun and convenience to your daily Web routine.