So, that was quite a quarter Apple had–and not in a good way. But just after the raw financial results, Apple gets a chance to tell its story, to add "more color" to the proceedings, in an hourlong conference call with financial analysts. Here are the highlights from this quarter's party line with Apple CEO Tim Cook and CFO Luca Maestri.
Tim Cook: Cockeyed optimist
If I had to describe Tim Cook's attitude during the call, it would be "optimistic." But only because he referred to his optimism eight different times over the span of an hour. (Maestri added another three on his own.) Then again, when your company just broke a 13-year streak of year-over-year revenue growth, expressing your optimism about the future is probably a smart move.
Tim Cook the optimist Apple CEO had used form of the word "optimism" 3 times in previous 5 earnings calls combined. Tuesday: 9 times $AAPL

— Jeremy C. Owens (@jowens510) April 26, 2016
Here's what Tim is optimistic about:
That the macroeconomic environment will improve: "We're very optimistic that this too shall pass, and that the market, and particularly us, will grow again."

That the iPhone 6s upgrade cycle is doing better than the 5s: "The reason that we're optimistic is, we look at the three places that iPhone sales come from, and from an upgrade point of view… we compare favorably [to] the iPhone 5s…. With the iPhone SE… we're optimistic about attracting even more customers."

That future Apple product are going to be awesome. "We also look at our pipeline and are very excited about what's in our pipeline. And so all of those things make me optimistic."

That the iPad is going to be fine. "We haven't had an issue in customer satisfaction on the iPad, it's incredibly high, and we haven't had an issue with usage of the iPad, the usage is incredibly high. But the consumer behavior there is, you tend to hold on for a very long period of time before an upgrade. We continue to be very optimistic on the iPad business."

China: "I think China is not weak, as has been talked about, I see China as, may not have the wind at our backs that we once did, but it's a lot more stable than what I think is the common view of it. And so we remain really optimistic on China."

Corporate tax reform: "I think there are a growing number of people in both parties that would like to see comprehensive reform, and so I'm optimistic that it will occur. It's just a matter of when."
Is Apple still a growth company?
If you're an investor, you're generally not looking for profits, you're looking for growth. Apple's got lots of profits, but its growth has stalled. Simona Jankowski of Goldman Sachs asked Cook point blank, "With the smartphone market now reaching a pretty mature growth phase, how does Apple think of itself going forward? Is it as a growth company, or as a more mature tech company?"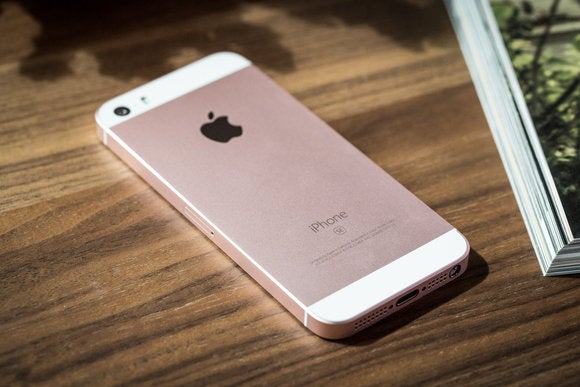 Cook didn't give her a good answer. He did address the concept that the smartphone market is pretty mature–in other words, not having a lot of room for big growth–by expressing his optimism that emerging markets such as India were growing rapidly and that switchers from Android were at an all-time high. He was also sunny about the possibility that the iPhone SE can reach new buyers because of its price, the lowest ever for a brand-new iPhone.
Left unanswered was the core question. Can Apple keep growing, or has it reached the limits? Presumably when Apple investigates entirely new markets like cars, it's searching for ways to spur growth. But the smartphone is a unique product, and the transition of billions of people all over the world to the smartphone can only happen once–and it already happened. Can Apple cobble together enough growth from switchers and emerging markets to satisfy Wall Street's need for growth?
I can see why Tim Cook avoided answering that one.
What's up with China?
China has been a banner market for Apple for a while now. In the long run, Apple expects it to be the company's largest market, even more than the U.S., and recent growth there has been spectacular. But this quarter, sales in China were down 26 percent compared to the same quarter last year. So what happened?
On the call, Cook was able to provide a bit of additional information to describe just what happened in China. Definitions first: Apple's Greater China region actually includes Taiwan and Hong Kong as well. According to Cook, "The vast majority of the weakness in the Greater China region was in Hong Kong." He blamed the strength of the Hong Kong dollar, which has caused problems with tourism, shopping, and trade in Hong Kong.
Cook said that his personal focus is on mainland China, and to prove that things aren't as bad as that 26 percent decline would lead you to believe, he proceeded to perform a nifty rhetorical magic trick:
In mainland China, reported sales were down only 11 percent.

On a constant currency basis, that's actually only 7 percent.

And if you look at sell-through, which is what Cook says Apple looks at internally, it was only down 5 percent.
And that's how a 26 percent decline in a key market turns into a 5 percent decline. There's a reason this guy is a CEO.
"As I sort of back up from this and look at the larger picture, I think China is not weak, as has been talked about," Cook said. "[We] may not have the wind at our backs that we once did, but it's a lot more stable than what I think is the common view of it." Apple opened seven retail stores in China, with five more opening this quarter, bringing the total number of Chinese Apple Stores to 40 by mid-year. LTE penetration has a long way to go in China, too, and faster wireless Internet speeds help drive adoption of smartphones.
So ultimately, Cook says, to understand China you need to "sort of look underneath the numbers" to see what's really going on.
The iPad hasn't hit bottom
The numbers for the iPad don't lie: Sales dropped again, as they've been doing for the better part of two years. If there's any solace to be found in the numbers, it's that iPad sales may be dropping more slowly than they have the last couple of quarters.
But Cook says things are looking up, sort of. He said that, next quarter, Apple expects "to see our best iPad revenue comparison in over two years." That probably means something like a year-over-year revenue decline of less than five percent. Maybe it'll even be flat! That's not much of a victory, but it's something. Apple may be getting indicators already that the 9.7-inch iPad Pro, with its higher price tag, is spurring a wave of iPad sales.
But don't get too optimistic: Apple's guidance still says that the iPad (and iPhone) will show unit sales declines versus the same quarter last year. So while the iPad revenue situation may be better, being down less isn't the same as being up. (For what it's worth, Mac sales are projected to be up year-over-year next quarter.)
This will all happen again
With that in mind, file all of this away for three months from now: Apple says it won't grow next quarter, either. When you look at the data, it's clear that 2015 was a record-breaker for Apple, and a severe outlier. The release of the iPhone 6 seems to have supercharged Apple's sales just when they were starting to slow down, but a year later those numbers are proving impossible to match.
This means that for the rest of this year, Apple will be putting up numbers that are lower than the ones it put up in 2015–and people who look to the company for growth will be unhappy, even as the company posts quarters with $10 billion in profit and adds to its $200 billion in cash.