At a Glance
Expert's Rating
Pros
Loud, expressive bass with no distortion
Clean mid and high frequency sound
Excellent build quality
Comfortable, even for those with large heads
Long lasting battery life
Cons
Expensive
Bluetooth pairing isn't always automatic
Our Verdict
The P5 Wireless could be the best sounding set of wireless on-ear headphones that you'll ever clamp to your skull.
Bowers & Wilkins aren't known for messing with a good thing. When the company decided that the time was right to introduce its first pair of Bluetooth headphones, it chose to run with the pleasing aesthetics and audio of an existing set of cans: the Bowers & Wilkins P5 Series 2 ($285 on Amazon).
Save a few small differences, the company's new P5 Wireless headphone ($395 on Amazon) are pretty much the same as the P5 Series 2—that's a win in this case. The P5 series 2 sound great, are made with premium materials, and feature an industrial design to die for. The P5 Wireless jam these virtues into a cable-free package that makes for the money what could be the best sounding set of wireless on-ear headphones that you'll ever clamp to your skull.
Listen in comfort
Like its wired counterpart, the P5 Wireless' design absolutely drips with class. A padded, elegantly-stitched leather headband is accentuated by the headset's glossy aluminum arms. This is topped off by matte-finished driver housings stamped with the B&W logo and soft black leather ear cuffs. It looks like money—so much so, that I was initially afraid to bend the P5 Wireless' headband so that the cans would fit on my massive cranium.
My concern was misplaced, however: the band has a lot of give, making the headphones reasonably comfortable to wear for hours at a time, even while wearing sunglasses. They're fairly light too: at 213 grams, the P5 Wireless weigh only 18 grams more than the wired P5 Series 2. The extra weight is due to the battery and Bluetooth-related electronics needed to make the wireless magic happen.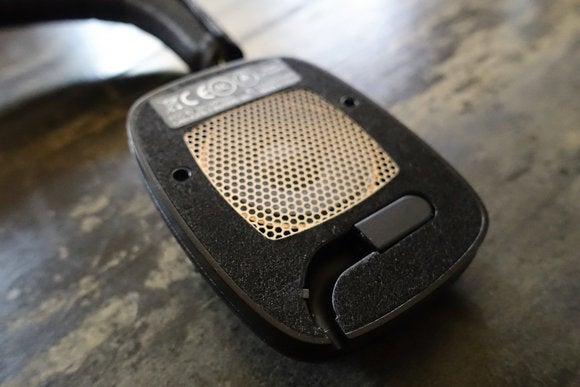 Underneath the P5 Wireless' removable magnetic ear cuffs is a pair of 1.2-inch drivers protected by metal grills. The volume buttons and play/pause/call answer/disconnect button are built into the back of the right-hand driver housing.
On the bottom of the same housing, you'll find a dual-purpose switch: giving it a flick powers the headphones on or off, while pressing the button will send the P5 Wireless into pairing mode. Once paired with a device, they'll automatically connect again as soon as they're powered on—at least in theory. There have been a few occasions when I had to force the headphones to connect with my iPhone 6.
Like any respectable set of iOS-compatible headphones, the P5 Wireless comes with a built-in microphone that'll allow you to take phone calls.
Have you heard the news? Bowers & Wilkins has been acquired by a Silicon Valley startup. The company that emerges will retain the B&W name.
Bowers & Wilkins says that the P5 can go up to 17 hours between charges. Having used them for a few months to listen to music, take the occasional phone call, or chat on FaceTime, I've found this estimate to be pretty reasonable. With a couple of hours of listening a day, I can go a few weeks without having to jam a cord into the P5 Wireless' micro USB port to juice back up. Should you run out of power while you're out and about or need to turn off Bluetooth while you're on a plane, it's also possible to use the P5 Wireless, well, with a wire—there's a 3.5mm port for plugging a headphone cord into them so that they can be used passively.
Sound quality
Given how carefully Bowers & Wilkins guards the reputation of its brand, it wasn't a surprise to discover that these things sound just as good as they look. When playing bass-laden tracks like The Beastie Boys' "Jimmy James," the P5 Wireless provide a deeply satisfying amount of thump, but still allow higher frequency sounds of the band's samples, scratching and strategic cowbell use to be heard without coming across muddy.
The headphones handled Miraculous Mule's "Early in the Mornin'" just as well. The sweaty twang of the guitar and hard driving vocals sound as crisp and clean as I've ever heard them on headphones or while listening to anything else.
Video content? They've got your back on that too: the clean, hi-fidelity sound they produced as I wore them while watching John Wick on my iPad Pro put the noise that comes out of my living room TV's speakers to shame.
The only real knock I can make is the price: a set of P5 Wireless will set you back nearly $400. That's an insane amount of money to spend on anything for your head that doesn't result in better vision or straight teeth. But if music is a vital part of your life and you're in the position to spend a lot on high- quality hardware that will look good and serve you well for years to come, you won't be buying a set of headphones—you'll be making an investment in your happiness.
Bottom line
There's no denying that Bowers & Wilkins' P5 Wireless Headphones are a luxury buy. But if you can afford them, with their superb sound and bespoke build quality, you'll likely feel that you've gotten your money's worth.