Photo collage apps have flourished on mobile devices, making it easy to assemble multiple images into a single share-friendly file. It's perfect for iPhone, which is where many of us shoot pictures to begin with. Try to remix those photos on the Mac however, and you might discover it's an exercise in frustration.
Project browsing
As the latest member of the Chronos lineup, FotoFuse ($40) fills this void nicely. Anyone familiar with the company's line of consumer Mac software including iScrapbook, Greeting Card Shop, or PrintLife will feel instantly at home because the user interface is nearly identical.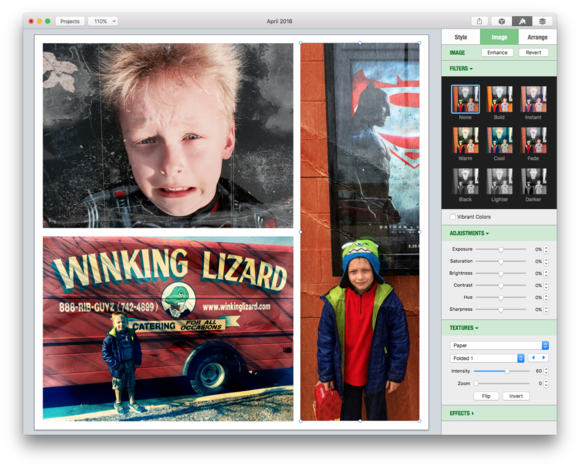 In the upper right corner are buttons for switching between Object, Format, and Canvas panels in the design sidebar underneath. The Object panel includes tabbed windows for creating text, adding shapes or artwork, importing photos, or setting up favorites; likewise, the Format inspector offers tons of options for enhancing content from the Style, Image, and Arrange tabs.
One key difference is the Template Chooser, a staple of previous Chronos apps which now lives in the new Projects browser rather than being displayed at launch. Users can add new folders from the sidebar, which then opens a pop-up window containing nearly 600 templates across 13 different categories like Antique, Collage, Gallery, and Polaroid.
Projects aren't limited to specific sizes, but locked to an aspect ratio chosen when creating a new folder. FotoFuse defaults to Instagram-friendly Square, but four other proportions are available via pulldown menu. Folders can be renamed, copied, duplicated, or rearranged, but projects can only be dragged and dropped between folders with the same matching aspect ratio. It's a welcome change that results in a cleaner-looking app.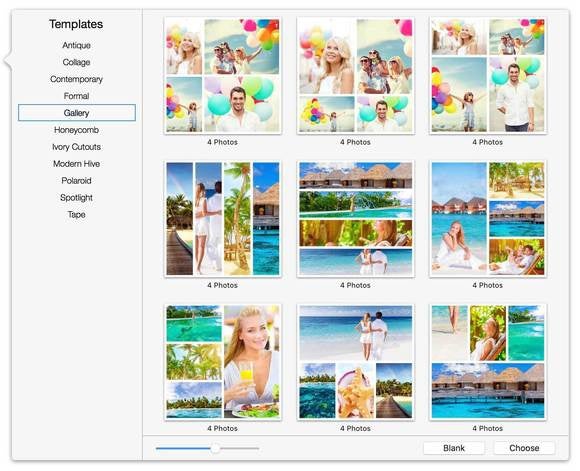 Fused together
Once you've gotten the hang of managing projects, the rest of FotoFuse is a breeze. All included templates include photo placeholders; double-clicking an image opens the photo browser, where you can choose an existing image from Photos, iPhoto, or Aperture, and then drag and drop it to swap with the placeholder.
Double-clicking placed photos enables reposition, crop, styles and filters, adjustments, and other image editing options, all of which are done without leaving FotoFuse. When finished, images can be optimized to preferred sizes for Facebook, Instagram, Twitter, and other social networks.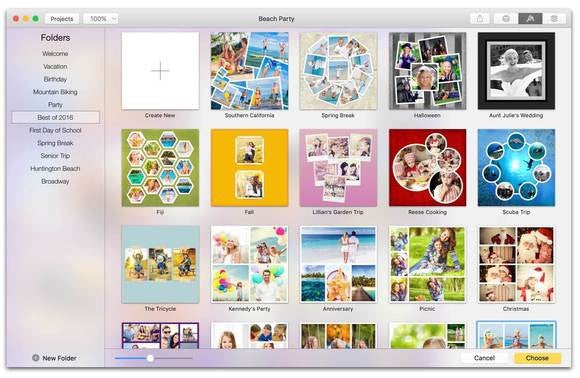 FotoFuse uses the OS X sharing extension for one-click uploading to connected services, but this proved limiting since only Facebook and Twitter offer built-in support. Thankfully, users can directly export projects or entire folders in PDF, TIFF, JPEG, or PNG format with custom compression settings.
Performance-wise, FotoFuse was a bit on the sluggish side in my tests. For example, the software often lagged opening projects with images that had filters and textures applied. The software would also take several seconds when switching back to the Projects browser, which then appeared completely blank until I clicked on it and forced the thumbnails to redraw.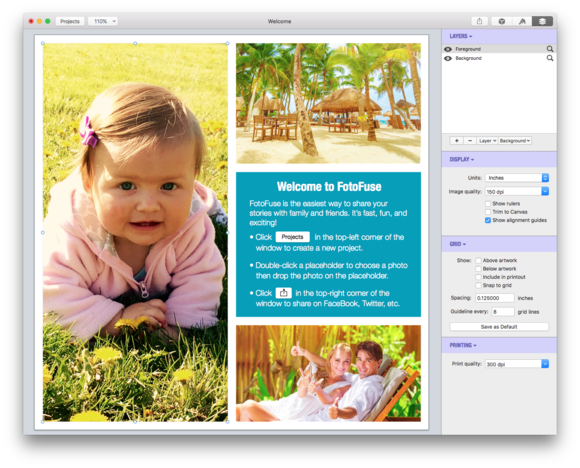 Bottom line
No more crouching over a tiny iPhone screen just to create simple photo collages. FotoFuse makes it easy and fun to do on a Mac, with a far richer toolbox than mobile apps can provide.