Apple is reportedly experimenting with ways to improve its Mac and iOS App Stores, but right now the company has bigger problems. On Thursday morning, App Store search wasn't functioning at all.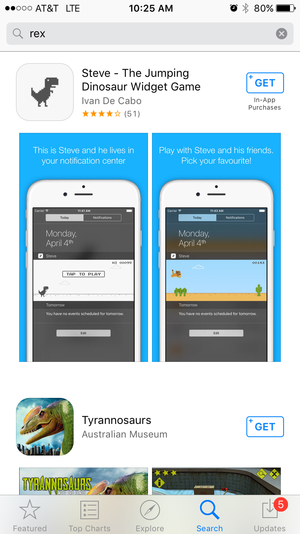 Users on Twitter and Reddit were the first to spot that App Store search was broken. Search isn't all that functional at its best, but now search results for super-popular apps turn up completely wrong results. As of this writing, a search for Rex, which is an Apple Editor's Pick in the iOS App Store Featured tab, turns up dinosaur-themed apps, but no Rex. A search for Uber results in other ride-hailing apps, like Easy Taxi and Hailo, but no Uber. Basically, the App Store is taking its normally bad behavior to the next level.
Apple has acknowledged the issue on its services status page:
"Users are experiencing a problem with the App Store. We are investigating and will update the status as more information becomes available."
We reached out to Apple for comment and will update this story when they respond or when the issue is resolved.
The story behind the story: The App Store is already a difficult way to find apps (which is insane), so Apple has tasked a team to fix the store. One solution is selling paid top slots to developers who want their apps featured in search. Today, developers would probably settle for having their apps show up in search at all.
Update: As of 11:57 a.m. Eastern time, the App Store search issue is fixed. Let us know in the comments if you're still having problems.