Asset management? Your first thoughts likely run to databases of devices.
Fixed. Immutable. Manual entry. A pain to change and keep up-to-date. Maybe even a walking tour of your building(s) every year to make sure the numbers in your database match your numbers on the floor.
Fun times, yes?
For the last several weeks I've been testing the Watchman Monitoring service, a web-based tool that uses a System Preference installed on every computer you own or manage to help you inventory and keep track of your Mac, PC, and Linux assets. Watchman Monitoring not only automatically collects information on all your devices, it also provides proactive monitoring of those devices, warning you about critical issues before they become real problems. Watchman Monitoring offers excellent options for consultants, enterprise and education IT managers to track and proactively monitor the computer assets they're responsible for.
Watchman Monitoring is designed, and priced, for consultants, businesses, and educational institutions. Accounts start at $249 per month for up to 1,500 computers. You can purchase more licenses in increments of 1,000 for an additional $100 per month.
For smaller businesses, Watchman Monitoring expects you to use their consultants network. Consultants can offer monitoring for far fewer computers and can also give you access to your own account so you can see and monitor your own computers. [Full disclosure: My business is a member of the Watchman Monitoring consultants network.]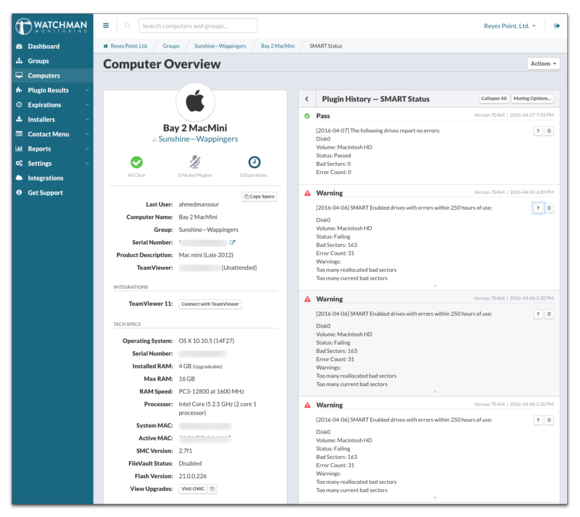 What Watchman Monitoring watches
Watchman Monitoring does your busywork by way of software installed on a client computer—a System Preference on the Mac—that sends status updates, at an interval you specify, so you can keep your thumb on critical issues. What does Watchman deem critical?: Computers that haven't checked in, devices that aren't backing up, hard drives about to fail, and a host of other issues, including those related to third-party software products. When a problem arises, you and anyone else on a list of users you define, are notified by email of the issue at hand.
For Macs the service offers several installation options including standard package installers, imaging installations, using Apple's Netinstall service or JAMF Software's Casper, and command line scripts that can silently push an installation out using Apple Remote Desktop. This is also true of Linux and Windows installations, although as I was testing this the Windows version of the client was in a pre-version 1 state, which is to say that, while not technically a beta, it had limited features and wasn't quite up to speed with the Mac and Linux versions.
Once the Watchman software is installed the device it's installed on registers with the Watchman service. You have the ability to add devices to groups, making it easy for you to organize devices by company, client, office, or floor. At present the service doesn't offer an option for subgroups, although I was able, through creative group naming, to organize devices into smaller device groups based on client and location. Once devices are added it's dead simple to move devices to different groups or to merge one or more groups with each other.
So, inventory?
Once you've installed the software you have an instant inventory of all your computers. Select Computers from the Watchman dashboard and you'll see a complete list of all the devices with the Watchman software installed, sortable by computer name, group, serial number, or the last time it reported in.
To that end, if a computer fails to report in for a few days, you'll also get a message that the computer is missing. From this list you can export a CSV file that includes data from the four displayed columns or a complete report, which provides a detailed overview of all your devices, similar to Apple Remote Desktop's system overview report.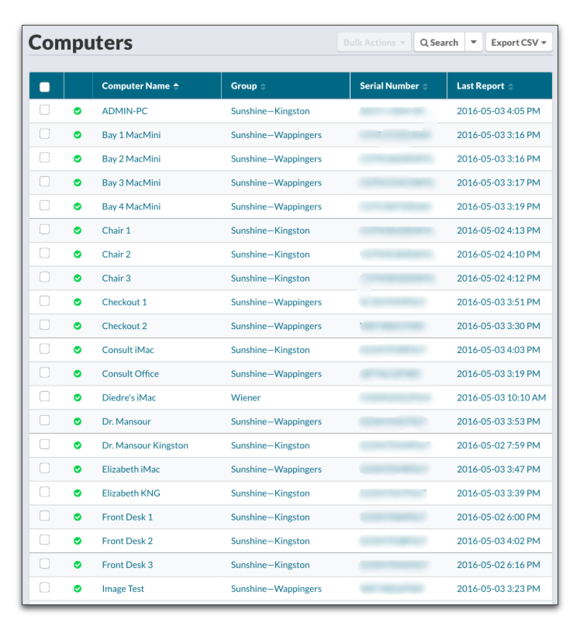 The devil, as they say, is in the detail and Watchman Monitoring offers a considerable quantity of detail. Select any computer in the list and you'll see a significant amount of information, including whether any malware was detected, disks experienced I/O errors or kernel panics, when the computer's last full POST was, how much capacity the computer's hard drive has available.
You can also keep your own notes on specific devices and view historical information, including everything from OS updates to software version updates. Watchman Monitoring can also detect when you have remote control software installed on a computer, such as TeamViewer, LogMeIn, and Bomgar, and automatically adds a link to the device's overview page, allowing you to remotely control the device.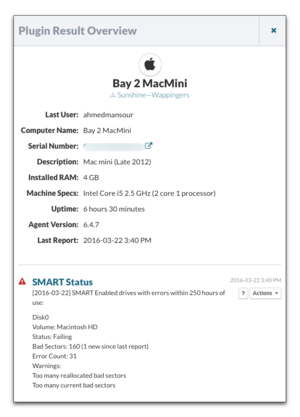 While all of this is incredibly detailed and fantastically easy to use, Watchman Monitoring's killer feature is its proactive warning system, which detects errors early. The benefit of this feature was obvious within minutes of installing the plug-in. One of the computers I was testing was experiencing disk errors via the SMART warning system, which were not showing up in Disk Utility: There was a continuously increasing number of bad sectors on a hard disk. Which is to say that, over a 24-hour period the hard drive was reporting new sector errors. This proactive reporting allowed me to replace a hard drive before it failed, saving the test computer from unnecessary and prolonged downtime.