Siri made the iPhone more responsive with artificial intelligence, but now its founders want to put AI in every device you own. Dag Kittlaus, who cofounded Siri, left Apple five years ago, but now he's back with a new voice assistant named Viv that he predicts will change the way we interact with not just our phones, but our home appliances, cars, and more. Viv has gotten a lot of hype for a product that hasn't shipped yet, but Kittlaus demoed Viv publicly for the first time at TechCrunch Disrupt on Monday.
Right now, Viv is an iOS app, though it won't always be. You open the app and ask the assistant questions or issue commands. These can range from basic queries like what the weather forecast looks like, which Viv quickly answers with Weather Underground data, or as complex as, "Send Adam $20 for last night," and Venmo handles the transaction. You don't have to have these apps installed for Viv to work on your behalf.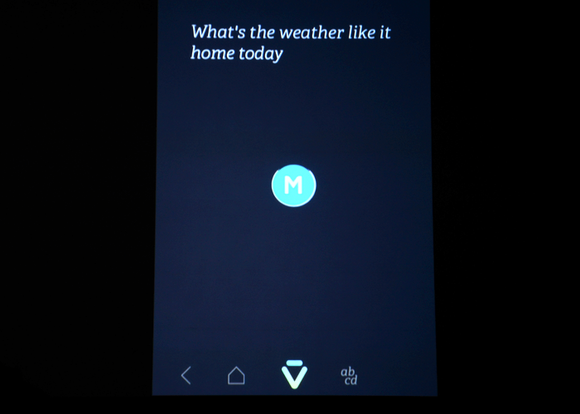 The conversations are currently one-sided—the assistant doesn't yet have a voice, though that will change by the time it's ready to ship. And Viv definitely seems useful, though not all that unique in its current incarnation. The demo I saw at Disrupt reminded me of Hound, an app that's already on the market and has a robust ecosystem of integrated apps that it pulls data from to answer your commands.
Viv wants to go beyond apps, though like Hound, it requires developer support to make the assistant useful. Kittlaus said the startup has no plans to build its own hardware, but it is in talks with hardware makers to build Viv into their devices, so you won't need a separate app to control your car dashboard or any of your smart home appliances.
"No one company in the world has the resources to plug in all the different services," Kittlaus said during his TechCrunch Disrupt demo. "That's what Viv has spent a lot of time and money on. Each [assistant does] 20–30 different things. Now it's going to tens of thousands of different things."
Computer, program thyself
Kittlaus showed off Viv's software backbone, which he called dynamic program generation. While most voice assistants or bots have to be programmed with preselected responses to specific queries and pull from one domain at a time, Viv's software figures out the intent of your question and writes itself. In response to a question like, "Will it be warmer than 70 degrees at the Golden Gate Bridge after 5 p.m. the day after tomorrow?" Viv write a 44-point program to answer with Weather Underground data, but it can combine data from several different sources to respond to a question in seconds. That's impressive and different.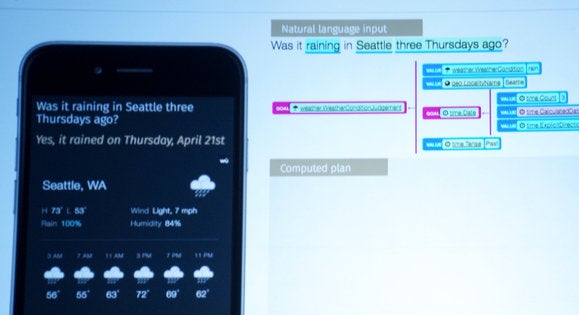 While other companies like Facebook are betting big on text-based chatbots, Kittlaus thinks voice conversations—being able to chat with your devices in natural language without installing and interacting with various apps—are the future. But those assistants have to be more powerful than Siri, which is limited to Apple devices and can't answer many basic questions, let alone book hotel rooms and send Venmo payments on your behalf.
Siri is reportedly still limited in its capabilities because of Apple's deep concern for privacy, but the company has been criticized for being so slow to build more functionality into the iOS assistant. Siri isn't even yet available across all Apple hardware, though rumor has it Apple is finally bringing Siri to the Mac this fall.
With Siri, Kittlaus and Co. proved they can build artificial intelligence that scales. Now, they want to go even bigger.
"Viv will be the intelligent interface to everything," Kittlaus said. "For developers, this will be the next great marketplace. The thing that comes after App Stores is this new type of marketplace that works for all different devices."
That's an ambiitious goal, but Viv is still a ways off from seeing the light of day. Kittlaus said Viv will see a "rolling launch" toward the end of this year, with developer partners announced around the same time.