This story was updated with further information about the user data collected by the app.
Opera Software takes its VPN campaign to iOS with a free, unlimited virtual private network app. Launched Monday, the new app follows Opera's debut in late April of a free, built-in virtual private network in the beta version of its PC and Mac browsers. Opera's VPN services are offered by SurfEasy, a Canadian VPN provider that Opera acquired in early 2015.
Opera says one reason it decided to offer the app was to help people get around corporate and school firewalls. "Every day, millions of people, from students to working people, find that social-media sites…are blocked when they surf on their campus or workplace Wi-Fi…we help people to break down the barriers of the web," SurfEasy president Chris Houston said in the iOS app's announcement.
Opera's new VPN app will find a formidable opponent in Netflix, however. Since its expansion to pretty much every country on the planet, Netflix has cracked down on VPN use. In my tests, the new Opera app didn't get around the "great firewall of Netflix."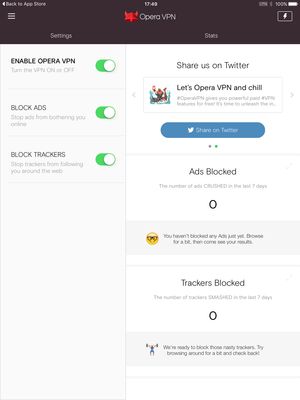 That said, if you do run up against other regionally restricted sites you can always give Opera's VPN a try. Currently, Opera VPN for iOS offers exit servers (where websites think you are) in the U.S., Canada, Germany, the Netherlands, and Singapore.
The new Opera VPN app also includes ad-blocking features to kill online ads, and web trackers that follow your browsing habits online to better target advertising.
Using Opera VPN is pretty straightforward. All you do is download and install the app from the App Store. Click through the agreements for the terms of service and privacy policy. Then you hit a few more Continue buttons to add a VPN profile to your device.
Once that's done, the app starts working automatically. If you want to change exit locations, just tap the lightning bolt icon (upper-right corner on the iPad version). Next choose the country you'd like to "appear" in and that's it.
The story behind the story: One thing privacy-conscious users will want to do is read the VPN app's privacy policy closely. This app is doing something that is not all that common in paid VPNs—at least not the more respected and well-known ones. In fact, even SurfEasy's branded service says it doesn't do this.
The fine print on privacy
Specifically, Opera says it "may" collect usage data while connected to its VPN, including the web addresses you visit. It's not clear whether the company is actually collecting your web history while using this VPN, or if it's just reserving the right to do so in some unforeseen future.
We contacted Opera for comment, and received this response from SurfEasy's Houston: "While the Opera VPN is completely free to the user we do use anonymous market insights derived from customer usage to help support the service. We make this information available to third parties who are interested in better understanding the mobile ecosystem and how it's evolving."
In other words, it sells user data to marketers. Houston added, however, that the data is aggregated and not focused on individual activity. "It's important to understand that this is not data about what you do with your phone, but rather this is data about how a large group of people use their phones."