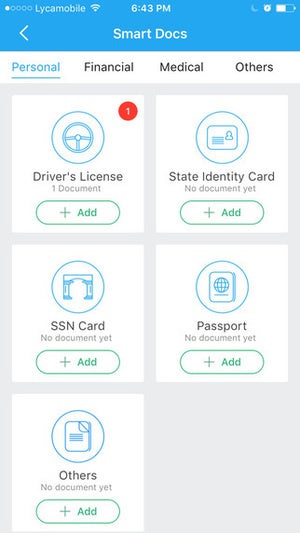 The dream of an all-digital wallet remains elusive, but there are still plenty of ways to back up important documents in case originals are ever lost or stolen. iDrive Smart Docs (free; available on the iTunes Store) is a free, universal iOS app that makes it easy to save personal documents such as passports, insurance cards, vehicle registration, and more in digital form.
Safe inside
Unlike Evernote which is more of a jack of all trades, Smart Docs is preconfigured to capture data from four common categories: Personal, Financial, Medical, and Vehicle; the generic Others group can be used for anything else. The built-in camera captures documents with automatic edge detection, although users can manually crop, rotate, and tweak brightness; once saved, only converted text can be further edited.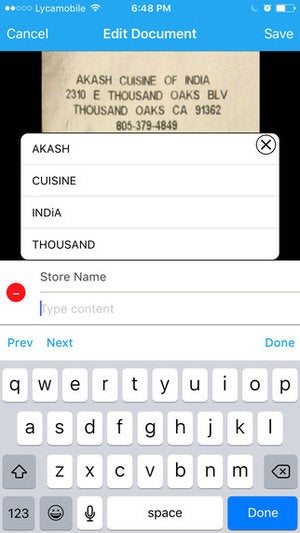 A free or paid iDrive account is required, which is used to store digital copies in the cloud with military-grade, 256-bit AES encryption. As an additional layer of security, the app offers passcode (and optional Touch ID) protection to keep sensitive documents away from prying eyes.
Time to renew
One feature unique to Smart Docs is the ability to send users a reminder one month before important renewal dates. This is done automatically for state-issued driver's licenses, but reminders can be manually set up for any document type. Search makes it easy to find documents without rummaging through every category, and the UI is optimized for the latest iOS devices, including iPad Pro.
Smart Docs uses OCR (optical character recognition) to extract text from captured images, although it occasionally failed to parse data correctly. The app offered to scan the barcode on my driver's license, but doing so repeatedly caused Smart Docs to crash without saving the previous capture.
Bottom line
iDrive Smart Docs isn't quite as savvy as the name implies, but the renewal reminder feature alone makes the app worth a look.