At a Glance
Expert's Rating
Pros
Price point is hard to beat
Works underwater up to 50 meters
Can be worn a variety of ways
Cons
Doesn't offer granular workout data
Automatic exercise tracking works for just a few activities
Our Verdict
Withings Go is an affordable, versatile activity tracker that works for swimmers and fitness newbies, but not for serious athletes.
Best Prices Today: Withings Go
The market for super cheap, basic fitness trackers must be huge, because every major health tech company makes one. I'm not sure who's wearing a colorful fitness tracker clipped to their pants pocket, because I never see them in the wild, but if you want an affordable, versatile fitness tracker, you could do worse than the new Withings Go.
The $80 Go is now on sale on the Withings website and will hit Amazon sometime this quarter. I first saw the Go at CES in January, where comedian Penn Jillette, who is now a Withings spokesman, was hyping the device. Jillette lost more than 100 pounds using Withings devices.
Think of the Go as the Kindle of activity trackers. There are other fitness bands that look better and have more features, like when you compare the iPad to the Kindle, but sometimes you want a device that does one thing and does it well. Like early Kindles, the Go has an e-ink display, which is designed to last eight months on one battery (the battery is interchangeable but not rechargeable). It's the exact opposite of the high-end Activité Steel, which I love, but it's also $90 cheaper. The Go also reminds me of my Kindle in that it's solidly designed for the price—I've worn far uglier fitness bands that cost three times as much.
Swim, run, and a display perfect for sun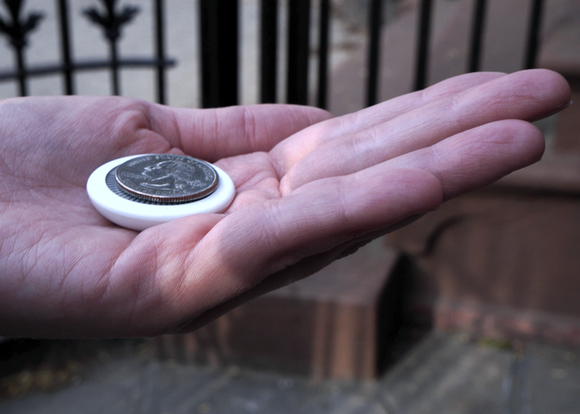 The actual fitness tracker is a round device slightly larger than a quarter. Withings includes a clip and wristband in the box, so you can wear it on your wrist, clip it to your clothes, shoes, and key ring, or wear it in your pocket where no one can see it. Setup is simple—just pair the device to the Withings Health Mate app for iOS or Android and select one of two screen styles, light or dark. There are only two display modes, a clock hand to tell time and an activity-tracking ring that will close when you've reached your daily step goal. You can toggle between them with a deep press on the display.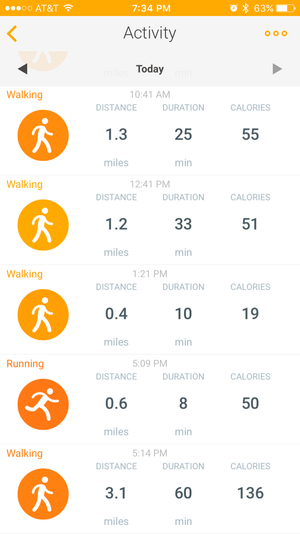 The Health Mate app is solid, though not my favorite of the major fitness-tracking app interfaces. The app's dashboard shows your step counts, workouts, sleep data, and food logs (which you have to enter manually). In the app, you can choose how you wear your Go, either on the wrist or clipped to your pocket, which will determine how the device tracks your activity. If it's not on your wrist, the device can't track your sleep or swim workouts.
The ability to track swims sets the Go apart—comparable activity trackers at the same price point aren't as water resistant. The Go can be worn in water up to 50 meters, and its e-ink screen is visible in water (and in bright daylight, which isn't the case for the LCD screens on many fitness bands). I didn't test the Go in a pool, but I did dunk it in water to no ill effect.
The Go's automatic exercise tracking works best when you keep it simple with walks, runs, and swims—I had to enter my elliptical training into the Health Mate app manually, and the Go has no idea what you're doing when you lift weights. If you do more than walk, swim, or run, you're going to have to enter a lot of workouts by hand. The step counts, running mileage, and sleep analysis were fairly accurate.
Bottom line
I've used all types of fitness bands: super sporty running watches with heart rate sensors and on-board music storage, a variety of Fitbits, activity trackers that look like jewelry, and smartwatches with fitness features. Which fitness tracker to buy depends entirely on what features you need.
If you're a swimmer with a small budget or someone just getting started with activity-tracking who doesn't want to spend a lot of money, Withings Go deserves a look. It has very basic functionality, but it's also affordable and can be worn in a variety of ways.
It's not fair to compare the Go to the Fitbit Blaze, the Apple Watch, or other more fully-featured fitness bands. As an entry-level, sub-$100 activity tracker, the Go will suit some folks just fine.
Best Prices Today: Withings Go