At a Glance
Expert's Rating
Pros
Fast, simultaneous dual-band 802.11ac wireless
Automatic backup of iOS photos and videos
Affordable hard drive or SSD storage options
Includes free 1TB cloud storage (first year only)
Cons
Can't be accessed through existing wireless networks
Wireless base station disabled when mounted on desktop
No built-in battery
Ethernet connection limited to 100Mbps
Our Verdict
iDrive One offers up to 2TB of storage in a portable package complete with wireless base station, encrypted local backup, and mobile support for iOS or Android.
Cloud-based storage is great—until your preferred service goes out of business or changes the deal after you've spent years uploading gigabytes worth of precious data. Instead of relying on someone else's cloud, it might be time to find a more personal solution.
Little blue box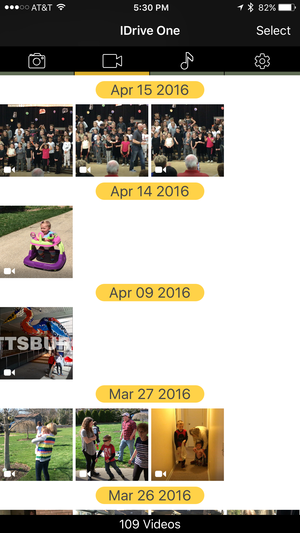 iDrive One combines semi-portable storage with a fast wireless base station to create a personal cloud for backup and streaming media. Framed in a blue case measuring 3.75 x 5 x 1.25 inches and weighing just over nine ounces, the device includes your choice of a 1TB ($100) or 2TB ($150) hard drive, but can be outfitted with 128GB or 256GB SSDs.
The unit houses an 802.11ac wireless base station capable of simultaneous dual-band support for 2.4GHz and 5GHz Wi-Fi connections within a 150-foot radius. That makes iDrive One not only faster (up to 1.3Gbps on supported devices like iPhone 6s) but more affordable than competing products from Western Digital and Seagate.
When plugged into a Mac or PC, iDrive One can also be directly mounted as a FAT32-formatted volume, but the wireless base station is disabled while used this way. The device includes an RJ45 Ethernet port for plugging into an existing network, but this winds up being slower than the on-board wireless, maxing out at a mere 100Mbps.
There's no built-in rechargeable battery; the unit is powered by an included AC adapter and USB 3.0 cable. That makes iDrive One considerably less portable, but it's too big to be considered pocket-friendly anyway. However, it's a missed opportunity considering this product was designed to provide unencrypted backup for photos and videos on iOS and Android devices. (Local Mac or PC backups offer 256-bit AES encryption.)
Personal cloud
Mobile backup and streaming requires a free app on your smartphone or tablet, which must be connected directly to one of the unit's dual Wi-Fi networks. Although iDrive One can be configured through a rather ugly web portal, there's no way to piggyback onto existing networks; the unit can be set up to access an available Internet connection at the same time, however.
I found this approach unwieldy, although iDrive confirmed this is how the product was designed to be used. Switching networks takes just a few seconds, but doing it each and every time you want to access stored content becomes downright inconvenient after a while.
On the plus side, backup and streaming was lightning-fast on my iPhone 6s Plus and iPad Pro, which support 802.11ac connections. The app is a fairly basic affair, with separate tabs for the three supported media types, and thumbnails sorted from newest to oldest. (Music files must be copied to iDrive One from a computer.)
I'd use this a lot more if I didn't have to hop between networks so much, but if you don't consider this an inconvenience, iDrive One is better than what's offered by the big storage vendors. It's worth noting iDrive also includes 1TB of its popular cloud-based storage for the first year to sweeten the deal.
Bottom line
iDrive One isn't perfect, but if you can overlook the more glaring limitations, it's a pretty capable Wi-Fi storage device that delivers more for less.