The future of health care is wearable devices that transmit our vitals to our physicians. Instead of self-reported data, which is often inaccurate (no offense, but your memory just kind of sucks), doctors will have real numbers to form the basis for diagnoses and treatment plans. In the wake of Apple's CareKit launch, connected medical device maker Qardio is launching a platform to share health data from its hardware with your doctor.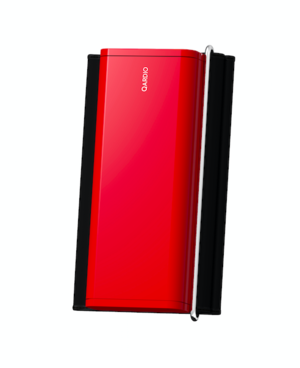 The company has two FDA-approved products for consumers: the smart blood pressure monitor QardioArm and wireless scale QardioBase. (The company also makes wireless EKG monitor QardioCore for doctors.) Those medical grade devices measure vitals like weight, heart rate, and blood pressure, all of which will be available to your doctor with the launch of QardioMD on Saturday.
The platform requires physician participation for you to share your data, so you have to make sure your doctor is on board. Qardio's marketing vice president, Martina Janeckova, told me that many health care partners have been beta-testing QardioMD. Once your physician is plugged in to the platform, they'll send you an email to opt in to sharing data from your scale and blood pressure monitor. That data will be shared continuously until you turn it off.
What's the benefit? Janeckova said for people dealing with chronic medical conditions like hypertension, continuous data-sharing will cut down on doctor's office visits, because a doctor can tweak a prescription remotely.
"Doctors were telling us, 'We wish we had a way to get the data from the patient to save time and money coming to my office, and I will save valuable time taking blood pressure the patient can take at home,'" Jareckova told me. "We have some integrations with electrionic health records but that wasn't a good solution either because then the doctor has to go through thousands of folders."
QardioMD processes your medical data in the cloud, applying algorithms that categorize your measurements and color-code them for doctors who need to act quickly. Patients with red measurements need treatment immediately, while patients in green are progressing just fine.
Patients can also add notes with their measurements, so doctors can put that data in context.
Why this matters: QardioMD works differently from CareKit, but has a similar motivation. CareKit is a framework that allows developers to build a Connect function for sharing data in their health apps. That means you can easily send your information to anyone—friends, family, etc.—but it will be particularly useful for physicians. QardioMD is designed for doctors, so you won't see anything different as a Qardio user, but both CareKit and QardioMD are signs that the future of health care is not just devices that collect data, but devices that make data actionable.