Editor's note: This article originally ran in May 2016, but was updated in July 2017 to include info on Android Wear 2.0 and the latest Android Wear watches.
Apple built the Apple Watch to coexist with your iPhone, and they're a near-perfect pair if you want a connected device on your wrist. However, it's not the only smartwatch out there for iPhone owners. The dearly departed Pebble watches are compatible, as is the Samsung Gear S3 and S2—and yes, even Google's Android Wear watches work with your iPhone.
It's true! Google first rolled out iPhone compatibility in late 2015, back when Android Wear was still in its first incarnation, and several watches gained functionality when used with Apple's phone. When we first wrote this article in 2016, it became clear that a lot of you were curious about Google's alternative watches, and whether they were worth using with an iPhone.
What a difference a year makes. Android Wear has been updated to 2.0, and along with the version upgrade came a couple of big new features for iPhone owners—and there are several new watches available that support it. But the old v1 watches still work too, albeit with less functionality. And now that the Apple Watch Series 2 is out, with the first-gen watches sold for less, the value comparison has certainly changed as well.
Looking for a different kind of watch to pair with your iPhone? Here's a look at what Android Wear offers for iPhone owners, which watches are available, and what kind of functionality you gain or lose as opposed to wielding an Apple Watch instead.
What is Android Wear?
Android Wear is Google's smartwatch platform, but while Google makes the core software that all of the watches run, the company doesn't manufacture any of its own watches. That used to be Google's approach to smartphones, as well, although last year's Pixel and Pixel XL marked the first Google-branded phones. Still, there's no "one" or "flagship" Android Wear watch as of this writing.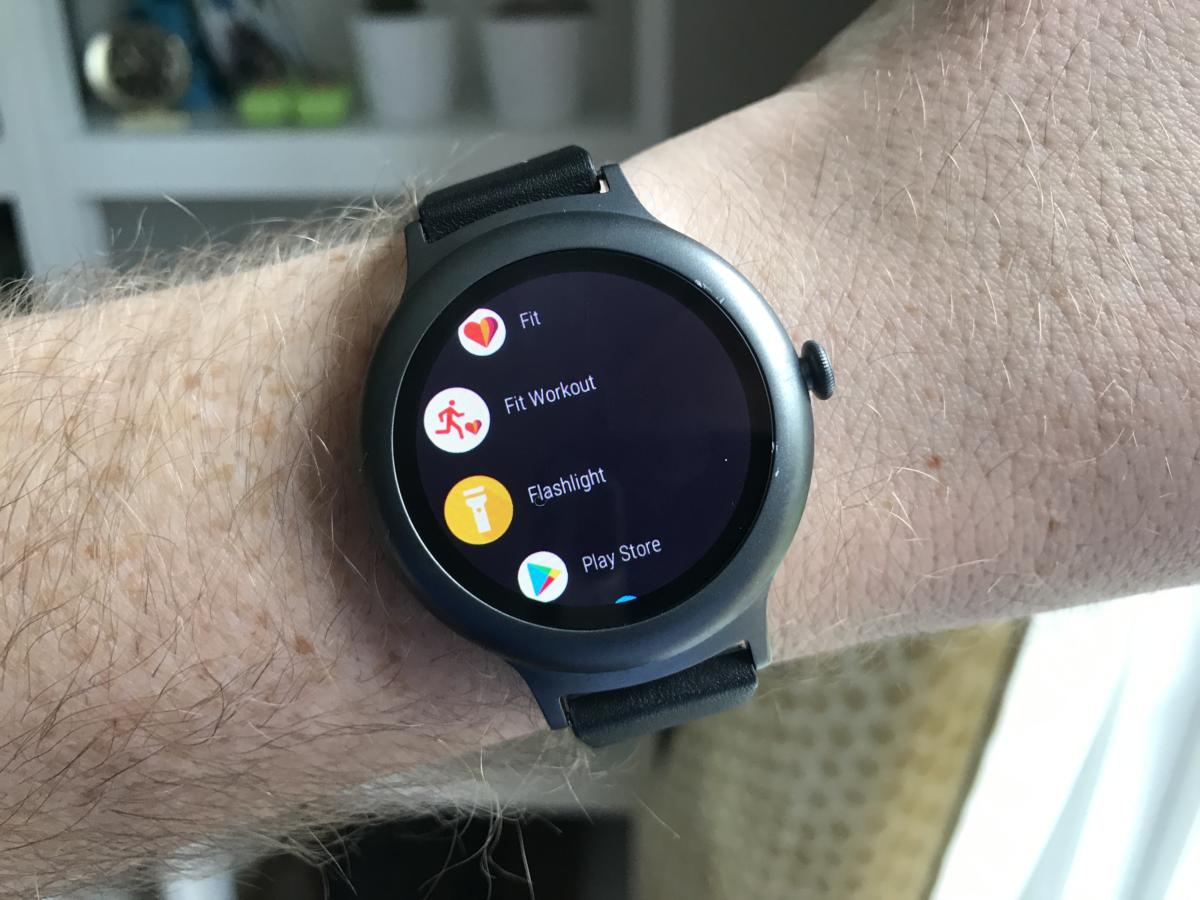 In fact, since the first models came out in June 2014, more than 30 watches have been released from various manufacturers, including Motorola, Samsung, Sony, LG, Huawei, and Asus. The array of different makers means that every Android Wear watch is unique in look and materials, unlike the Apple Watch, and some offer larger batteries or include GPS, an NFC chip, or even standalone 4G LTE functionality—so there's more flexibility, too.
However, since they all run the same Android Wear platform, all of the watches essentially act about the same in terms of software, at least when running the latest version. Nearly all Android Wear watches are dependent on your phone for connectivity, although apps can run natively on the watch and you can, say, listen to music via Bluetooth headphones without needing your phone. As mentioned before, a few Android Wear watches offer 4G connectivity for phone-free calls and notifications.
What are my options?
Nearly all of the Android Wear watches released within the last two years are compatible with an iPhone running iOS 9.0 or newer. Google lists 20 different watches that have assured iOS functionality, although most of the older, first-wave Android Wear devices aren't listed. The first-gen Motorola Moto 360 and LG G Watch aren't listed as compatible—and yet the G Watch worked fine for me when I tested it, albeit using an older OS version.
What's so appealing about Android Wear is the sheer variety of looks and styles. Google makes the software, but all of the manufacturers are free to design the watches as they please, right down to the size and shape of the screen. There are sports watches and fashion watches, for example, as well as budget and luxury options. But that also means that there may be inconsistencies in features, such as watches lacking NFC for mobile payments, a heart rate sensor, or 4G capabilities.

However, not every watch runs Android Wear 2.0, which adds extra functionality for iOS users. Still, there are a fair number of 2.0 devices now. The LG Watch Sport ($350) and LG Watch Style ($250) were the big new hardware releases alongside Android Wear 2.0, although our sister site Greenbot wasn't hugely impressed with either (click the respective links for their reviews). I've been using the LG Watch Style for this article, and I agree that it feels cheap and flimsy—and the battery life is dismal if you enable the always-on display.
There's the sporty Casio Pro Trek WSD-F20 ($500) or the cheaper New Balance RunIQ ($300), as well as a handful of Fossil Q styles that usually start at $255, but as of this writing are priced from $153 at Fossil's official online shop. Michael Kors has a handful of watches that scale up to $350 for sleek, stainless steel varieties, although sportier watches are going for $200 now. And if you want something super-luxury, the Montblanc Summit starts at an eye-popping $890.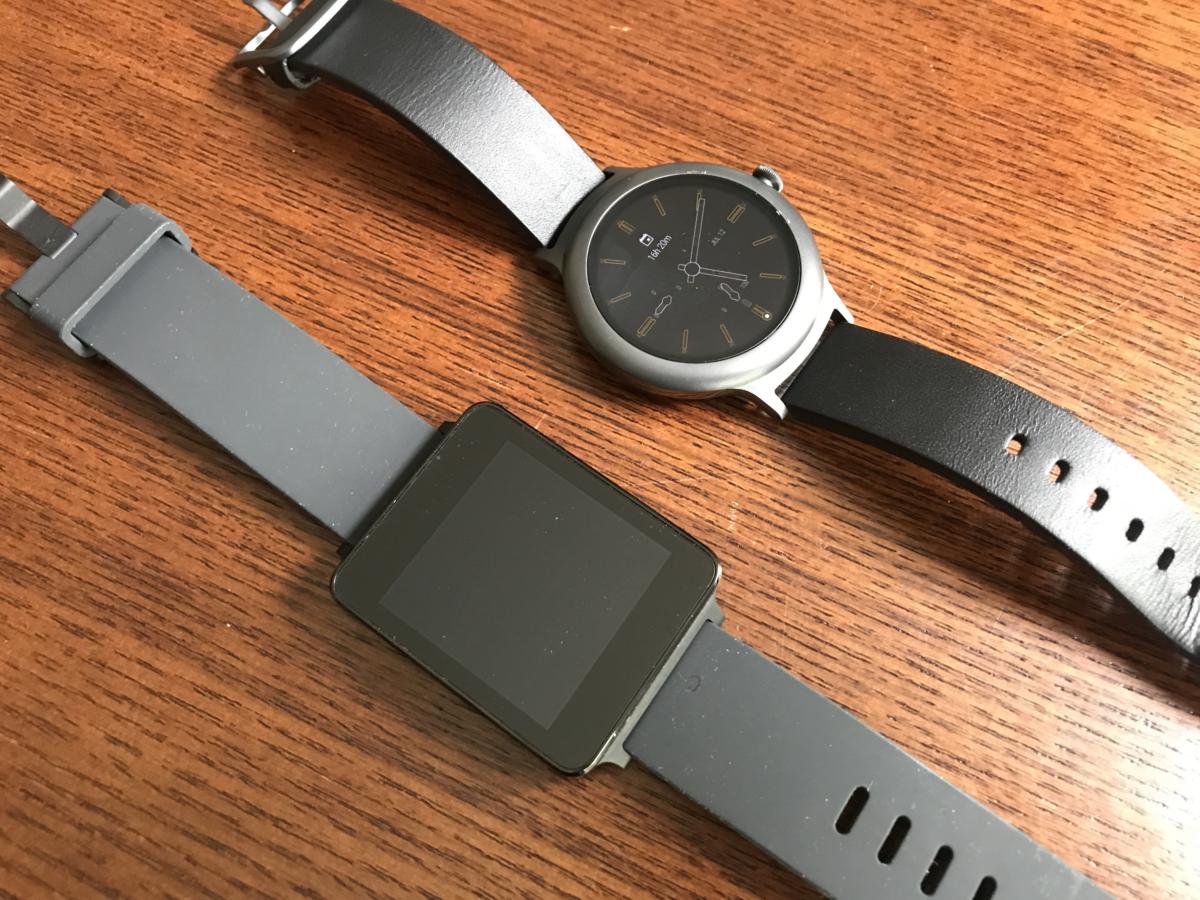 That's not even the full array of Wear 2.0 watches, so I'd recommend starting with Google's official Android Wear site and seeing what catches your eye. Also, there's more on the horizon, including watches from Movado, Tommy Hilfiger, and Hugo Boss, as well as more Michael Kors and Fossil Q varieties, the Diesel On, and a pair of Louis Vuitton watches starting at $2,450. With Google's standardized software platform, lots of fashion brands are making the leap into smartwatches.
How do I pair it?
It's a pretty easy process, actually. Google has an Android Wear app available from the iOS App Store, and once that's installed on your phone, you can pair the device through there. You'll match the code shown on your watch to the one seen in the app, and then it'll complete setup pretty quickly. Just follow the instructions and you should be set.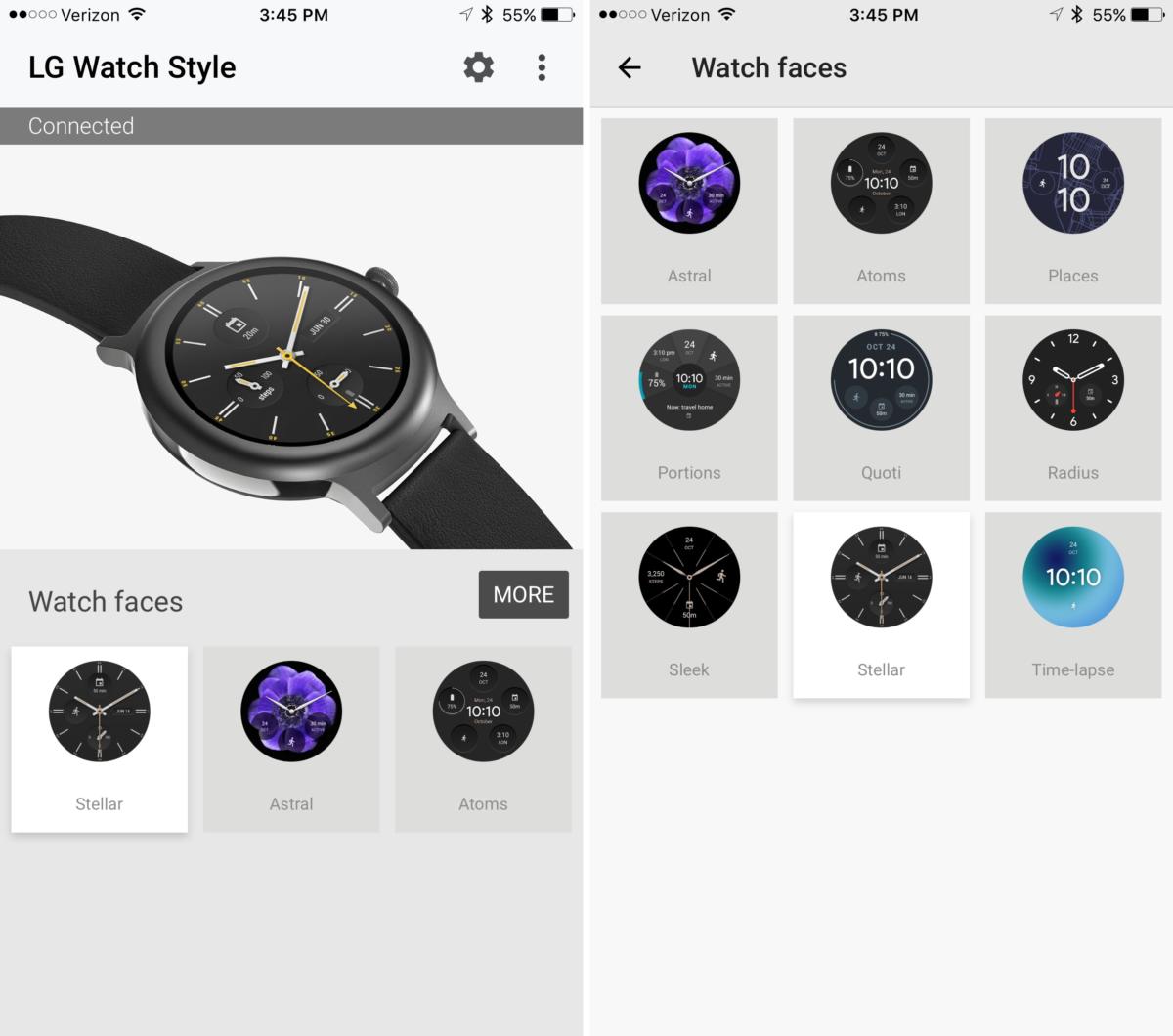 The Android Wear app can be used to manage your watch on a larger screen with more comfortable navigation, letting you flick through watch faces, change calendar and email settings, block notifications from certain apps, and change other options with ease.
There's one key difference with the way Android Wear and the Apple Watch work with your iPhone, however: You'll have to keep the Android Wear app running at all times on the phone to keep data flowing to the watch. If you're an avid app-closer, you'll need to remember to keep it running in the background, otherwise your smartwatch won't be very smart at all. Unfortunately, that's the exact same situation with Samsung's Tizen-based Gear S3/S2 watches, as well, since they all lack the kind of direct connection enjoyed by the Apple Watch to iOS.
What can it do?
Well, Android Wear devices tell time impeccably when linked to an iPhone, so they are definitely watches. Besides that, the biggest benefit you'll get in day-to-day usage is likely wrist-based notifications. As on the Apple Watch, your various app and communication alerts are forwarded to the watch, letting you stay on top of things without pulling out your phone.
Notifications are handled as cards: you can swipe up from the bottom of the screen to access them. Swiping up or down (or using the rotating dial, if your watch has it) lets you see the alerts from various apps on a separate screen for each, whether it's an email, a Twitter reply, or an app notification. In the earlier version of Android Wear, one app's notifications would all stack together, but now they list individually. That can be a hassle when you have a lot of notifications piled up and waiting for your attention.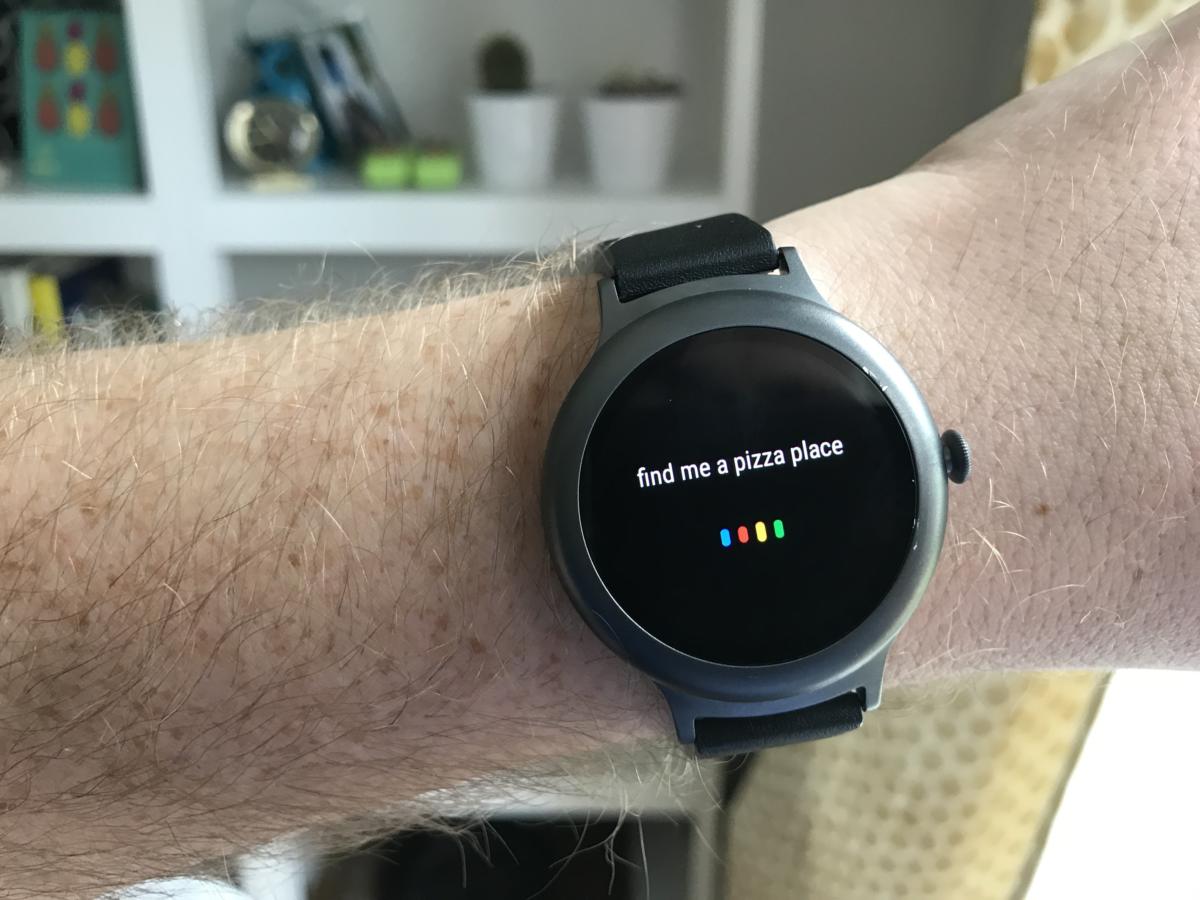 The Google Assistant is Android Wear's solution to Siri, letting you say "OK Google" from the watch's face screen and ask out a command. You may also access Google Assistant by pressing and holding the physical dial button on the watch. With the Assistant, you can request a web search, for example, if you need a quick fact, an image, local movie times, a sports score, or nearly anything else. Should you pull up a listing with a little phone-like icon and an arrow next to it, you can open up the full page in a browser via the Android Wear app on your phone.
If you use Gmail, then you'll be able to get richer email notifications directly on your watch. These notifications let you do more than just read and archive them—you'll also be able to send replies, whether you speak out a response via Google Assistant, use emoji, or actually type using the watch screen. That last option is incredibly awkward just due to the size of the screen, but it's certainly better than nothing. You never know when you might need it.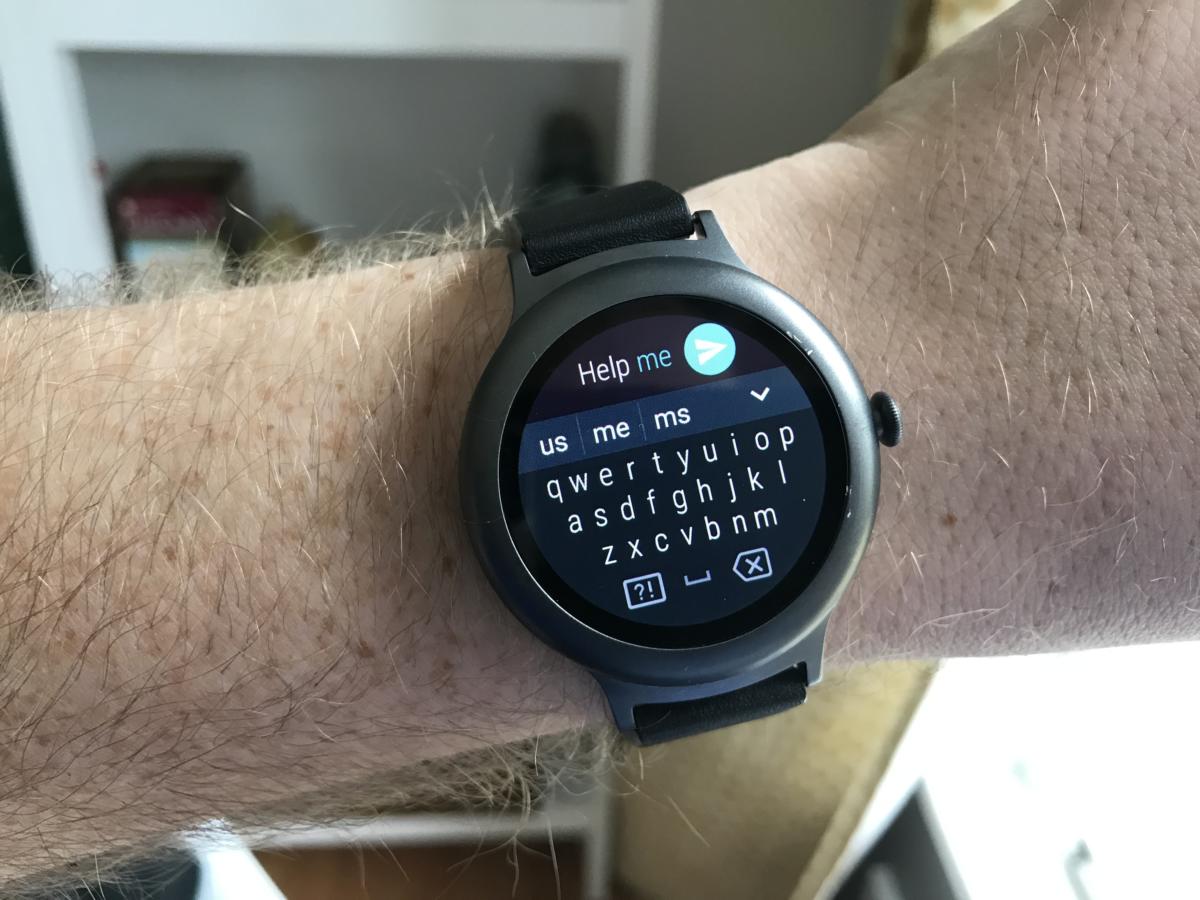 You'll also find a handful of core functions in the form of apps, which are located by swiping left from the face screen. Many are time-centric—setting alarms, a stopwatch, or a timer, plus a world clock—but there's also a compass, your agenda, and the super handy Translate feature that'll help you carry international conversations on your wrist. There's also Google Fit, which I'll talk about in the next section.
Version 2.0's biggest addition to Android Wear is undoubtedly the ability to install apps and faces directly to the watch itself. That was one of the biggest omissions of the first rendition, as iOS apps can't have Android Wear components—and, of course, you can't download content from Google's Play Store onto your iOS device.
What's a smartwatch to do in Apple's world? Bypass your phone, of course. You can access the Play Store directly from your watch, which yes, is a bit cumbersome—but it works. You'll need to connect your watch to a Wi-Fi network, however, since it can't use your iPhone's connection for Play Store access. Thankfully, you can also install apps from the Play Store website on your computer, which is a much better option than using the phone screen.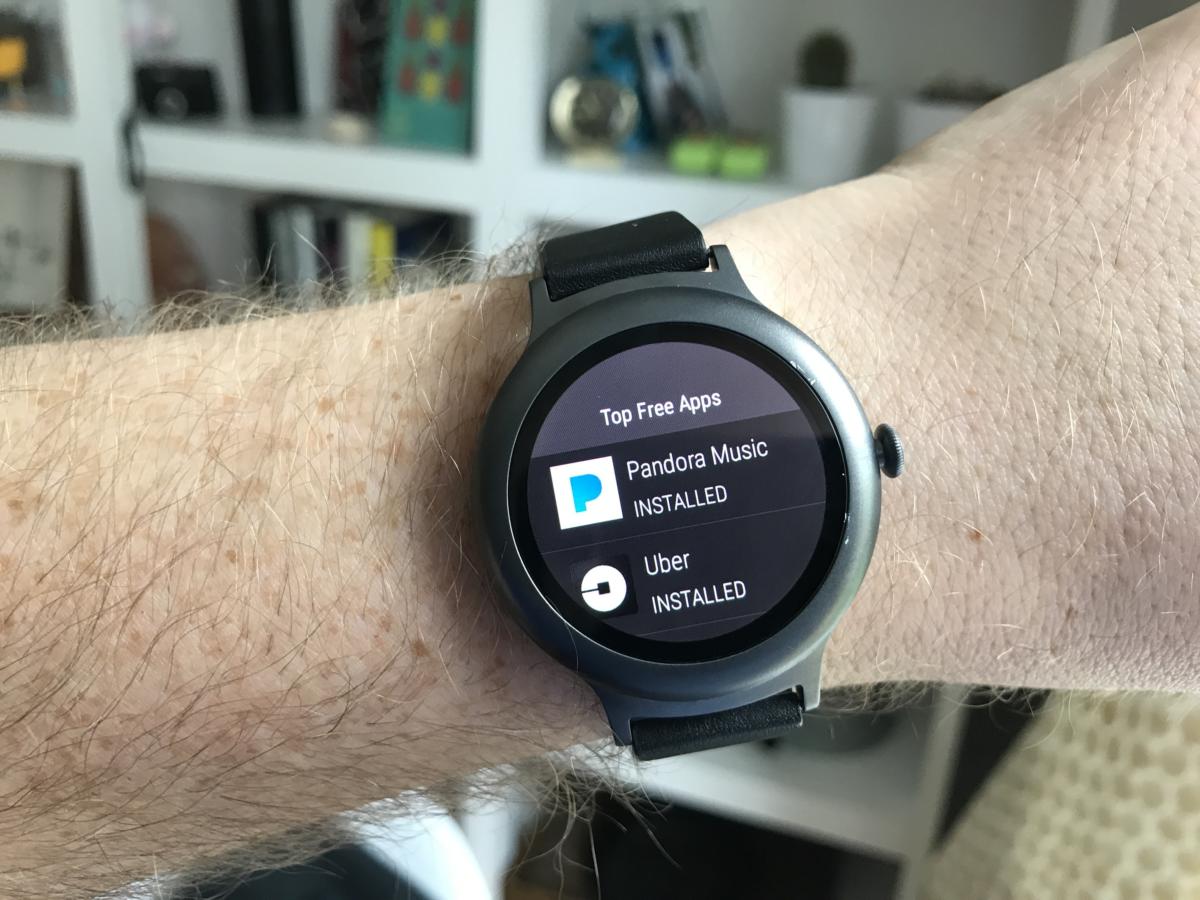 It's undoubtedly a better offering than Samsung's Gear S3 and S2 watches with Samsung's store. Here, you'll find apps like Uber, Robinhood, and The Weather Channel for your watch, navigational apps like Google Maps and Citymapper, music apps Pandora and Google Play Music, and an array of fitness options—Runkeeper and Strava included.
And there are various third-party watch faces in the mix, as well. When I used my LG G Watch with an iPhone a while back, the Wear 1.0 device just came with a handpicked selection of faces—but much less than you'd find when using an Android phone. Now, there are fewer stock faces with this LG Watch Style, but many more available to download. And many are customizable with various complications, including those from third-party apps.
What do I miss?
You miss out on some pretty important features, unfortunately, although some may sting more than others based on your needs and daily routine. Notably, the Android Wear watch doesn't integrate with the iPhone's communication functionality—so if you read a text message on your wrist, you can't speak out a quick reply, nor can you dictate a new message with your voice. Google Assistant just doesn't know what to do when you ask, unlike Siri.
If you get a call, you can reject it on your wrist—but that was the extent of my options with the LG Watch Style. Many Android Wear devices don't have a speaker for two-way communication, including the Watch Style, although they all have a microphone for spoken searches and commands. But even the watches with speakers don't let you take calls on your wrist.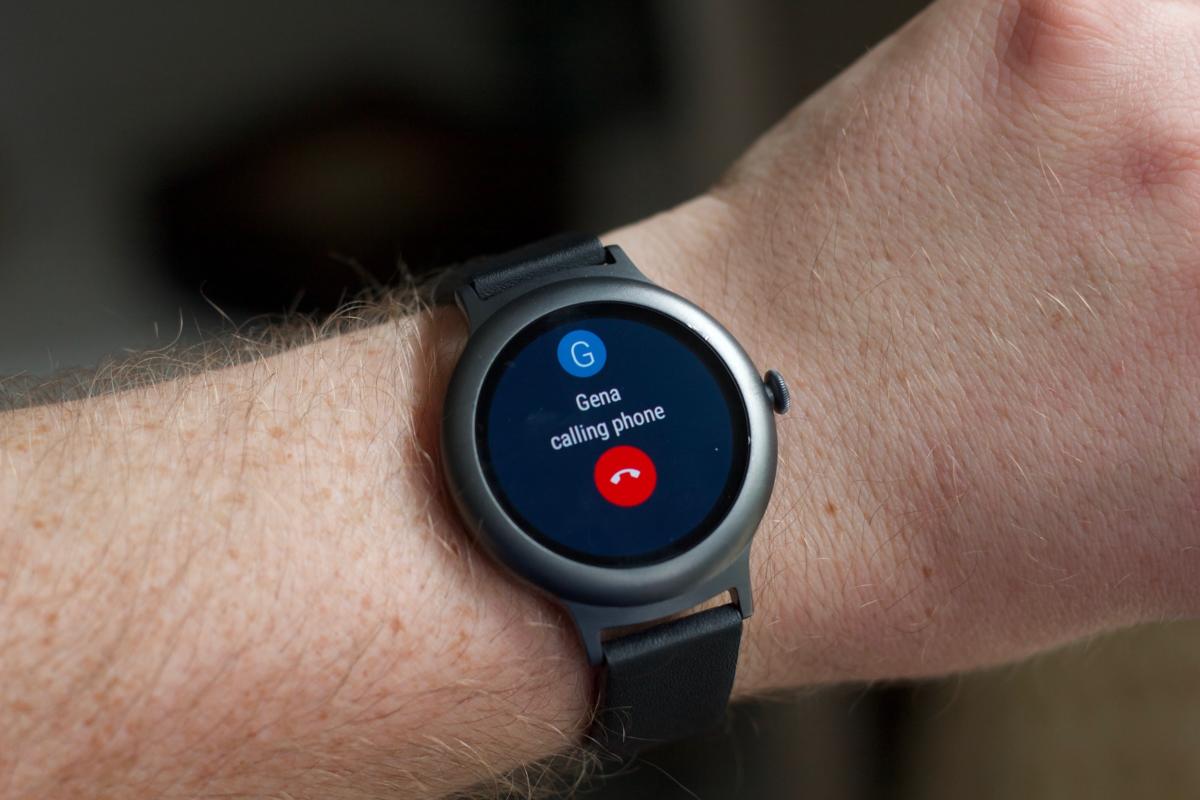 There is one exception to this rule: if you buy one of the 4G Android Wear watches with its own LTE connection—like the LG Watch Sport or Verizon Wear24, for example—then you can set up call forwarding to patch calls over to your watch. But that's an all-or-nothing arrangement that'll stop calls from hitting your phone until you turn it off.
As for fitness, your functionality is determined by the watch. The LG Watch Style tracks my steps via Google Fit, but it doesn't have a heart rate monitor, so that's not available. Whatever your watch's functionality, the Fit data doesn't play nice with Apple's Health, so your data won't funnel into the native iPhone tracking app. That might be disappointing, depending on how much you already use Apple's platform.
As of this writing, it's not possible to use Google's Android Pay with an iPhone, assuming that your watch of choice has the needed NFC chip. And, of course, you can't use Apple Pay on an Android device. Given Google's attitude towards Wear apps downloading to and running on your watch with no input from your iPhone, however, we wouldn't be surprised to see Android Pay support come at some point.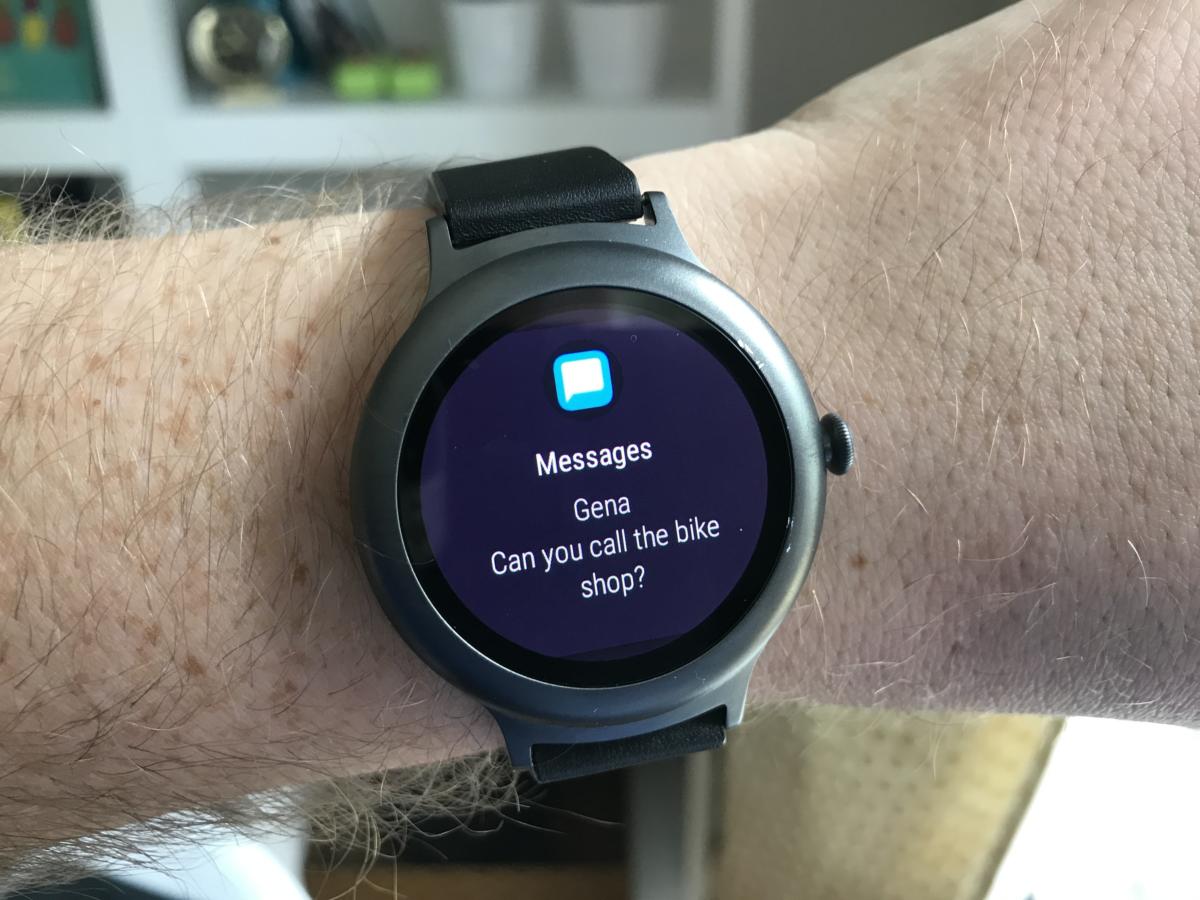 Also, if you choose an older watch that lacks Android Wear 2.0 support, then you'll miss out on the Play Store and its apps, as well as the refined 2.0 interface. These aren't dramatic losses, as the older watches still provide notifications and voice-activated information via Google Now (instead of Google Assistant); and they tell time, of course. But those watches won't be updated any further, so they'll have only as many features and abilities as they do right now.
Lastly, I've had connectivity issues with the LG Watch Style. After about a week of usage, the connection back to my phone became pretty tenuous, and the Google Assistant continuously failed. I ultimately had to factory reset the watch and repair it to regain steady connectivity. Even now, though, the Google Assistant is hit-or-miss with my iPhone.
Is it worth it?
If you already have an Android Wear watch for some reason, then iPhone compatibility is a great perk. Did you switch from an Android phone to an iPhone but still had a watch? Get one as a gift? Win one in a contest? Whatever the case, if you have a Wear watch, it's usable with your iPhone.
Furthermore, if you absolutely hate the uniform look of the Apple Watch, or conversely are in love with one of the Android Wear devices, then you've got options. Apple decided to make one core Watch style that everyone can wear and tweak in small ways, while Google's platform allows for many different kinds of approaches. Personal style is important, perhaps even more so than functionality for some people.
There is some difference in functionality between the Apple Watch and an iPhone-paired Android Wear watch, however, and to the avid Apple user who wants the complete watch experience, Android Wear might seem like a pale imitation. You won't be able to respond to messages on the Android watch, or take calls.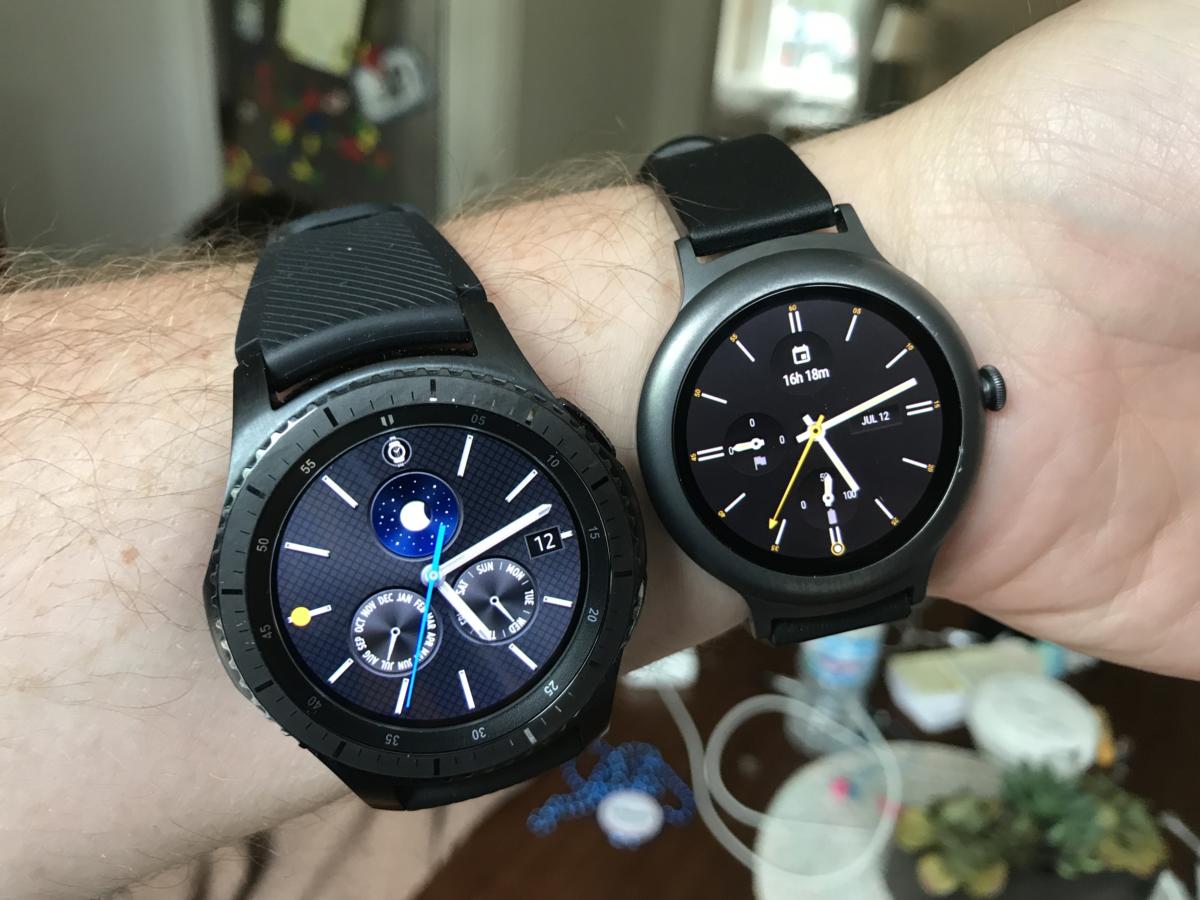 And while Android Wear 2.0 adds the Play Store and support for apps, there's a relatively slim selection of high-profile options—and they won't interface with your iOS apps at all. You'll find a lot more worthwhile apps on the Apple Watch, of course, as well as some solid games that provide on-your-wrist diversions.
Value was one of the most appealing aspects of Android Wear compared to Apple Watch, at least back when Apple's original watches only had eye-popping prices. However, now that the first-gen Apple Watch models start at $269, there isn't as much of a difference in base cost compared to the current crop of Android Wear 2.0 models. But unlike with Apple, you're more likely to find Android Wear watches on sale, which can lead to larger savings. As mentioned above, you can find discounted models in the $150 to $200 range.
And if you only want basic functionality, then you might consider seeking one of the older Android Wear 1.0 watches second-hand or refurbished. The Moto 360 and LG G Watch are solid smartwatches for getting notifications from your phone, and you can get both of those for less than $100 apiece on eBay and elsewhere. I bought a refurbished G Watch back in 2015 for $50, only a year after its debut, and it worked just fine with an iPhone. That's a hell of a deal if you're not too picky about advanced functionality or customization.
The Apple Watch still provides the most complete and functionally fluid smartwatch experience for iPhone owners, but if you don't like the design, want to save some cash, or just feel like doing something different, then Android Wear provides solid options. Just make sure you do some research on all of the different models out there, especially if you're looking for an Android Wear 2.0-compatible device.
At least the choice is yours to make—unlike Android phone users who will probably never wield an Apple Watch.