Reader Hatsuo Higa wants to sort out a printing problem:
The other day I was printing using Photos, and afterwards, when I printed the next photo, it rotated vertically instead of horizontally, and only a small portion of the picture came out. I tried many times to print photos from my HP6525 printer using the photo tray without success. The letter size is fine but the smaller size can't be printed because the photos are sideways. Any solutions?
There are so many things that can go wrong with printing to other than standard paper sizes, like letter and A4, that it's a wonder we can ever get photos to come out of a printer at all. I feel like I've wasted more photo paper than I've ever used to get a quality image to come out the hopper.
(Pop quiz! When you see the icon of a sheet of paper with one corner turned down, do you have any idea whether you should place paper in the tray face up or face down, even when you've seen that icon for as long as decades? No, you too?)
Printer drivers contain the information needed by an operating system to translate the OS's internal page-rendering results into something that will be represented correctly on the output device. However, you can often print correctly most or all of the time with the wrong driver selected or a generic one, and only hit a problem when you have an edge condition—almost literally—like a problem getting an image to rotate from its display orientation on screen to the right position on a page.
If you want to be thorough about sorting out what could be wrong, let's start at the bottom. It doesn't hurt to get every setting correct, especially if multiple values interact.
Begin with the Printers & Scanners preference pane. For Hatsuo, he should see "HP Photosmart 6525" and an icon of the printer when it's selected in the Printers list at left. (Ditto for pretty much any model you, dear reader, may have installed.) If it doesn't match, then he or you may need to download more drivers directly from the printer maker. (On my Mac, I don't see the Photosmart 6525 or 6500 series or anything resembling it in the list of available drivers, when you browse manually.)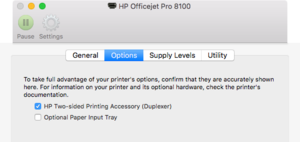 Driver downloads are typically coupled with utility software that lets you get more detailed information or change settings on a printer, too. It's often wise if you have any difficulty with a printer at all to install the maker's software. (That was once often bad advice, as Apple sometimes tweaked the drivers and setup it shipped, but it's generally a good thing to do today.)
I like to make sure that the utility's notion of what trays the printer has installed and make sure that they match up. If not, troubleshoot it, otherwise you'll have unpredictable results.
Some printer utility software won't work correctly with a printer that's connected to a network via USB sharing from an AirPort or other Wi-Fi base station or network router. If the utility software doesn't work, try connecting the printer via Wi-Fi (if that's available) or connect it via USB to the computer from which you're trying to print. That may solve the problem right there.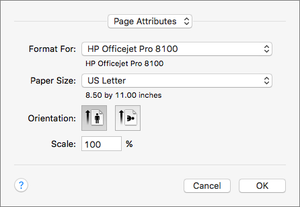 In a lot of software, you have an option to bring up the File > Page Setup dialog, in which you can set both OS X options, such as for page scaling (100% or otherwise) and orientation. Some software, like Preview, bundles in setup and printing options in one place when you select File > Print.
Photos has a quite abbreviated print dialog and manages image rotation correctly for you. In my case, the printer tray has me put 4-by-6–inch paper with the long direction matching the long direction of the tray. When I make sure my printer is selected in the Print dialog in Photos and pick "Borderless 4×6 in./10×15 cm"—borderless prints flush to the edges on all four sides—the preview at right correctly shows the paper's tray orientation. However, in the main preview at left, the photo is still previewed in the orientation that you set or it imported as in Photos.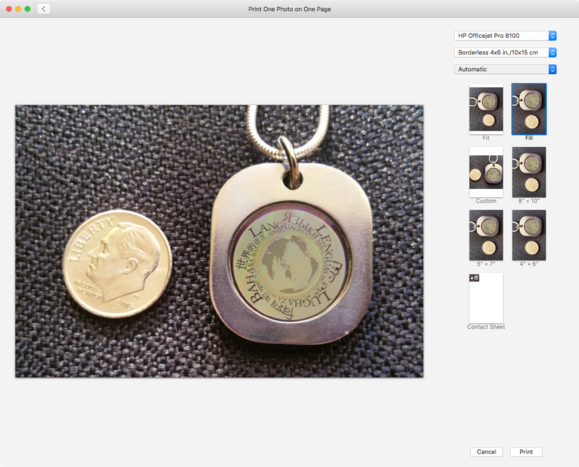 If none of that works, you'll have to brave technical support for your printer, and see if you can get any germane advice.
Ask Mac 911
We're always looking for problems to solve! Email yours to mac911@macworld.com including screen captures as appropriate. Mac 911 cannot reply to email with troubleshooting advice nor can we publish answers to every question.