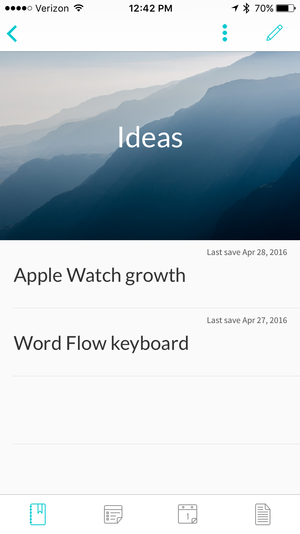 An app for this or that is no longer enough. Hyper-specialized tools and utilities might have been acceptable back when the iPhone still had a 3.5-inch screen, but as our iOS devices have become larger and more powerful, we want our apps to multitask: Cameras that edit; mail clients with calendars; text editors that publish.
Jottit's ($2) functionality mashup brings the worlds of note-taking and task managing together. It's a sensical combination that sort of acts like a digital stack of Post-its, dutifully storing those scraps of information that mustn't be forgotten. However, unlike those ubiquitous sticky yellow squares, Jottit has a deceptively complex interface that distracts from its overall concept of simple organization and makes it harder than it should be to just jot down what you're thinking.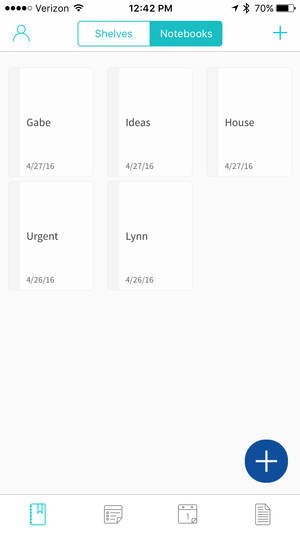 Jottit isn't the first app to merge notes and to-dos. Apple's own Notes app gained the ability to make simple lists with its iOS 9 revamp, but the implementation feels fresh with Jottit. The app uses notebooks instead of folders, and they do a fine job of keeping your thoughts in order. Notebooks can be named but there are no other defining characteristics, so distinguishing between a series of white boxes requires more than a cursory glance. It's something that can easily be addressed by adding tasteful colored labels, which I expect will arrive in a future update.
The pages within your notebooks can contain lists or notes, and inputting the appropriate text is fairly straightforward. If you don't want to file a particular entry you can tap the right-most tab to create an unassigned note, or the task tab to add a to-do item. Due dates can be added to tasks by tapping on the title, and this is meant to be a major part of the Jottit experience; there is even a dedicated tab to keep track of the things that have deadlines. However, it only collects tasks that have reminders, rather than showing everything that's scheduled.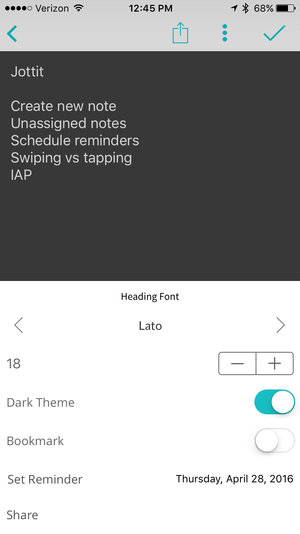 But Jottit's interface, while minimal in appearance, more often than not undermines its drive for simplicity. Theres nothing major that's wrong, but the little annoyances quickly get frustrating. For example, there's no quick way to create a new note without first navigating to a notebook or the notes tab, despite the existence of a giant blue plus symbol on the main screen (that creates a new notebook). There's more confusion when it comes to scheduling: Swiping on a task lets you set a due date, but to add a reminder you'll need to tap the item. And if you create a quick unassigned note, there doesn't seem to be a way to add it to an existing notebook.
But Jottit definitely shows promise. The idea of notes and reminders sharing the same app is intriguing, and the app has a clear mission that is only a few intuitive tweaks away from being quite good.
Bottom line
Jottit does a fine job of bringing your notes and tasks under one roof, but the foundation could use a little work.