Remember when you first started using a web browser, how great it was to be able to save bookmarks? It was necessary back in the day, because you couldn't remember all those URLs, and browsers didn't auto-complete with addresses of your saved sites. They also didn't suggest sites when you typed the name of a company or publication, so you needed to know the URL to get where you wanted.
But the more bookmarks you save, the harder it is to find what you're looking for. Remember that site where you saw that really interesting article last month? You bookmarked it, and you remember the title, but if you look in your Safari bookmarks, you have to either scan the entire list, or search for it. Sure, you can sort bookmarks in folders, but who has the time to do that? And you'd only do that for the sites you visit very often.
Wouldn't it be great if you could sort bookmarks alphabetically in Safari? There has never been a way to do this in Safari itself, but there is a way, one that's been around for donkeys' years. The process is slightly different now.
Start by displaying your bookmarks in Safari (Bookmarks > Show Bookmarks). Click the Edit button at the bottom of the list.

Drag them all to a folder in the Finder; make sure you don't select Bookmarks Menu, or you won't be able to drag the bookmarks. Display that folder in List view (View > As List, in the Finder), and then click the Name header to sort the files by name.
Next, move up a level in the Finder (press Command-up-arrow), and drag that folder onto the bookmark list in Safari. All your bookmarks will be added to the Bookmarks list, in that folder, You can delete the originals, then move the bookmarks out of the folder to the Bookmarks Menu, or to your Favorites. This is a lot of work for something that should be pretty simple.
You can do this easily in other browsers. For example, in Chrome, if you display your bookmarks and click the Organize menu, you can easily sort them alphabetically (Reorder by title).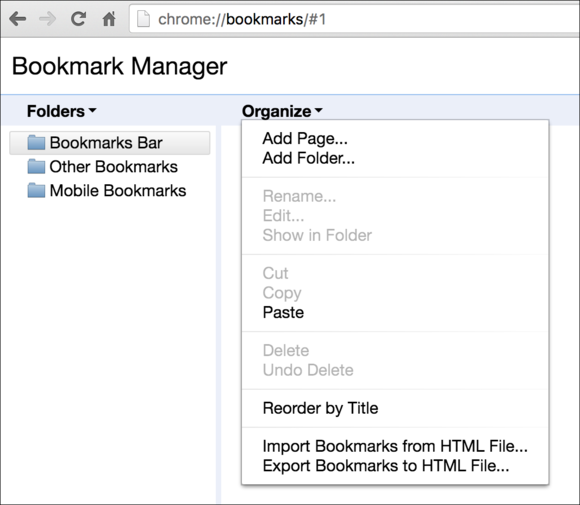 And Firefox gives you a plethora of sort options: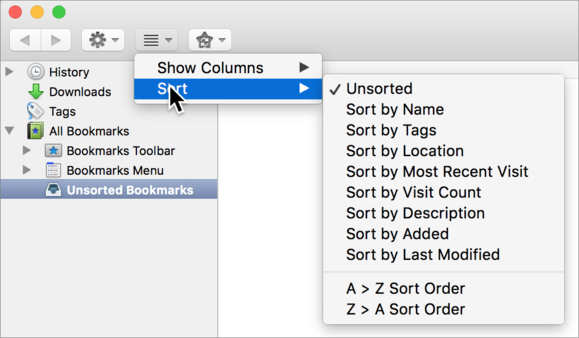 Fortunately, there's an app for this: the free SafariSort, which can sort your bookmarks alphabetically, or in alphabetical order with all your bookmark folders on top of the list. It's fast and simple, and if you like having bookmarks in order, you can run it regularly.

Wanting to sort bookmarks alphabetically doesn't seem like an odd feature request; it's actually a great way to cull duplicate bookmarks. In fact, Apple should allow Safari to display bookmarks in date order as well. If you add bookmarks to folders, you won't see all your bookmarks by date, and having a full list in order can be a good way to find what you're looking for.
No matter what, it would be nice if Safari offered some more ways to view bookmarks, as other browsers do.