Stepping out your front door can be intimidating, even when doing so brings you a few feet closer to a dream vacation or the adventure of a lifetime. Trust me, I know from travel. Over the past few years, I've walked the Camino de Santiago: over 500 miles across Spain, from Saint James Pied de Port to Santiago Compostela. I've conquered the Cabot Trail, wandered the Rocky Mountains, drank my way across Portugal and Ireland, scrambled up the side of an active volcano in Nicaragua and suffered through Giardia while surrounded by beauty and poverty in Costa Rica. On all of these adventures, having the right hardware, accessories, and apps at my disposal made life simpler and my experience in an unfamiliar place a little bit sweeter—having the right gear can do the same for you.
That's what this column its all about.
Every other week, we'll talk about the latest in navigation tools, iOS accessories, camping gear, backpacks, compact cameras, technical clothing—pretty much anything I can find to make your travels that much easier, no matter whether you prefer vacationing at five-star resorts or dirtbagging in the back of your car at a national park.
Let's get started with language apps.
I just have just enough German, French, and Spanish phrases in my repertoire to be dangerous. If you need to ask someone in the Pyrenees for the name of their veterinarian's haberdasher, I'm your man. This level of communication, along with a ton of gesturing and pained facial expressions, used to feel like enough to get by—until a couple of years ago when I found myself in Pamplona.
I'd injured my lower back backpacking badly enough that I needed medical attention. Try as I might, I wasn't able to fully explain that I'd likely ruptured a disc in my lower back, despite the incredible patience of staff at the Clinica Universidad de Navarra. What could have been a 30-minute hospital visit turned into a three-hour quest to find someone who could act as a translator between my doctor and me as she worked to figure out what was wrong, help me fill out my insurance paperwork, and run a number of tests. As I shuffled out of the hospital's urgent care center, I promised myself that I'd finally learn Spanish for real. Two years later, I've made absolutely no progress. But it's time to change that, and I'm bringing you along for the ride.
A ton of apps, both paid and free, promise to have you blathering away in a second language in no time, provided you're willing to put the work in. I'm currently testing three of the most popular: Duolingo, Babbel, and Rosetta Stone. At first glance, the three appear to be very much the same: Their lesson are broken up into different units and subsections of progressing difficulty. They use native speakers to teach users how the words they're learning should sound, and they throw each word at you in writing with accompanying photos to help drive their meanings home. But they do have their differences.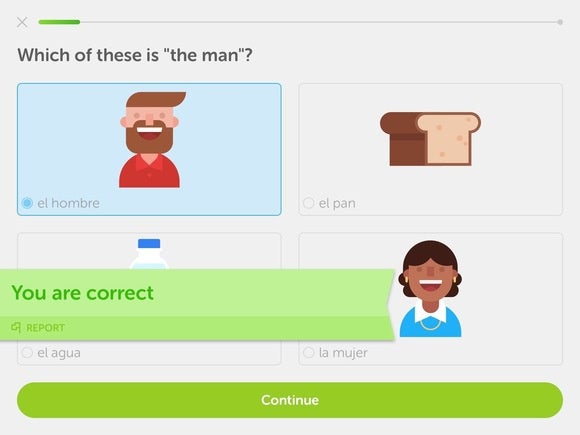 Duolingo is free to use and is available to for iOS, Android, Windows Phone, and the web. It uses reading comprehension, listening skills to drive the education you're after into your thinking bits. Currently, the service offers 26 different languages including Klingon, and more are on the way.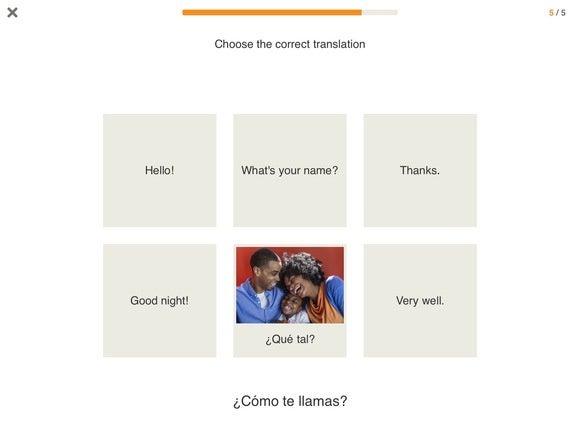 Babbel has a similar feel to Duolingo, with word matching, native speaker audio, and image cues to help you understand what you're learning. Offering 2,000 to 3,000 words for each of 14 languages, Babbel focuses more on useful words and phrases than teaching users an entire language. But if you've got a surprise trip in your immediate future to an area where English isn't spoken or want to learn just enough of a language that you can find your way with the locals while on vacation, it could be just what you're looking for.
Babbel is available for desktop use and boasts apps on Android and iOS. No matter how you decide to access it, using Babbel after the first lesson will cost you. One month's access will set you back $13. However it's also possible to buy your way into the app at a reduced rate if you invest in a three-, six-, or 12-month subscription.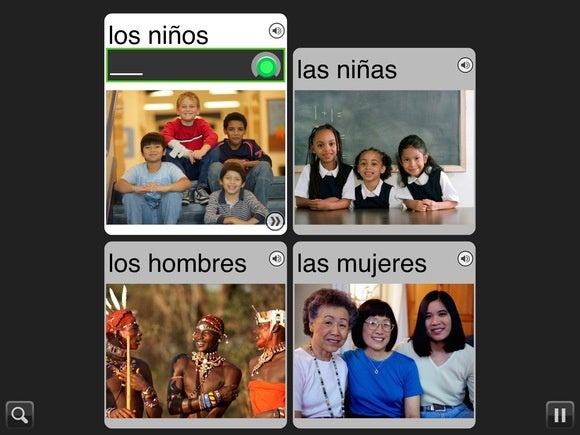 Finally, there's Rosetta Stone, a paid option that's been around for close to 20 years. A year's worth of training in one of 30 languages will set you back $200. For your money, get access to apps for iOS, Android, and desktop systems; downloadable lessons for offline use (you can even request a CD-ROM… whatever that is); and the ability to schedule one-on-one online private tutoring with a native speaker. Rosetta Stone's lessons use similar methodology as Duolingo and Babbel, but subscribers also have access to activities like storytelling to help them improve their reading and pronunciation, plus a number of online games. If you're not willing to fork over any cash to use the app without taking it for a spin first, you're in luck: there's a free trial available.
Which one's better? I have no idea–yet. But I plan on using each for 20 minutes a day over the course of two months in order to find out. Once I'm done I'll let you know my thoughts on which one is worth your time.
NEXT TIME: we'll take a look at Gaia GPS. It's an app for iPad, iPhone and Apple Watch designed to help you navigate the great outdoors.