For the big players in technology, like Apple, Microsoft, Amazon, and Google, it's become all about the ecosystem. Yes, you might be great at building products like Apple, or at online services like Google, or at…well, whatever Microsoft is great at. But so much of technology has become about providing all the trappings.
Think of it a bit like a hotel—you want to provide all the amenities that your rival hotel chains do: swimming pool, cable, valet parking. Otherwise, your customers may go somewhere else.
Hence Google's announcements at this week's annual I/O conference, including offerings like messaging app Allo and video chat app Duo.
The key difference, though, lies in the fact that technology enables us to connect with each other, and all this ticking of boxes can sometimes mean that those ecosystems become more like silos, isolated from each other. Most often this leads to a proliferation of varying apps and standards. Worst case, though, your accommodations become the Hotel California, where you can check out anytime you like, but you can never leave.
The text's the thing
Given how popular texting has become, it's no surprise that all of the major tech companies want that whole texting pie for themselves. So, in addition to Apple's iMessage, we have Facebook Messenger, WhatsApp, Line, and now Google's latest messaging play—what is this, its third?— Allo. Oh yeah, all of that on top of our good old standard SMS.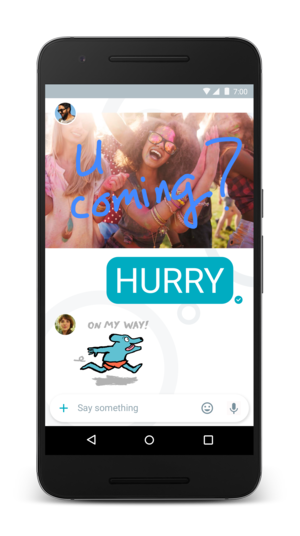 But in some ways, as the messaging market has become more important, it feels like we've moved backward. Text messages used to be a cross-platform technology, but as they've grown more complex—read receipts, photos, videos, etc.—the paths have diverged. Every company wants people to use its messaging app, and while locking people in isn't strictly necessary, it can help you build a big user base.
At least if you're using Messages and want to send a text to someone on an Android phone, it can fall back to SMS, but you still lose out on many of those nifty features. Early indications suggest that Allo won't necessarily have SMS fallback capability, due to the large variety of hardware partners. But Allo can use your phone number as your texting address, and Google has incorporated SMS messaging into its previous Hangouts app, so perhaps it's still a possibility.
See you, see me
Google's newly announced video chat app, Duo, runs into a similar problem on the other end of the spectrum. As with text messages, video chats have largely been siloed off from one another. Yes, you can have a cross-platform chat with Skype or Google Hangouts, but none of those services work with each other, which can lead to the fun conversations where you try to convince someone to download a specific app and create an account just to have a "simple" face-to-face chat.
FaceTime has the benefit of being baked into Apple's operating systems, which gets around the app problem, but then you're right out of luck if you want to chat with someone on Android or another platform. When Apple first announced FaceTime it promised to make it open source, but the general understanding is that patent disputes have prevented that thus far. Perhaps Google will have better luck with Duo? It's unclear, but since we don't even know if Duo will work with Google's existing video-chat platform, I won't be holding my breath.
All together now
It's great that Google is at least offering Allo and Duo for iOS, making cross-platform chats a possibility, but they're still not as convenient as something like a text message or even a good old bog standard phone call, where you don't have to worry about what kind of hardware or software the person on the other end is using.
At the risk of quoting a former president, technology should be a uniter, not a divider. It may seem counterintuitive to ask these companies to make their tech interoperate, but in the end it helps move us forward.
Right now, many of these siloed technologies make it feel a bit like we're back in the '90s with the panoply of insular online services—CompuServe, Prodigy, AOL—which had their own internal messaging systems. If we'd gotten stuck in the era where you could only email the people who used the same online service, I sincerely doubt we would have seen the staggering technological advancement that followed. So rather than trying to wrest mindshare from each other, perhaps it's time these competitors teamed up to work together and make these great technologies work for everyone.