iTunes 12.4 is out, and there are lots of questions about the major and minor changes to this version of the app. In this week's column, I discuss one question about a podcast view that has been removed from iTunes. I also look at a question about backups, and explain how I got my iPad Pro to load my iCloud Music Library library.
Where are my recent podcasts?
Q: There used to be a Recent Updates section for podcasts in iTunes. I could browse it and see which podcast episodes had been updated recently. Is this gone in the latest version of iTunes?
In the past, if you were viewing My Podcasts, there was a Recent Updates entry at the top of the podcasts column, and you could see podcasts as you say, from this week, this month, etc. Unfortunately, that has been removed from iTunes 12.4.
If you select Podcasts from the Media Picker (the menu near the top left of the iTunes window), and then click Stations, you may see Most Recent. This is a default station that iTunes creates when you first launch it. It lists the newest episodes from your podcasts. Click the Settings button, and then choose which podcasts you want, and how many episodes.
If you don't have that station—if you've deleted it—you can create it; just duplicate the settings in the screenshot below.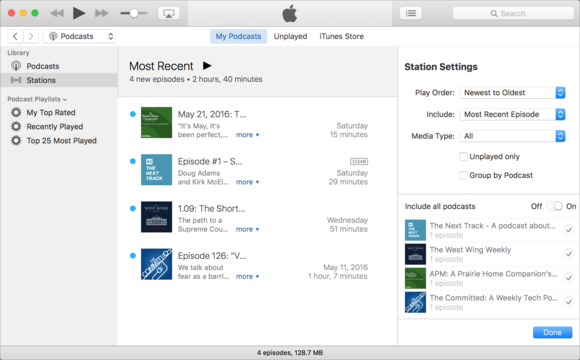 You can create several stations for different podcasts, if you wish.
You could also create a smart playlist for podcasts, where plays is 0, and sort it by most recently added.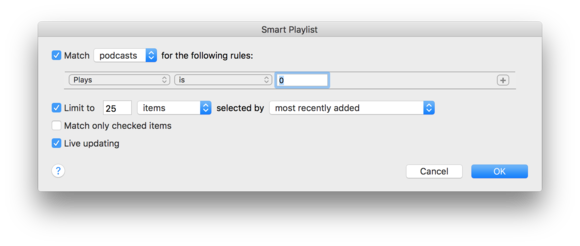 This displays your new podcast episodes, the newest at the top. It's not the best solution, but you may find it an adequate replacement for the missing feature.
What should I back up?
Q: I have a master iTunes library on my iMac. It contains ripped Apple Lossless files and AAC files. Some of the AAC files are iTunes Store purchases, and some are files I added from Apple Music. I don't understand what happens when I back up my iTunes media. If the Apple Music files have DRM, or copy protection, do they get backed up as well? Should I back them up?
Your music—your ripped CDs and your non-Apple downloads, along with tracks purchased from the iTunes Store—are stored in your ~/Music/iTunes/iTunes Media/Music folder. (~ is a shortcut for your home folder.) However, Apple Music files—even if you have downloaded them to your computer to play when offline—are not stored in the same folder.
If you look in your ~/Music/iTunes Media folder you'll see an Apple Music folder. This folder contains music you have downloaded from Apple Music to listen to offline. (Music you've streamed is stored in a different location: ~/Library/Caches/com.apple.itunes.)
These files (with the .m4p extension) are copy protected, and you'll be able to play them as long as you maintain your Apple Music subscription. If you want to back up your iTunes library, but not the Apple Music files, you can simply exclude the Apple Music folder. This said, if you don't back these files up, and lose your iTunes library, then you'll need to redownload them. If you have the space, it's probably safer to back everything up.
Regardless of the copy protection on these files, you can copy them; the terminology isn't really exact. Files with DRM only prevent you from playing them on an unauthorized computer, not copying them to another computer that you have authorized, to an iOS device, or to a backup disk.
Do not, however, use a backup app to exclude the .m4p file extension; you may still have a handful of older purchased tracks from the iTunes Store that haven't been updated to be DRM-free. I have some files in my iTunes library that are DRM-free and that have the .m4p extension, and audiobooks purchased from the iTunes Store will also have that extension.
How can I get my iCloud Music Library on my iPad?
Q: For a while, I've been trying to activate iCloud Music Library on my iPad. Every time I try to do this, I get an error message telling me to try again later. Is there any way I can get this to work?
I include this question because I had the exact same problem this week. I did all the usual troubleshooting steps: I restarted my iPad Pro, and I signed out of the iTunes Store and signed back in again. I tried to restore my iPad Pro, but, because there's a problem with the latest iOS update far this device, I wasn't able to do that.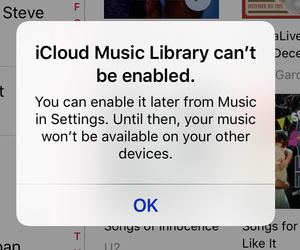 So I called AppleCare. My call took an hour altogether; 17 minutes waiting to talk to someone, punctuated by some very bad sounding hold music, then a first technician who offered some possible solutions. (Reset all settings; that didn't do anything).
I got transferred to a senior advisor, who said this was the first time he had heard about this issue. We tried a couple of things, he then suggested I sign out of iCloud, and then sign back in. This unblocked the problem. My iPad Pro now shows my iCloud Music Library. Thanks Eduardo!
Have questions of your own for the iTunes Guy? Send them along for his consideration.