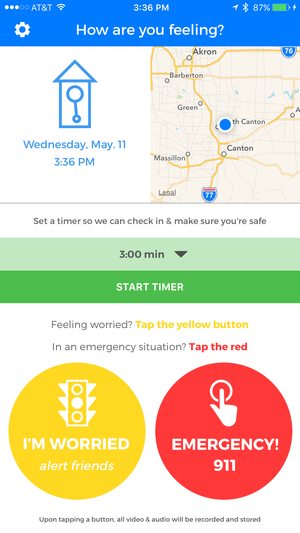 Have you ever been alone in a place where your personal safety might be at risk? If so, there's a new app that offers peace of mind when it's needed most, and also acts as a lifeline to law enforcement during an actual emergency.
Is it safe?
Planet 911 (free on the iTunes store) turns your iPhone into a deterrent against crime. Once installed, users can breathe a little easier knowing emergency contacts are only a few taps away thanks to automatic text and email alerts that share your current GPS location with loved ones.
The app includes a timer that can be configured to "check in" at predetermined intervals. When the timer goes off, a push notification prompts users to confirm they're safe or in an emergency situation. In the case of the former, a four-digit PIN code chosen during setup is required to disable the timer, as well as the app's other alert modes.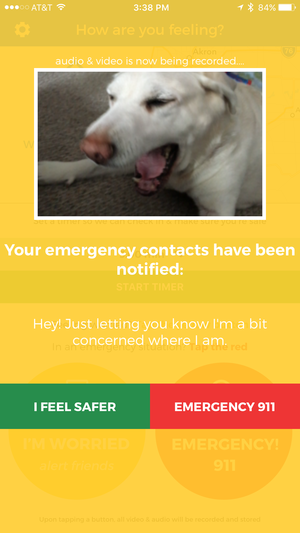 Depending on your situation, there are two levels of security available. The yellow "I'm Worried" button alerts up to 10 emergency contacts, sending a customizable message along with current geolocation data. In the event of an imminent or serious threat, the red "Emergency!" button also dials 911 for you automatically.
Scene of the crime
As soon as either button is pushed, Planet 911 begins recording audio along with a low-resolution (352×288) video from the rear-facing iPhone camera to document what's happening. In a worst-case scenario where you become separated from the device, this information could be used by authorities to piece together what went down.
Emergency mode also turns the LED flash on and off as a visual warning, coupled with the piercing sound of a loud siren to help ward off attackers. The app includes a Notification Center widget for one-tap access to either button from the lock screen, but there's no Apple Watch support, which seems like the easiest way to trigger alerts during any real emergency.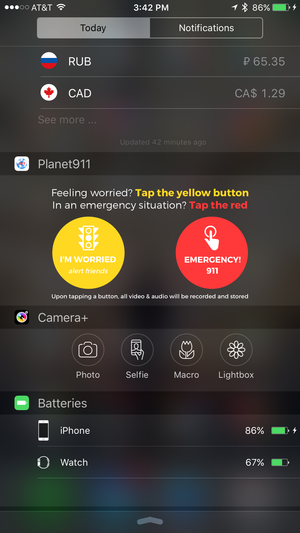 Beyond this oversight, it's hard to complain about a free app with such lofty goals for personal safety. There's a test alert mode to prevent accidental 911 calls, but you'll want to give emergency contacts a heads up before adding them—the app sends a short text and/or email confirmation, which provoked a few "Are you okay?" inquiries in my case.
Bottom line
Planet 911 turns your iPhone into the ultimate personal safety weapon, but without Apple Watch support, you'll need to act fast in a real emergency.