Photoshop is the gold standard of image-editing apps—and it's priced to match, with a $10/month Creative Cloud Photography Plan the cheapest way to buy it. On the other end of the price spectrum, Preview comes free with OS X and lets you do ultra-basic edits like cropping and simple color adjustments, and Photos is an image organizer that has some good editing capabiltiies too. In the middle—right in the sweet spot, I'd argue—is Pixelmator, a $30 standalone app from Pixelmator Team that was just updated to version 3.5.
Pixelmator 3.5 Canyon (available in the Mac App Store) is a major update to the image editor, and it's aimed at making the app even easier to use. It's got a new Quick Selection tool that attempts to recognize what you're trying to select, and a new Magnetic Selection Tool that goes even further by snapping to the edges of an object in your image.
The new version also comes with an extension for Apple's Photos app, called Pixelmator Retouch. Extensions let you keep your images organized in Photos, then perform more complicated edits with tools that aren't in Photos already, without leaving the app. It's a time-saver versus exporting the photo from your collection, editing it in another app, and then importing the edited version back into Photos.
New selection tools
One thing that separates Photoshop ninjas from the rest of us is how handy they are with the selection tools. Pixelmator 3.5 Canyon adds a new Quick Selection tool that has algorithms working behind the scene to help you select complex objects in your images without a lot of extra effort.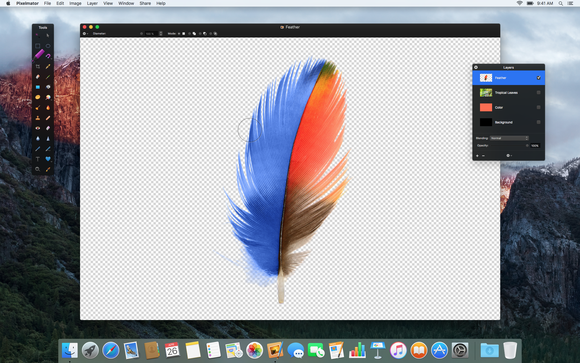 Smart Edge Detection is the algorithm that can tell where the edge is around the object you're selecting, even if there are other similar objects around it. Direction Awareness also helps the tool predict what you'll select next, based on which direction your mouse cursor is moving. A separate Smooth Outline algorithm works to perfect the outline of your selection so the object in question is ready to copy and paste.
Shadow Recognition can separate the shadow from an object, in case you want to leave the shadow behind. Dynamic Brush automatically adjusts the size of your brush as you zoom in and out of the image. And Smart Borders fences in your work area so you don't accidentally select anything outside it, even if your selection brush should wander over the edge.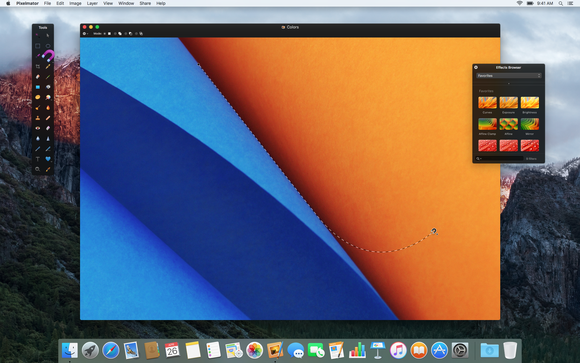 The Magnetic Selection tool uses the Core Image and Core Animation technology in OS X to "snap" your selection around the object. Keyboard shortcuts let you quickly change the brush size and remove anchor points, for speedier and more accurate selections.
These new features join a redesigned Stroke effect that's now up to 15 times faster in OS X El Capitan; content-aware smoothing for the Color Selection, Paint Bucket, and Magic Eraser tools; and better Refine Selection performance. Plenty of bugs were squashed too—you can see the full release notes for Pixelmator 3.5 Canyon in the Mac App Store.
Photos extension
Pixelmator 3.5 Canyon also comes with a Retouch extension for Apple's own Photos app. That way, your images can stay sorted in Photos, but you can still retouch them with Pixelmator's Repair, Color, Clone, Soften, Light, and Sharpen tools. Soften, Color, and Light go beyond what's already in Photos by letting you use a brush to paint the effect on just part of your image.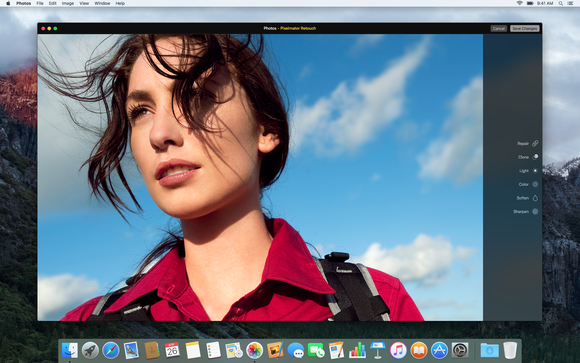 The Pixelmator Retouch extension is built on Apple's Metal technology, using Apple's Swift 2 programming language. The tools were built natively for Photos, and they even support Force Touch trackpads on newer MacBooks, adjusting the strength of the tool based on how hard you press on the trackpad.
Pixelmator 3.5 Canyon is a free update for current Pixelmator users, and $30 in the Mac App Store for new buyers. For a free 30-day trial, visit pixelmator.com. We'll follow up soon with a full review.