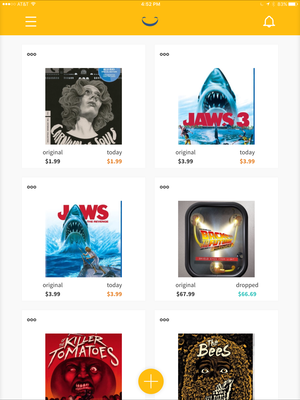 I'm an unabashed bargain hunter, always on the lookout for a tantalizing coupon code, flash sale, or steep price drop on the things I need, want, and frequently purchase. Although there are websites like DealNews devoted to bargains, they often distract shoppers with whatever happens to be cheap at the moment, rather than the stuff you've had your eye on.
Price alert
Yellowbag (free on the iTunes store) is a universal app that alerts you to price drops on only the products you're actually interested in purchasing. The service only works for online stores, but that's not much of a limitation considering nearly all brick-and-mortar retailers these days have a web-based equivalent.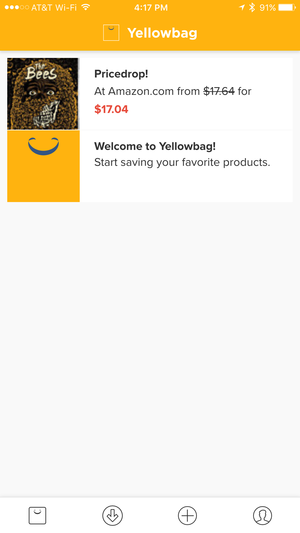 Products can be added in two ways: Using the share extension with Mobile Safari or other apps or by copying a link from any product page, which is automatically detected when the app is launched, ready to add with a tap. Once added, shoppers can change the product image or assign it to a category. There's also a web version of Yellowbag, which offers Chrome and Firefox browser extensions. (Sorry, Safari fans.)
Every day, Yellowbag checks the current price of products you've added, sending a push notification and/or email whenever there's a drop in price. Founded in the Netherlands, the service monitors pricing at 95 percent of online stores worldwide, and it's easy to compile a list of your favorites right inside the app.
Shopping blues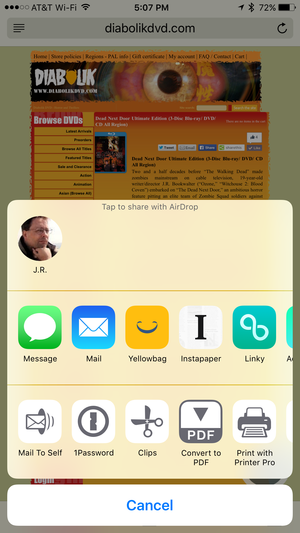 Online shoppers will be happy to hear Yellowbag is absolutely free, with one caveat: You're limited to only 50 price alerts. After that, users must invite friends to earn more (an additional 50 for each person who signs up); there's unfortunately no in-app purchase option to buy more alerts.
As someone who buys a lot of Blu-ray and DVD movies on Amazon.com, I found Yellowbag to be unreliable for tracking price changes on preorder items. Since the product hasn't been released, the app parses data from older used Marketplace editions or worse yet, the cheaper streaming version, making alerts completely inaccurate.
I had problems with a persistent login when using my Facebook account during testing for this review, but am happy to report this problem appears to be resolved in the latest version 3.4 update. In addition to Facebook, you can also log in with a Google or Twitter account, or register a username with your existing email address instead.
Bottom line
When it works, Yellowbag is extremely convenient, and it's easy to add products from just about anywhere. But nagging friends to sign up for additional price alerts is a drag.