Jan Dong-Hyun Dyrvig writes in with a question I've seen asked a couple of times:
According to Apple Support, an iTunes backup of an iOS device with iCloud Photo Library enabled should not include photos from iCloud Photo Library. However, I'm currently experiencing that iTunes does indeed include all photos—something that I register from the size of the device backup in iTunes.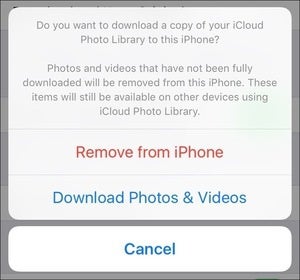 Jan wonders how to prevent this from happening. I don't experience this myself, and I've checked around the usual forums and can find only a couple of other people reporting the same—and no solutions they've found. You can try Apple's direct iCloud support, as this seems related to an iCloud feature, or you can try resetting your iCloud status.
Jan has iOS set to keep full-resolution images stored, which means that disabling iCloud Photo Library won't cause a problem in which only low-resolution (optimized) images are stored.
In Settings > iCloud, tap Photos.

Tap the iCloud Photo Library switch to off.

When prompted, you can opt to tap Download Photos & Videos to ensure that all iCloud Photo Library media gets stored in iOS.

You should be able now to set iTunes to separately sync all the photos on your devices to iPhoto or Photos.

Perform an iTunes backup of the device, and check the size. It should now be smaller by the size of your iOS Photo Library.

Re-enable iCloud Photo Library and wait until everything is done syncing, which can take a while. iCloud shouldn't duplicate or re-upload any images.

Now perform an iTunes backup.
If all has gone well, your iTunes backup should now be the correct size and exclude images. If you were having this problem and the above either solves it or doesn't, let us know in the comments.
Ask Mac 911
We're always looking for problems to solve! Email yours to mac911@macworld.com including screen captures as appropriate. Mac 911 cannot reply to email with troubleshooting advice nor can we publish answers to every question.