Several readers over just a couple of weeks asked about Mail Drop, a feature added in OS X 10.10 Yosemite to upload large email attachments from Apple's Mail app to iCloud rather than pass them through your email host's servers. That's because many mail hosts put a size limit (say, 10MB) on attachments, both on the sending and receiving end. With Mail Drop, a recipient receives a link to one or more attachments that they can click to download.
A question from Heather Saunders neatly summarizes it:
How do I confirm the recipient of my file has received it or downloaded it, other than by contacting them?
Short answer: You can't! This may be due to age: Apple seemingly hasn't revisited the system since its introduction, and it already feels a bit creaky. The email message and Web interface to handle links and downloads is very thin and feels longer out of date than it is.
Apple might also have considered it a privacy leak if it automatically notified the sender when the recipient started to download a file. (Due to the way files download via a Web connection, it's typically not possible to be sure that the file download was complete, only that it was initiated.)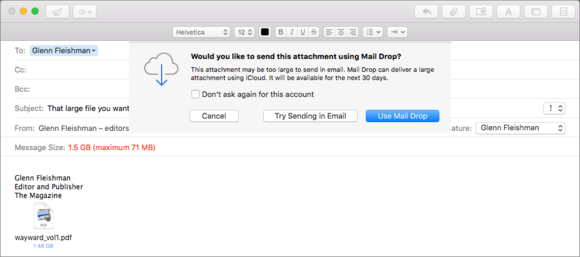 Apple could redesign the system, because the email links already take a recipient to a Web page at which they click to start retrieving the file. That page could have an opt-in button that lets the downloader also agree to inform the sender.
Recipients have 30 days to download a Mail Drop attachment, and the link sent in email remains active until then.
If you need to be sure someone downloads a file, you can opt instead for a service that informs you when that happens, like WeTransfer, which allows sending files up to 2GB each at no cost, or up to 20GB with a paid account.
Another reader asked, conversely, how you retrieve a file from Mail Drop. When you send a message Mail identifies as containing attachments greater than your mail service can handle, it either prompts you to confirm uploading or automatically uploads the attachments to iCloud, depending on your configuration. The recipient gets the email with links to download the attachment; the sender doesn't see those links at all. You can only download files from Mail Drop if you receive those file links.
Ask Mac 911
We're always looking for problems to solve! Email yours to mac911@macworld.com including screen captures as appropriate. Mac 911 cannot reply to email with troubleshooting advice nor can we publish answers to every question.