Hello from Canmore, Alberta—a resort town nestled around the feet of Canada's Rocky Mountains. While my partner works her way through a two-week wilderness first-aid course, I've been left to my own devices to wander the town, the woods, and the mountains that surround it on all sides. Given my surroundings, I don't think that there'll ever be a better time for us to talk about using your iPhone or iPad's GPS to navigate.
Apps like Apple Maps, Navigon, and Google Maps are great solutions for finding your way around, provided your adventures don't involve straying farther than marked roadways, gas stations, or coffee shops. But wander out Wi-Fi or cellular range, or go somewhere other than a known road or well-worn footpath, and they kind of suck. They're all kinds of terrible at showing the sort of topographical information that you'd find useful on a hike.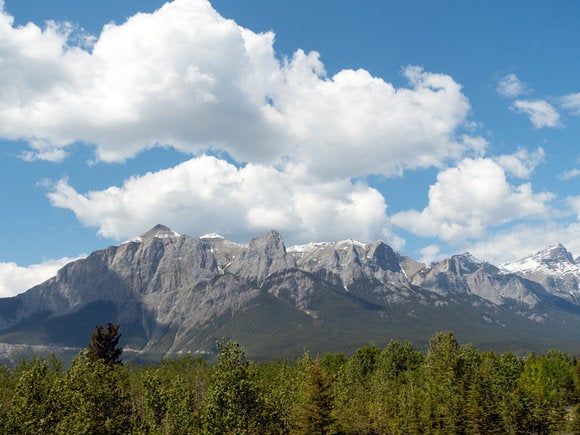 And while the GPS chip in your smartphone or tablet can provide you with location information without the need for cellular or Wi-Fi, you'll need maps and other positional data pushed into your device from the interwebz in order to make any sense of it. True, a few apps out there like Google Maps will let you download maps for offline use, but they're a pain to use and don't give me the kind of information I need when I'm wandering out into the woods.
That's why I keep Gaia GPS on my iPhone.
Gaia GPS doesn't offer turn-by turn navigation and hasn't got a clue about where the closest Starbucks is. But the app comes packed full of navigation features and orienteering options that everyone can take advantage of, whether they're using it in the middle of nowhere on a three-day through hike or trying to find their way around a region where cellular connectivity is prohibitively expensive or simply nonexistent.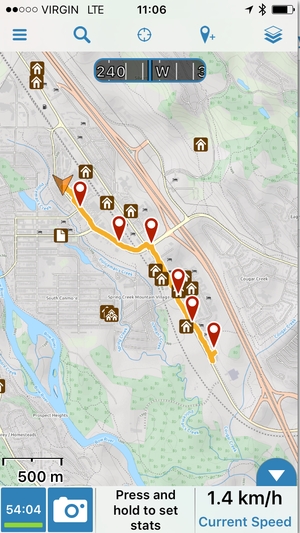 An app for maps
A universal app, Gaia GPS is available from the iTunes App Store for $20 (or on Android devices, if you must.) No matter what piece of hardware you decide to throw it on, you'll be provided with a wealth of information. When you're on the move, Gaia GPS can provide details on your average speed, pace, the time you've spent moving, how long it'll take you to get to your destination, altitude, and the times for sunrise and sunset in your current location. At the top of the app's interface, you'll find a digital compass to help you get your bearings, while the bottle of your display gets eaten up by a row of customizable fields that can be used to show a variety of metrics and a shortcut for taking geotagged photos that will appear as waypoints on your map. Speaking of which, maps are Gaia's main attraction.
Most GPS apps have three ways to see the world: street maps, satellite imagery, and a hybrid of both. But Gaia GPS provides travellers with the ability to pick their map source. While using the app in Canmore in mid-May, I counted 74 map sources and overlays from a wide variety of international sources, including some which cater to cyclists, aviation, and maritime users. If that's not enough flexibility for you, it's also possible to enter TMS tiles from a private map server, or any you might come across on online.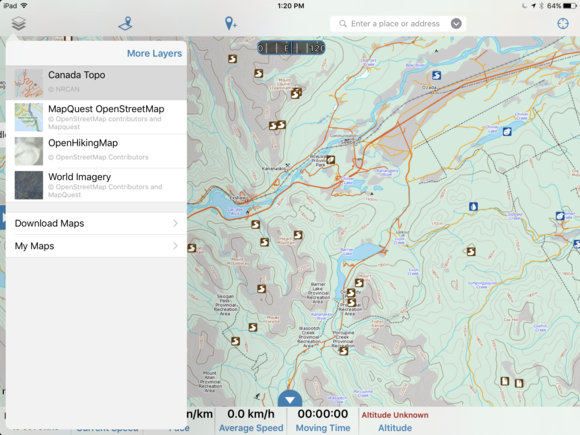 As I mentioned earlier, Gaia GPS doesn't provide an extensive database of restaurants, local attractions, and places to shop like Google Maps and other similar services do. It does, however, come packed full of information on places to shelter for the night, points of interest in national parks, and hiking paths around the world, making it easy to plan a month's worth of adventures or an afternoon walk with the family.
All of these maps and data are available to access at a moment's notice over a wireless connection, which is cool. But you know what's really cool? Being able to download it all to your handset or tablet at virtually any size for use in areas with no wireless data. To download a map, open the My Maps menu, drag a box over the area you want to be able to access offline, and Bob's your uncle. Gaia GPS puts no limit on the the number of maps you can download to your device—as long as you've got the storage space, you're good to go.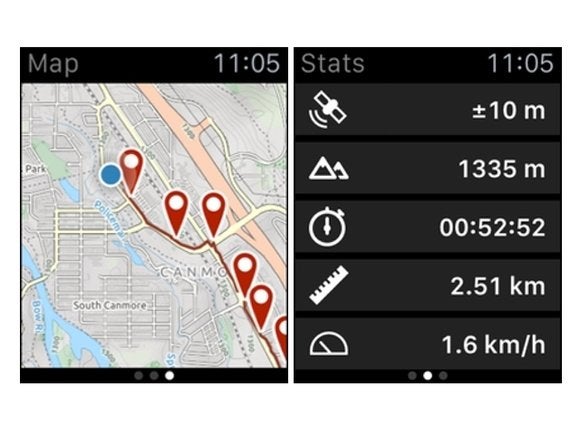 Perhaps my favourite feature of Gaia GPS is that it comes with an Apple Watch app that you might actually find useful. Instead of hauling out my iPhone SE every few minutes to figure out where I am, a quick glance at my wrist provides me with a topographical map for my immediate area, bearing, elevation, current speed, and how far and how long I've been hiking for. Best of all, the app will allow you to mark waypoints as you walk, so you can easily find your way back to the trailhead, campsite, or hostel after taking a wander through the city. It's pretty great.
My only real complaint isn't particular to the app—like any GPS app, Gaia GPS is a dirty, filthy battery hog. While this might not be a problem if your adventures only take you away from a power source for a few hours at a time, longer trips without the ability to recharge your phone could leave you lost and unable to call for help. Bring along an external battery or invest in a slick-looking battery case to slap on your phone—You can never have too much power.
Next time: We'll take a look at the Garmin Tactix Bravo. It's a tough GPS fitness watch with a feature set that's so robust it might make you want to cheat on your Apple Watch.