The ability to remotely access desktop computers on mobile devices feels futuristic every time I do it, but that captivation wears off right around the time I have to pinch and zoom to see what's on screen or attempt to get any real work done from a remote system.
Luckily, there's Parallels Access. Parallels Access addresses these problems by allowing iOS and Android devices to not just access, but actually use Mac and Windows computers from anywhere there's an internet connection. Rather than replicate the computer's display like other virtual network computing (VNC) apps do, Parallels Access adapts larger screens to smartphones, tablets, or web browsers.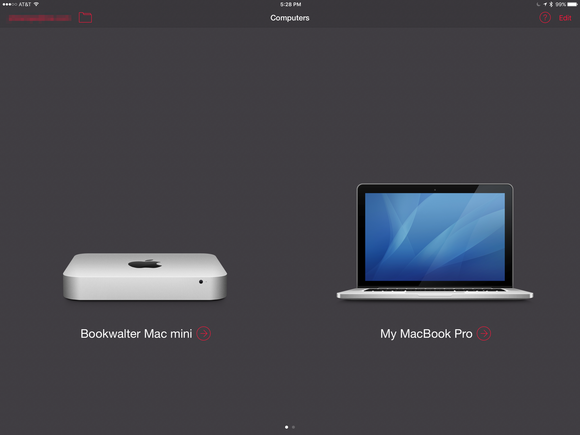 Making the connection
Unlike traditional VNC apps, which typically cram entire desktop screens onto mobile devices, Parallels Access intelligently adapts for smaller displays one window at a time. The agent software can be installed on up to five computers, and a single user account can access those systems from an unlimited number of iOS or Android devices for $20 per year (also included free with Parallels Desktop for Mac).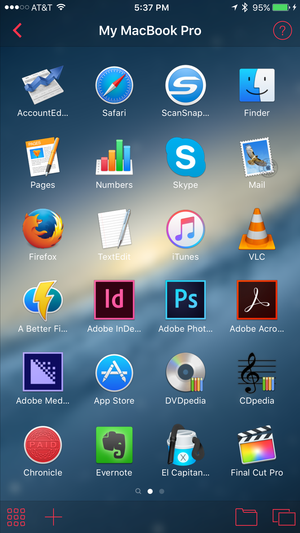 Parallels Access doesn't just mirror your remote computer display—you're instead presented with the App Launcher, which allows you to launch desktop apps in a way that's similar to OS X's Launchpad. Rather than clutter up the screen with rows of unwanted icons, you can select up to 24 favorite applications per screen from your remote system.
To launch a remote application, simply tap its icon. The desktop agent will optimize the Mac's window to match the resolution of the device it's being viewing from—your iOS device, presumably—and then moves desktop windows right back into place once disconnected. It's easy to move between multiple windows or open applications from the App Switcher, but if you prefer to mirror the entire desktop screen like other VNC apps, this can be done via Settings > Desktop Mode.
Both viewing modes offer smart magnification when making a selection for precise control during text selection, drag-and-drop, or using the on-screen cursor. With the latest update, you can now move the cursor while using iOS 9's new trackpad mode from the on-screen keyboard.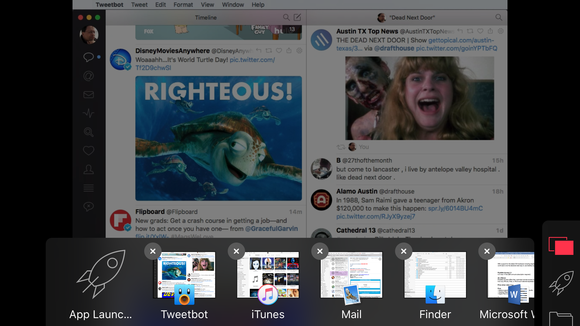 Manage files
Parallels Access also includes a full-fledged File Manager, which allows you to browse, copy, move, or delete files on remote computers. This comes in particularly handy for moving files created on an iOS device to a connected Mac or Windows PC, or vice versa.
File Manager also taps directly into cloud storage services like Dropbox, Google Drive, and OneDrive, which can be used to copy or move files between local device storage and remote volumes. While connected to one computer, you can also access files from others on the same account, rather than disconnecting and reconnecting.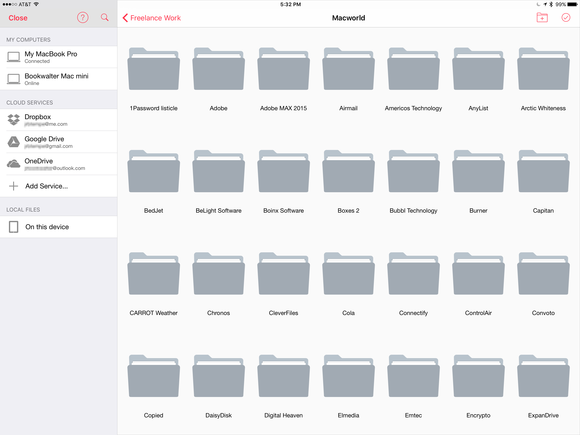 The exhaustive feature list doesn't end there—while connected, Access can take advantage of the iOS microphone, and play audio from remote computers. If you don't have a smartphone or tablet handy, you can connect from a modern web browser instead, although this method is not nearly as fluid as the mobile app.
After picking up the 12.9-inch iPad Pro when it launched last November, I couldn't wait to use it with Parallels Access. There was just one problem: While the existing app worked just fine, the developers hadn't yet updated it for the more expansive display. Five months later, that support is finally here, and it was well worth the wait.
Pro resolution at last
Parallels Access 3.1 isn't a revolutionary update, but adds a number of convenient improvements. In addition to screen resolution and virtual keyboard support for small and large iPad Pro models, iPhone 6s owners can now use 3D Touch for drag-and-drop or to access contextual menus; Quick Action shortcuts from the home screen are absent, however.
The update also introduces Apple Pencil support, which is an ideal companion for Parallels Access. Instead of relying on smart magnification to maneuver tiny on-screen buttons, you can now tap with exceptional accuracy. Other nice touches are the ability to consolidate icons into folders on the App Launcher (although they don't yet sync between devices), and support for Windows 10 tablet mode, which turns the iPad into a faux Microsoft Surface.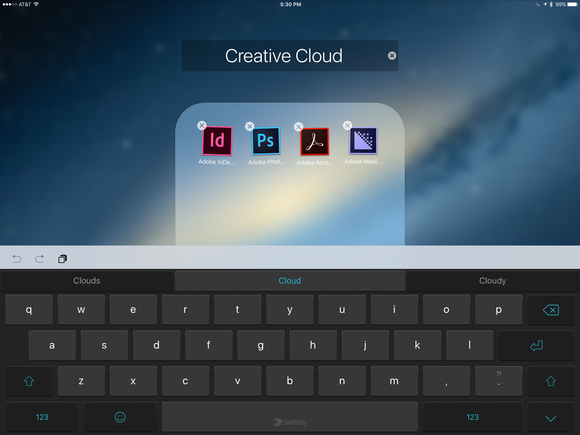 The biggest 3.1 news is Desktop Resolution control. You can now select from three display options on the fly—Best for iPad, More Space, or Same as Computer—for more comfortable viewing. This feature works great with Apple Mail, Microsoft Excel, or just about any application that could benefit from a little more breathing room.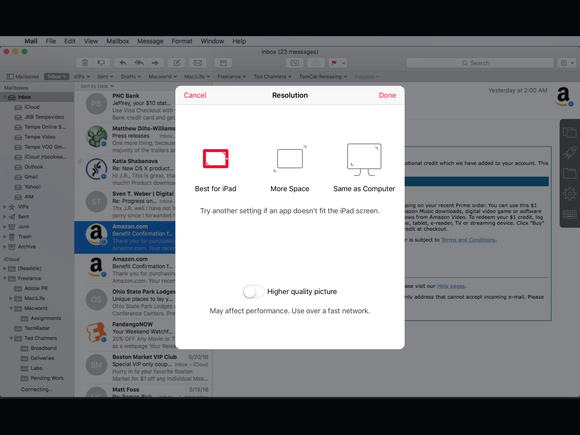 However, Desktop Resolution failed to work with my typical setup using a mid-2012 MacBook Pro with Retina Display connected to a 27-inch Thunderbolt Display. It works fine with the larger display unplugged, although the second and third resolution options are effectively the same. The desktop agent no longer supports OS X Lion 10.7, so this feature was also a no-show on my mid-2007 Mac mini, although remote access itself continues to work just fine.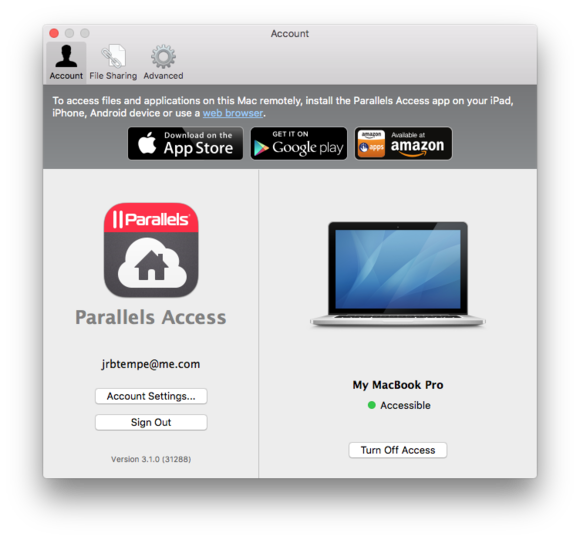 Bottom line
With support for the latest iOS hardware including Apple Pencil, Parallels Access 3.1 continues to be the absolute best way to use desktop applications from a mobile device.