My relationship with the new Apple TV ($149 at the Apple Store) got off to a rocky start last fall. From password entry issues to some serious quirks with the new Siri Remote, the long-awaited transition to an Apple TV that could run third-party apps was a letdown. But something funny has happened in the past few months: I've found myself using (and enjoying) the fourth-generation Apple TV a lot more than I did the previous generation. In an era where so many tech products offer a quick hit of excitement before fading into the background, the Apple TV has grown on me.
There's no doubt that the Apple TV got off to a slow start. When it first arrived last fall, it didn't support the iOS Remote app that allowed faster text input on the previous models of Apple TV. Combine that fact with some quirks of a new device (and perhaps some slowdowns in Apple's cloud services), and I had to laboriously enter my long, complicated iTunes password numerous times via the Siri Remote when setting up the device. These days, the situation is a lot better. Apple revised the Remote app to work with the new Apple TV and added a "spoken password" feature to the Siri Remote.
Similarly, the Siri Remote itself has been tweaked a bit for the better. Initially, any stray finger brush over the trackpad section of the remote would cause the interface to respond, skipping forward or backward in video. A software tweak has reduced the outcome of that accidental swipe by requiring you to click the trackpad before your video actually skips. I still have issues with the Siri Remote–I'm not convinced putting a trackpad on a remote was a good idea, and doing it on a symmetrical remote that's difficult to orient solely by feel seems like an even bigger design blunder. But picking up the remote while a video is playing no longer runs the risk of skipping around accidentally, so that's a win.
Siri Remote's extra smarts
Lately, I've been more impressed by the Siri Remote than frustrated with it. Spoken searches have access to more data than they did when the product arrived on the scene. It's a legitimate pleasure to speak the name of a movie and discover if it's available on iTunes, Netflix, HBO, or some combination thereof. And while the Apple TV's support of the HDMI-CEC specification for controlling consumer-electronics devices was met with a whole lot of skepticism, I found it to be almost magical.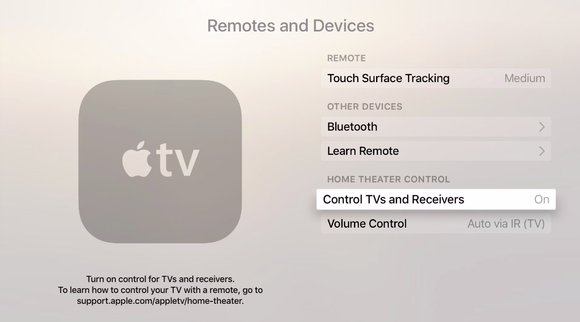 My living room TV feeds its audio through a home-theater receiver with five speakers, meaning that to turn the volume up and down, I have to send an infrared signal to the receiver, not the TV set. In most cases, this means I need to either use a second remote, program a universal remote (I have a couple of Logitech Harmony remotes), or hold down a few buttons at once in order to get the device remote I'm using to enter a special training mode.
A few weeks ago, I was frustrated that I couldn't use the Apple TV remote to control the volume on my TV–I had never bothered to even try to program it to do so. I finally resolved to spend the time to see if I could get it to work, steeling myself for a half an hour of button pressing and frustration. I navigated to the Settings app on the Apple TV, and in the Remote settings section, was asked if I planned on changing the volume with the TV or an external receiver. I clicked Receiver, expecting to see what most DVRs would show me next–a list of manufacturers, from which I'd pick mine, and then walked through the method of programming the remote to speak to my receiver.
Nope. Once I clicked Receiver, I was done with the setup process. The Apple TV knew, via HDMI-CEC, the model of my receiver, and transmitted that information to the Siri Remote. As soon as I clicked that setting, the remote worked flawlessly with my receiver. Not only was it magical, but it made me feel like an idiot for not having investigated that setting six months earlier.
App happy
Setup aside, I've come to especially appreciate some of the apps on my Apple TV. As a baseball fan, I subscriber to the MLB At Bat video service, which streams every baseball game not being played by one of my local teams. In the late morning on weekends I enjoy launching the MLB At Bat app and getting some baseball going on the TV, often when I'm making brunch or lunch.
Invariably there are a handful of games already in progress on the east coast, and I've come to enjoy displaying two of them side by side in the MLB App's two-up mode. When one game goes into a commercial break, one swipe with the Apple TV remote brings the other game forward and switches the audio to that game. It's a lot of fun, and a recent baseball-fan visitor to my house was so taken with the interface that he turned to his wife and said, "Oh, I think we may need to get one of these new Apple TVs."
I've also enjoyed using the HBO Go app on the Apple TV. (I realize that there's an HBO app on my TiVo, too–but it's much slower and less reliable.) Living on the west coast means your cable company may force you to watch the west-coast feed of HBO, which is three hours behind the one the rest of the country can see. This is painful on Sunday nights when Game of Thrones is on. But full credit to HBO: The moment the shows air on the east coast, they appear on HBO Go. So if I'm so inclined, I can watch Game of Thrones at 6 p.m. Pacific.
Even better, HBO has filled HBO Go with extras and archival material. Every Game of Thrones episode ends with a bit of bonus material about the episode from the show's producers, and every other episode comes with a small featurette about the making of the episodes. Then, the next day, there's an analysis show called After the Thrones hosted by two members of HBO and Bill Simmons's The Ringer staff.
And since every episode of Game of Thrones these days seems to be paying off something that happened three years ago, on Monday mornings I find myself invariably going back through the show's past episodes to find the key moments and rewatch them. (The Red Wedding? Still not very fun to watch.)
And then there's the Plex app. I have a substantial video library, consisting of movies and TV shows that I've pulled off of the DVDs and Blu-rays that I've bought over the years, as well as downloads I've bought online. There was a time when getting these files onto an Apple TV was a bit of a pain: I'd need to convert them to an Apple TV-compatible format, add them to the iTunes library of a Mac in my house, and then hope that the Apple TV could play them without dropping frames or otherwise messing things up.
With the new Apple TV, I don't have to worry about any of that. Instead, my Mac mini server runs the Plex app, pointed at a folder on its hard drive that's full of my video files. Plex automatically scans the files, looks up information about them–including directors, actors, and artwork–and makes them all available in a handsome native Apple TV app. The Plex app will play just about anything that I throw at it, including ancient AVI files and more modern MKV files, and of course all the HD iPad-encoded videos I've been making over the years.
My TiVo is a great product, and I love its deep integration with Netflix, Amazon Prime Video, and Hulu. But a lot of the time, I find myself switching to the Apple TV just because the experience is better–not just faster, but with richer apps. After my difficult fall with the Apple TV, I feared that it would become a box I never used. Instead, over the course of the last six months, it's become a familiar (if not quite indispensible) part of my video-watching world.